Original URL: https://www.theregister.co.uk/2011/10/03/review_mobile_cpus_amd_llano_vs_intel_sandy_bridge/
AMD Llano vs Intel Sandy Bridge
Which is the best notebook buy?
Posted in Personal Tech, 3rd October 2011 11:00 GMT
Review At first glance, AMD's 'Llano' CPU and Intel's 'Sandy Bridge' second-generation Core i platform look like blood brothers. They combine the CPU, a GPU and a memory controller all on a single 32nm die.
So how do these laptop chips stand up against each other?
To find out, we asked HP to send us two 15.6in Pavilion dv6 laptops, one with AMD's mobile chippery on board, the other running Intel's alternative. In all other respects - wireless, screen resolution, optical drive and so on - they are identical. Ram, however, was different: 4GB on the AMD-based Pavilion, 6GB on the Intel laptop.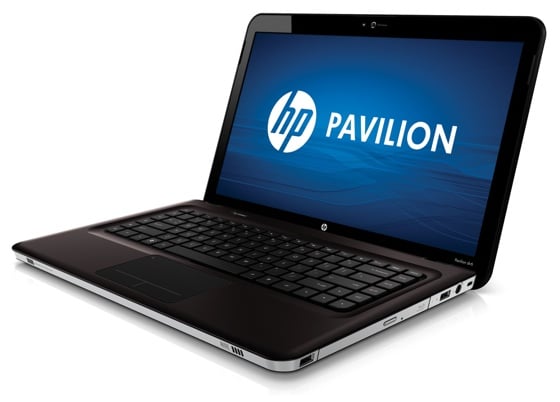 The HP Pavilion dv6: some come with Intel CPUs, others with AMD chips
To the right of the touchpad HP has adorned each laptop with three stickers that tell a tale. The AMD-powered machine, the dv6-6102sa runs Windows 7 on an AMD A6-3410MX "APU" - for Accelerated Processing Unit, as AMD calls its new chips - and boasts of its "Quad Core" and "Radeon Dual Graphics" technologies.
The A6 APU combines a quad-core processor with an integrated Radeon HD 6520G graphic core containing 320 shaders. It can be used in conjunction with a second, discrete GPU taken from a long list that range from 160 shaders to 480 shaders.


In the case of the dv6-6102sa, the add-in graphics chip is a Radeon HD 6490M. It lies in the middle of AMD's discrete mobile GPU line-up.
The list of graphical permutations in a Llano laptop is enormous. However, the processor side of things is fairly straightforward. The A4 has two cores, while the A6 and A8 are quad-core parts. The base clock speeds range from 1.4GHz to 2.1GHz.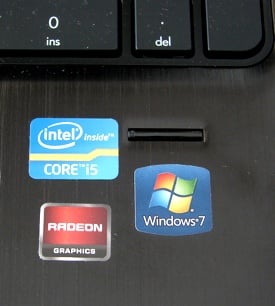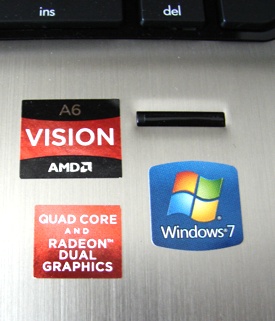 One chassis, two sticker collections: the HP Pavilion dv6-6051ea (left) and the dv6-6102sa (right)
It's a similar story with the A4 and A8 APUs - 240 and 400 integrated shaders, respectively - which can also be used in dual graphics mode.
Intel's range of Core i3, i5 and i7 processors is more extensive than the AMD offering, and gives you the choice of either two or four hardware cores plus, in some case, Hyper Threading to double those total with virtual cores.
Base speeds range from 1.3GHz to 2.6GHz, but these may be auto-overclocked using Turbo Boost technology.
Speeds and feeds
Whichever Intel processor you choose from its mobile range, the integrated graphics core will be a GMA HD 3000 which packs a mere 12 unified shaders that run at 650MHz.
The second HP laptop, a Pavilion dv6-6051ea, comes with a Core i5-2410M: 2.3GHz and dual-core with HT. However, the stickers on the chassis also proclaim that the laptop has "Radeon Graphics". HP has fortified the Intel HD 3000 graphics with a Radeon HD 6490M chip, just like the one in the dv6-6102sa.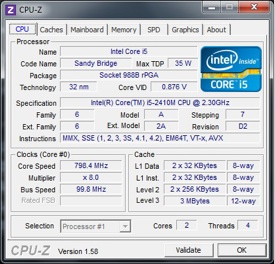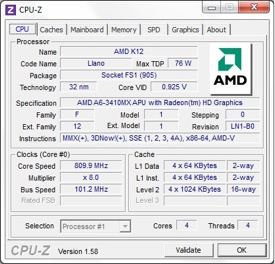 CPU-Z readouts: Intel Core i5 (left) and AMD A6 (right)
The 6490M, as I've said, is a middle-of-the-road part. However, here it overcomes a significant flaw in the spec of the Intel laptop. It supports DirectX 11 - the GMA HD 3000 only stretches to DirectX 10.1.
As you'll see from my test results, the dv6-6051ea will run the 3DMark11 benchmark quite happily in 'as delivered' form. But as soon as the AMD GPU is disabled to show the Intel hardware at work, the test refuses to run. Intel's chippery isn't up to the job.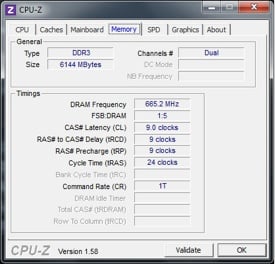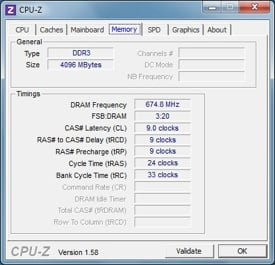 CPU-Z memory: Intel Core i5 (left) and AMD A6 (right)
In other areas, Intel has the edge over AMD, specifically with its support for the SSE 4.2 multimedia instruction set - AMD only supports SSE 4A. Intel also has Quick Sync Video encoding in Sandy Bridge, which I'll come to shortly.
Take a closer look under the bonnet and you'll see that AMD has loaded each of the A6's cores with 128KB of L1 cache and 1MB of L2. By contrast, Intel endows the Core i5 with 64KB of L1 and 256KB of L2 but adds 3MB of shared L3.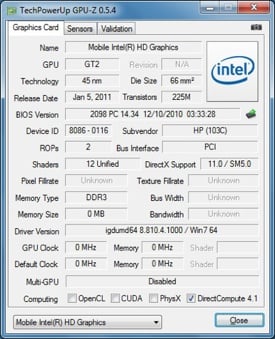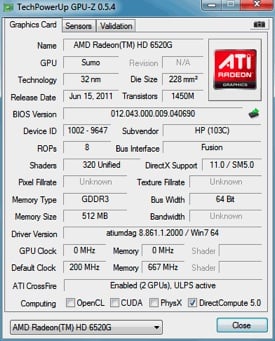 GPU-Z: integrated graphics from Intel (left) and AMD (right)
AMD has a larger quantity of fast cache. However, Intel has the advantage in terms of clock speed. The AMD A6-3410MX has a clock speed of 1.6GHz that ratchets up to 2.3GHz, while the base speed of the Core i5-2410M is 2.3GHz can Turbo Boost to 2.9GHz.
So much for the technical details - how do the two laptops compare in action?
Price:Performance
The PCMark 05, PCMark Vantage and PC Mark 7 benchmarks give a clean sweep of test results to the Intel hardware. Except... the Intel laptop retails for about £629, while the AMD version only costs £500. Comparing the benchmark points each laptop buys you will tell a slightly different story.
PCMark 07

Longer bars are better
PCMark 07 per Pound

Longer bars indicate better value
PCMark Vantage

Longer bars are better
PCMark Vantage per Pound

Longer bars indicate better value
PCMark 05

Longer bars are better
PCMark 05 per pound

Longer bars indicate better value
On a price:performance basis, Sandy Bridge has the edge, but only by a nose.
The tables were turned in the graphics benchmarks, which come out in favour of AMD.
Best value system?
I couldn't compare the graphics using 3DMark 11 as the Intel laptop can't handle that test, and 3D Mark Vantage is fussy about the resolution of the screen it's running on, so I fell back on the aged 3DMark 06 test.
3DMark 06

Longer bars are better
3DMark 06 per pound

Longer bars indicate better value
I also used Cinebench 11.5 but this reinforced the status quo as the Intel hardware can't run the OpenGL test - AMD can - and Sandy Bridge dances all over Llano in the CPU test.
Moving on to Intel's favoured test of video recoding with CyberLink MediaEspresso 6.5, it's a clear victory for Sandy Bridge. The AMD CPU run flat out at 100 per cent and still takes significantly longer than Core i5 to convert video to iPhone format.
This looks impressive but is a demonstration of the fact that "MediaEspresso 6.5 takes advantage of Intel Quick Sync Video technology built into second-generation Intel Core processors to provide unprecedented video conversion speeds". QSV is also supported by Arcsoft's Media Converter 7.
If you regularly recode video with your laptop, this is the hardware you want on your desk.
I asked AMD about the best way to showcase Llano and was pointed us towards Microsoft's FishIEtank IE9, a site that demonstrates the features in Internet Explorer 9. AMD's logic is that recoding video is all well and good but most people actually use their laptops for mundane tasks such as browsing the web.
MS Fireflies HTML 5

Longer bars are better
MS Fireflies HTML 5 per Pound

Longer bars indicate better value
As it happens there was very little to choose between the two laptops using the IE9 tests.
Stepping away from the benchmarks for the moment, my impression is that the Intel laptop is fast and responsive while the AMD hardware suffers from a small amount of lag and latency. That said, this is nowhere near being a problem, and don't forget, the AMD-based machine had 4GB of memory to the Intel laptop's 6GB.
Verdict
On balance, Sandy Bridge is the more desirable hardware. However, there is a sting in the tail: as I've said, the Intel laptop retails for about £629, while the AMD version only costs £500. Windows 7 rates the latter with an Experience Index of 5.9, the former with just 5.3.
That's a significant difference, and if I was laying out my own cash to buy a new laptop for the household, I would choose Llano as it offers better value for money. ®
Download the full test results in PDF form
Thanks to HP for the two review samples