Original URL: https://www.theregister.co.uk/2011/10/01/review_blu_ray_player_lg_bd670_3d/
LG BD670 3D Blu-ray Disc player
Wolf in sheep's clothing?
Posted in Personal Tech, 1st October 2011 08:00 GMT
Review The BD670 is strangely anonymous for a top-of-the-range Blu-ray player from major brand. Admittedly, it's not range-topping from any great height - it sells for a meagre £170 - but even so the dull black case, cake decoration buttons and flimsy disc tray proclaim "move along, nothing to see here" with utter conviction.
However, this player is most definitely worth a second look.

Not bad looking from a distance...
Not only does it offer access to LG's burgeoning Smart TV IPTV portal, it's also 3D compatible, has integrated Wi-Fi and is DNLA compliant with wide-ranging multimedia support.
The built-in Wi-Fi is particularly well executed. It's fast and effective. You can connect it automatically using WPS, or manually if you don't mind entering WPA keys on the remote. The standard LG zapper is supplied, and with glow-in-the-dark buttons it's any easy remote to live with.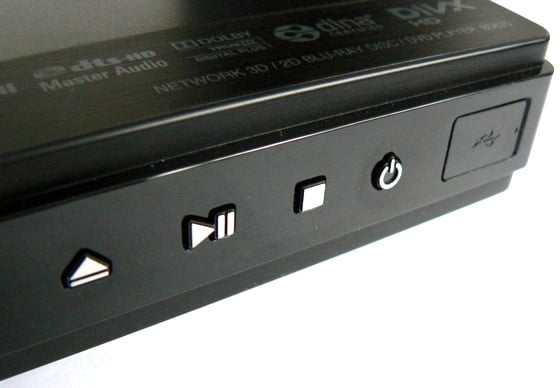 ...but up close, the buttons are stick-on jobs
In a token nod to customisation, users are also given a choice of three Home screen wallpapers, although they all look much the same. Sadly, you can't upload your own JPEGs.
It appears that the BD670's internal memory has been annexed for app downloads from the SmartTV portal, as there's no persistent storage available for BD Live. If you want to watch discs with interactive content, you'll need to insert a 1GB thumb drive into the front of the player, lifting a wee flap to reveal the USB port. This is akin to Worzel Gummidge needing to swap heads between a cup 'o tea and a slice 'o cake.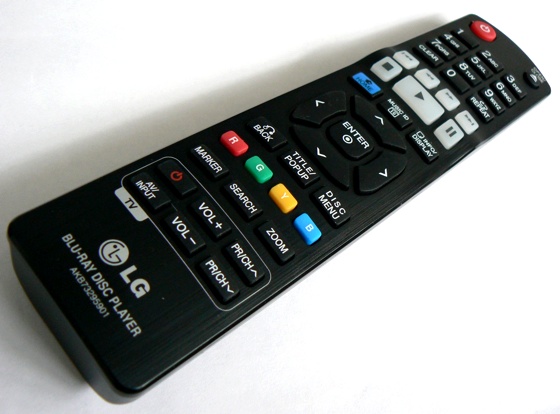 Bundled, LG's standard zapper
Still, the player's user interface is a doddle to use. The main, Home menu comprises a row of function icons, designated Movie, Photo, Music, Premium and Apps. The first three are used to access media, be it on USB stick or across your home network.
TV: an app platform too far?
The Premium and Apps icons route you through to online content. The former is a shortcut to a wide variety of streaming services, including the BBC iPlayer, YouTube, DailyMotion, pay-per-view movie service Acetrax and Cinetrailers. There's also Vtuner, which provides access to thousands of internet radio stations.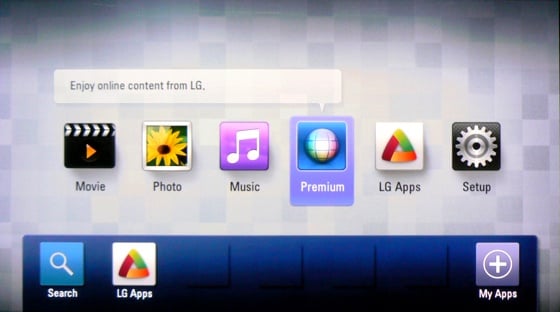 The BD670's UI is straightforward and attractive
LG seems intent on drawing a clear line between streaming entertainment and downloadable apps. This is probably a good thing. I'm increasingly beginning to scratch my head about the value and longevity of the latter.
While having hours of IPTV on tap is obviously a boon for humanity, do we really need to download a Flash Card-based First Aid guide to our BD players? I'm not sure I want to spend downtime between my Battlestar Galactica and Dexter box-sets taking a quick tutorial on how to cope with Frostbite - unless we're heading into a particularly cold winter - or surviving electrocution.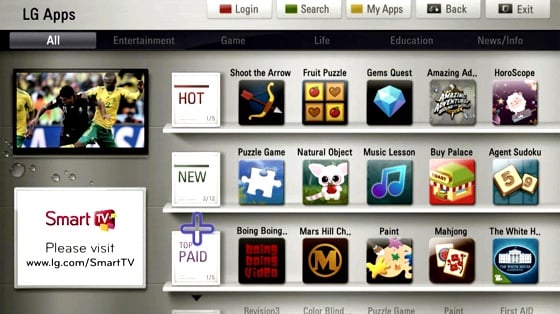 Do we really need all these apps on a telly?
The BD670 is a decent media streamer. File compatibility is solid, with AVI, MKV and MOV test files all playing from USB media and networked devices. Music support is limited to MP3 - with album art where available - and AAC. Flac and WAV get short shrift. In addition to reading small USB drives, the BD670 will pull media from an external HDD. It had no problem browsing a Fat32-formatted 160GB Iomega drive.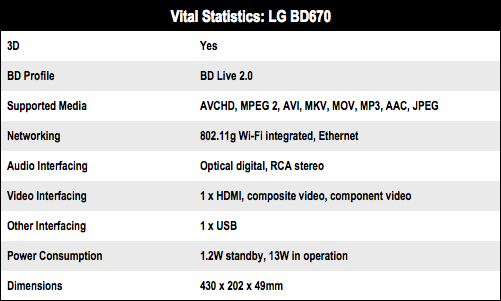 Disc jockey
Disc playback quality can be considered excellent for the price. Regular 2D Blu-rays exhibit supreme sharpness, with vibrant colour fidelity and no overt artefacts. 3D discs, including DIY AVCHD platters, perform equally well.
The BD670 also does a perfectly respectable job of deinterlacing DVD, with only minor jaggies evident. This is good news if you have a large legacy disc collection.

Not a shabby DVD player, either
The catch is that disc loading speeds are nothing to write home about. My standard 'heavy' load, Goldfinger, took 66 seconds to get from tray to the 007 logo - anything over a minute officially rates as slow in my book - but simpler fare does fine. Lou Reed's Java-lite Berlin was ready to rock in a respectable 29 seconds.
The LG's audio performance is adequate. Remember, by pouring DTS HD MA and Dolby TrueHD out of the player as a bitstream, audio quality is largely dictated by the DACs and electronics in your AV receiver. Those routing sound straight to a TV through the BD670's sole HDMI port have nothing to be concerned about.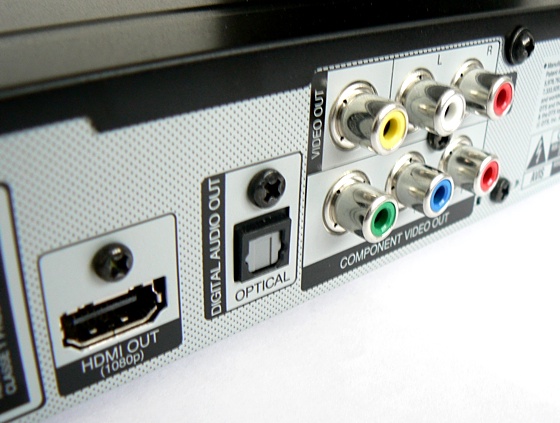 The jack pack
As a CD player, the BD670 is totally generic. However, I do like the player's presentation: when you spin a disc, the deck draws album art from the Gracenote database.
Verdict
The BD670 is yet another ridiculously well-equipped mass-market Blu-ray player. Provided you can live with its scarecrow aesthetics, there's plenty of entertainment to be had. Its UI is brilliantly simple and its IPTV offerings generous. I could have done with a second USB input, to address the BD Live memory problem, but its broad multimedia file support goes someway to compensating. The BD670 is a dark horse, and worth a ride. ®
More Blu-ray Player Reviews

Sony BDP-S380
Cambridge
Audio Azur
751BD
Philips
BDP7600
Samsung
BD-D8900
Panasonic
DMR-BWT700