Original URL: https://www.theregister.co.uk/2011/09/30/games_review_ico_and_shadow_of_the_colossus_collection/
Ico & Shadow of the Colossus Collection
Bossin' in HD
Posted in Personal Tech, 30th September 2011 11:08 GMT
Review Can games be ahead of their time? I've heard it said of musicians, film directors, even comedians but rarely attributed to any person, or any particular release, within the games industry. Perhaps it's time we started? Take Ico, for example, originally released for PS2 in Europe in 2001 to critical praise but scant commercial success.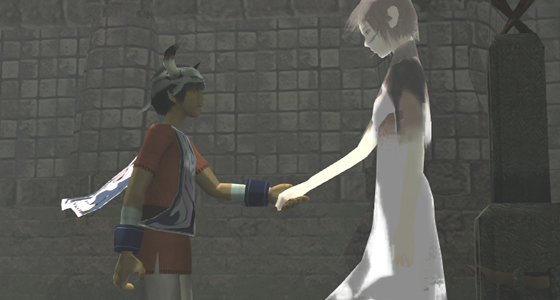 Come with me
It wasn't until word of mouth spread among US and European gamers that Ico – a game without explosions, guns, marines or gore – might actually be worth investing some time in, that its sales began to pick up, culminating in a re-release of the game just as Shadow of the Colossus, Team Ico's next offering, was limbering up for release.
It's perhaps inevitable then that the clamour for the Ico & Shadow of the Colossus Collection might surpass that of games which have received recent similar treatment. True, remakes of the likes of God of War 1 & 2, The Legend of Zelda: Ocarina of Time, Resident Evil 4 and Star Fox 64, have all garnered their fair share of hype and expectation, but it's Ico and SotC which combine lasting legacy and an increasing call for a HD version of the game by those yet to experience them.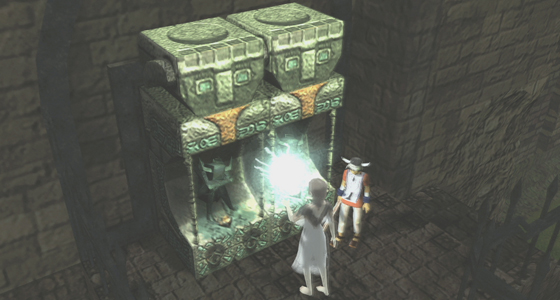 Aztechnology
What will early adopters receive? Well, patently, HD visuals for a kick off. At the time, both games - though particularly SotC - were graphically groundbreaking, employing animation, a sense of scale and sheer imagination rarely seen before. While those old watermarks have long since been surpassed - see God of War 3 - both titles still pack enough flare to not look too outdated, while details such as the emotions on the faces of the games' unassuming heroes' faces are clearer than ever.
The 1080p makeover adds a shine and smoothness to the environments too, though at times the limitations of the engines – pop-ups in SotC, for example – remain to remind us that these are relics of another gaming era. There's also 3D support added for those of us with the necessary kit.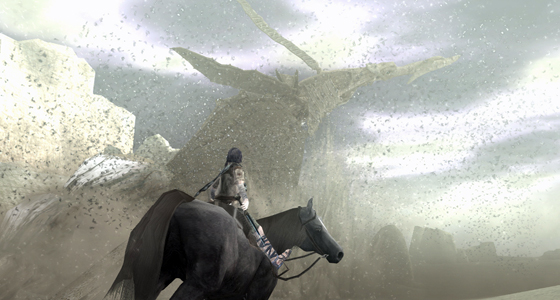 Sandy brinks
Sonically there have also been improvements, 5.1 surround support adding a whole new dimension to the heavy footfalls of SotC's colossi, for example. The ubiquitous trophy support will appeal to those who like that kind of thing too, but beside from that these are largely the games as they were, with even option screens barely touched from the PS2 originals. Whether that's out of faithfulness to those classics or down to something bordering on laziness is hard to tell, but it might have been nice to have everything upscaled to round off the package – just check out those save screens… sheesh.
Fairytale friends and foe
One other area which remains intact - perhaps unwisely - is the control scheme of both games. It's personal opinion, of course, but both titles might well have benefited from slightly tighter controls: a tweak to the manual camera orientation here - particularly in the case of Ico - and a tightening of the grip meter in SotC. Such change blurs the line between remake and remastering, but they could have always provided the option to switch enhanced controls on or off.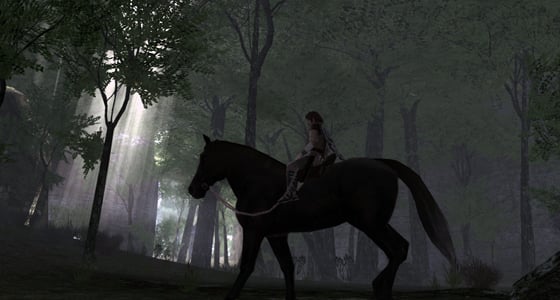 Wood trot
Perhaps, for those not au fait with either title - (seriously, where have you been? - an introduction to each might be in order. Though both are set in fairytale worlds there's no crossover between either beyond their themes – isolation, hope, despair and friendship, even if the 'friendship' in SotC is between a man and his horse. Both are affecting, melancholy experiences with an atmosphere and poise rarely seen in games – dare I even use the term "art"?
Ico tells the story of an eponymously named boy, born with horns on his head who – after freeing himself from his own incarceration inside a mysterious tower – discovers an unintelligible, ethereal girl, Yorda. After freeing her from her own imprisonment they set out to escape said tower and its bizarre denizens.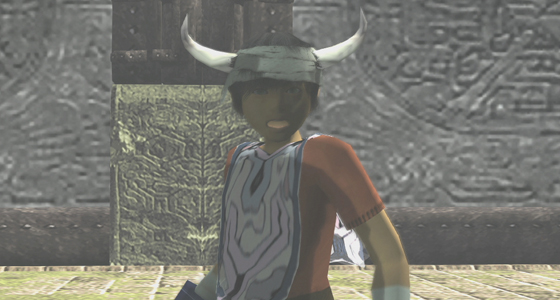 Horny look
A puzzle-platformer at heart, most challenges will have you leaping and climbing towards switches and presser pads to gain access to the next section. There is a combat aspect too as the girl is constantly pursued by demons, hell-bent on recapturing her. Fighting these oily fiends off provides the game's other challenge - taking Yorda's hand in your own often the best way to keep her safe.
There's no denying the fact that Ico has aged much more than SotC. It is, after all, some ten years old now. As mentioned before, you're able to move the camera view with the right stick, but the way it pans feels a little restricted given today's offerings.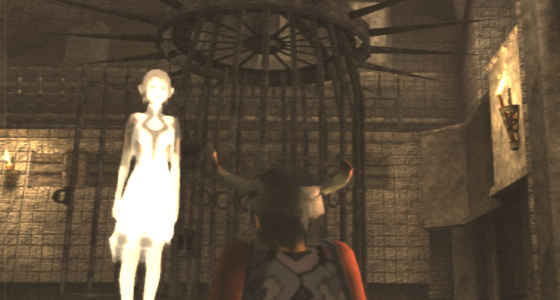 Hanging outside many bars
Yorda's AI is also lacking at times, it often taking her an age to catch you up if you've left her somewhere safe while clearing an area of enemies say. That said, it's still a unique game well worth playing, the echoing cries of Ico as he calls Yorda to his side as haunting as ever.
Bring down the beasts
SotC, a game in which your only goal is to topple the 16 lumbering colossi which populate the land - you'll traverse magnificent peaks, valleys and plains, all of which look breathtaking in HD - fares even better when compared to modern ventures.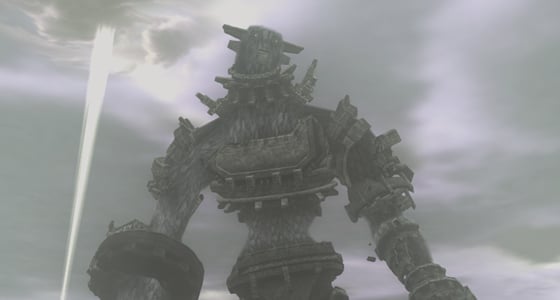 Quite a climb
Battles of such epic scale have seldom been seen before or since and yes, while Castlevania: Lord of Shadows and others have copied elements, the climbing up of a wriggling leviathan has never been done as well. It would be a spoiler of epic proportions itself to go into details on how to defeat said colossi, suffice it to say then that the imagination which goes into every encounter is breathtaking, more than making up for the fact that these fights are the game's only action scenes.
Both games might on occasion have you pulling your hair out with frustration. Imagine falling from the top of a colossus just before administering the telling blow (again), or witnessing Yorda dash into the path of a nasty, for example. And, in Ico's case especially, the restart point after deaths can be a little too far from where you were. But these faults are known, and woven into the games' tapestry to the point where it might have been detrimental to make adjustments.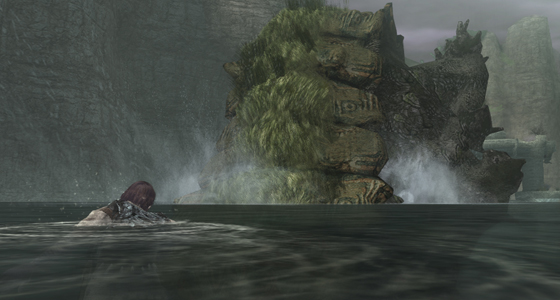 Deep trouble
Verdict
Two great - and complementary - games rejigged with full HD visuals, better sound, trophies, even the odd video interview with the developer; what more could any devoted fan, or even Team Ico newbie ask for beyond a concrete date for their next title The Last Guardian?
Both titles might be showing their age a little but the quality on show, and the bonuses of the enhancements, far outweighs any misgivings in a collection which truly shows off the merits of the HD remaster. If you've played either before then consider a revisit, if you've never played either then you're in for a treat. ®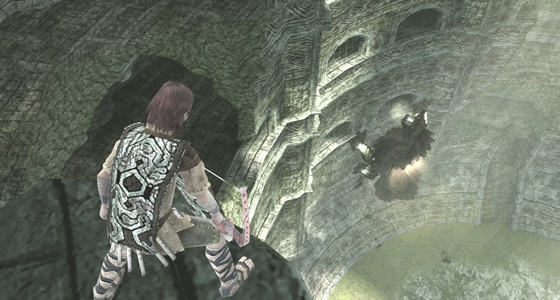 Off the wall!
More Games Reviews

Rise of
Nightmares
F1 2011
Gears of War 3
Resistance 3
Dead
Island