Original URL: https://www.theregister.co.uk/2011/09/29/review_laptops_acer_timeline_x_5830t/
Acer Timeline X 5830T
The boy in blue
Posted in Personal Tech, 29th September 2011 07:00 GMT
Review Acer has ploughed itself a nice furrow over the last few years, building nice-looking, well-made laptops. The 5830T might lack the instant recognition and wow-factor of the Apple MacBook Pro, but there's no arguing that it's a nice-looking system.
The wrist-rest is finished in a light metallic blue, and while the metal strip which covers the speakers is arguably a little retro, there's still plenty to like.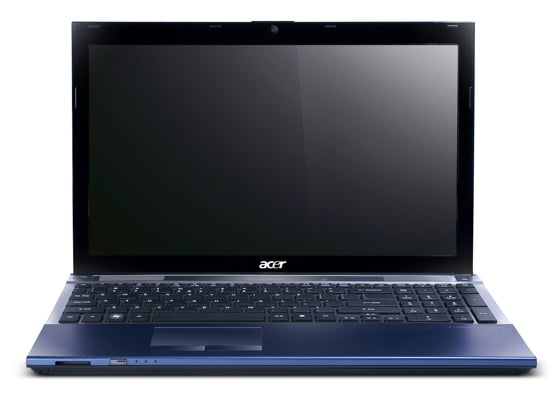 Widescreen, wide keyboard
As is the mode these days, the keyboard is a chiclet job, and feels beautifully solid and nicely spaced. Folk bashing out their dissertations will have no trouble getting up to a decent word-per-minute rate.
At nearly 380mm wide, this is a pretty big slab of a system, so it's good to see that Acer has put the space to good use by including a numberpad.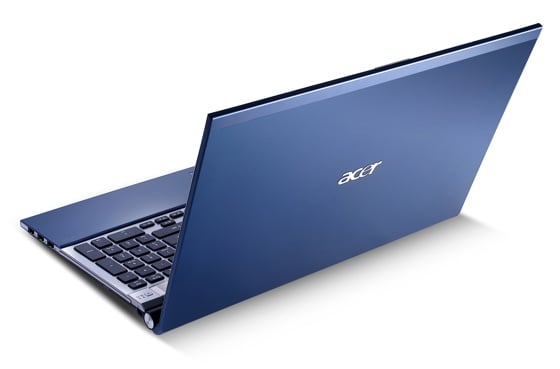 Not-so-little Boy Blue
The multi-touch trackpad comes with some clever tricks too. If you want to scroll down or up you can swirl your finger clockwise or anticlockwise respectively to avoid repetitively stroking the right-hand edge.
It also has the ability to pinch to zoom, although without deep-set support in the OS for pinch gestures, whether it works reliably or not very much depends on the application you're using.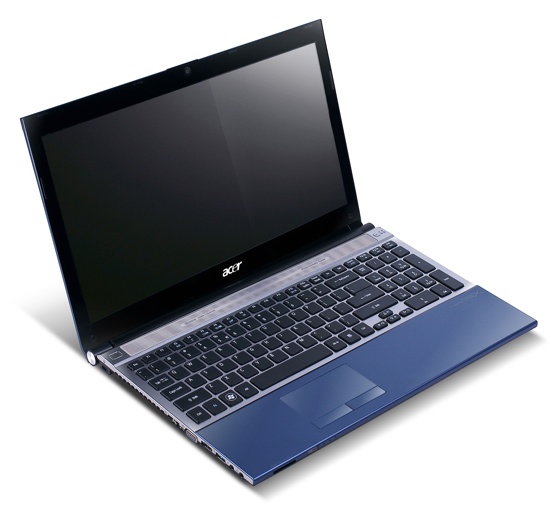 Ever so retro design touches?
Finally, the trackpad automatically switches itself off when you're typing, which can be handy if you've ever sighed in exasperation as your mouse pointer jumps around in Word.
However, the trackpad takes a second to realise you want it to work again, so its auto-off feature can be annoying if you're keying in fields and then trying to click to activate another box. The effect can be turned down or off in the Control Panel.
Dual core? Needs more
There's a 2.10GHz two-core Core i3-2310M processor on board, and while this isn't the most ferocious number-cruncher on the planet it'll certainly see you through day-to-day tasks. Part of the reason the 5830T feels so capable is that it's well loaded with memory: 6GB of DDR 3.
PCMark 7

Longer bars are better
PCMark Vantage

Longer bars are better
3DMark 06

Longer bars are better
All this adds up to a machine that, while not the last word in computational grunt, won't struggle playing back HD content, for instance. It chuntered through to a final mid-table score of 4817 in PCMark Vantage.
The only time the 5830T looked less able was during a bout of 3DMark 06 testing. The integrated Intel HD Graphics 3000 chip might be able to borrow up to 1760MB of system RAM, but it fairly groaned through our tests to a final score of 1581.
PCMark Vantage Battery Life

Battery life in minutes
Longer bars are better
Flip the machine over and the spring-loaded catches you'd expect to find holding in the battery are conspicuous by their absence: that's right, Acer has opted to build the battery into the case. Not only that, but the removable panel with a battery icon on it doesn't actually cover the battery. Getting access involves removing the entire underside - a huge palaver.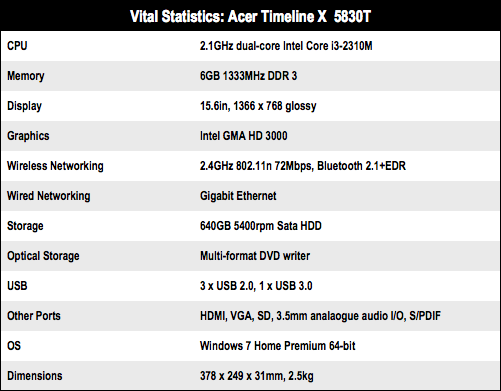 Boosted battery life
The plus side is that while the battery isn't removable, it does offer very strong performance. The standard specification sticker on the 5830T's wrist-rest boldly proclaims eight hours and upwards of battery life, which I scoffed at until I ran a light-use test. With the screen on, the 802.11n wireless radio connected to a base-station and nothing else happening, the 5830T ran for a spectacular nine and a half hours, which is extremely good for a mid-range thumper of a laptop with a 15.6in screen.
Given the far harder task of running with the screen at full brightness and looping PCMark Vantage until it collapsed, the 5830T ran for two hours 56 minutes, so with normal use it seems fair to expect pretty much a full day's use from it before you need to find a socket.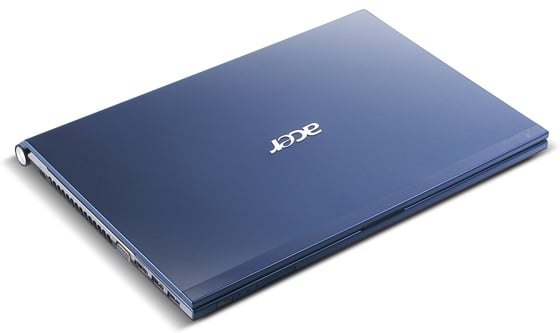 Big battery life
There's a good selection of ports: HDMI, VGA, Gigabit Ethernet, USB 3.0. The 3.5mm headphone jack runs double-duties as an analogue connector and an S/PDIF. SD and three USB 2.0 ports complete the set.
The Timeline X's 15.6in screen has the nice-in-the-shop-but-useless-at-home glossy finish. An attempt at working outside revealed that the screen just doesn't have the brightness for overcoming strongly-lit environments. And the resolution of 1366 x 768 feels a tad paltry when there's so much physical space on offer.
Still, the screen is excellent in terms of colour reproduction. At the very least, the relatively lowly resolution means you won't lament the optical drive too much, which doesn't have Blu-ray capabilities.
If I had a single complaint it's the noise the machine makes when you pull out the power cable - if the speakers aren't muted you get a horrible, monotone 'boop' noise which will be familiar to all those who have ever watched a 486 get through its POST.
Verdict
This is a decent system from Acer. It compromises on computational welly, but offers more than enough memory to keep things running smoothly. The only people who won't be wholly enamoured with it are likely to be serious power users - it's not particularly well-suited to Photoshop or big rendering jobs - and gamers. If you simply want a machine for everyday work or studies, this will fill the role without carving a rut out of your wallet. Look online and you'll pay £100 less than the RRP. ®
Thanks to SaveOnLaptops for the review sample
More Notebook Reviews

Sony
Vaio SB
Acer
Ethos
5951G
Apple
MacBook
Air 11
Dell
XPS 15z
HP
Pavilion
dv7