Original URL: https://www.theregister.co.uk/2011/09/29/games_review_rise_of_nightmares/
Rise of Nightmares
Kinect's first frightfest?
Posted in Personal Tech, 29th September 2011 11:00 GMT
Review A spine-tingling unease, an oppressive sense of dread, an irrepressible fear – dusting off and firing up the Kinect sensor can fill any self respecting gamer with a profound foreboding. Since its release almost a year ago, Child of Eden stands as the only hardcore game to shine its - admittedly brilliant - light through the gloom of casual, throwaway motion-controlled titles.
Enter Rise of Nightmares to provide Kinect's most stringent test yet. A full first-person survival horror game, Sega's gruesome scarefest might leave Kinect's hardcore credentials battered and bloodied, but there's just enough hope amid the horrors to provide Microsoft's all-seeing peripheral with a temporary stay of execution.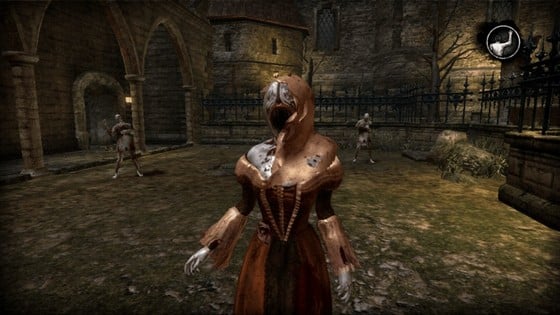 Don't get mouthy with me
On first impressions alone, Kinect deserves no such reprieve. Rise of Nightmares' motion controls initially feel as mechanically shambolic as its many lurching, undead denizens. In theory, movement seems simple enough: one foot ahead to walk forwards, one foot behind to step backwards and a slight turn of the shoulders to change direction. So does combat, with its more traditional Kinect-friendly gestures of slashing, throwing and blocking.
But, for the game's opening hour at least, the execution proves exasperating, as you continually snag yourself on walls, struggle to line up with interactive objects and stumble unwittingly into throngs of undead.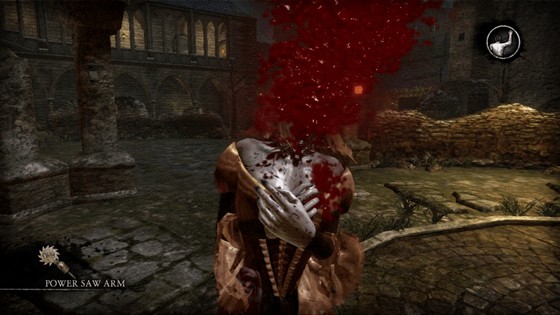 Head off for more kills
Of course, of all the hardcore genres, survival horror is perhaps the most amenable to Kinect's limitations. Restricted movement has long been one of the genre's most staple conventions, used to ratchet up tension by instilling players with a greater sense of vulnerability.
Anyone who complains that the Resident Evil or Dead Space series have clunky controls is missing the point entirely.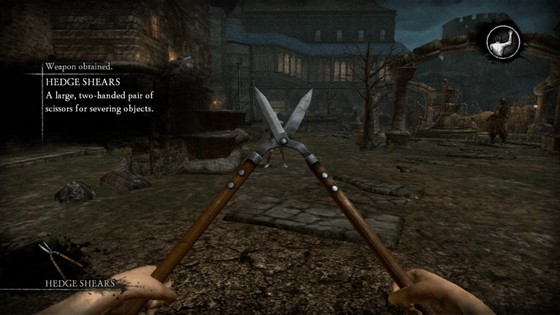 I'll take some dead meat with all the trimmings
So, while it's true those initial Kinect misgivings never truly disappear, it's testament to the genre's principles and Sega's clever gameplay concessions that, once mastered, the motion controls rarely frustrate to the point of distraction.
In regular games, those concessions would amount to weaknesses. But here they're vital to squeeze the first-person experience into motion controls. Auto aim helps reduce Kinect's occasional inexactitude when throwing objects or switching between enemies. Large object icons minimise the precision required when picking up items or opening doors. And there's a handy option to switch to on-rails movement to provide occasional respite from the tiring full control.
Thanks a plot
While Kinect provides an unconventional twist on proceedings, Rise of Nightmares' plot plays far more conventionally. You play as Josh, a recovering alcoholic travelling by train through Romania with his wife Kate. Quicker than you can ask, "Why would any sober person ever go to Romania?" a hideous fiend attacks and wrecks the train, ripping almost everyone to giblets, before kidnapping Kate and carrying her off to a castle deep in a cursed forest.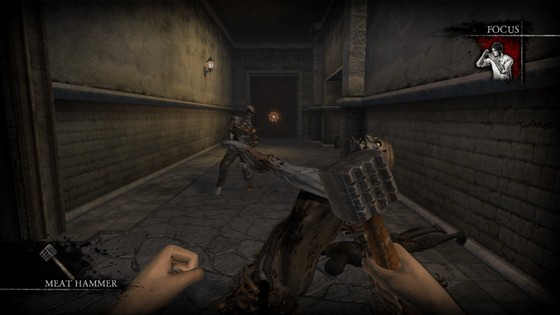 Shock, hammer time
Your objective, then, is one gaming's oldest ones: to rescue the princess from the evil lord. But this is no Super Mario or Ghosts and Goblins.
Rise of Nightmares employs every schlock horror convention to disturb, unnerve and frighten you: the dissonant shrieks of violin chords; the demonic face momentarily replacing yours in the mirror; the mysterious Tarot reader foretelling your doom; and, of course, your fellow train wreck survivors being picked off one-by-one in the Saw-style torture-porn of the game's opening hours.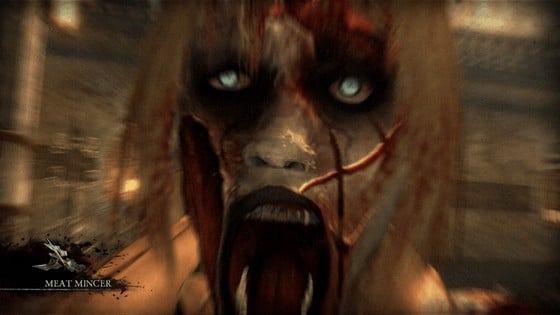 Scarred for eternal life
Gameplay is equally conventional. Remove the novelty of Kinect and you're left with an utterly ordinary brawler. A decent blocking and health regeneration system slightly elevates the repetitive button-mashing, hack-and-slash combat. As does the game's system of weapon degradation, which forces you to constantly hunt for fresh weapons.
The few boss battles fail to break the monotony of regular combat, being little more than extended slugfests against tougher enemies – the final boss taking a shoulder-dislocating 15-minutes to defeat. And puzzling is rudimentary 'find key, open door' stuff.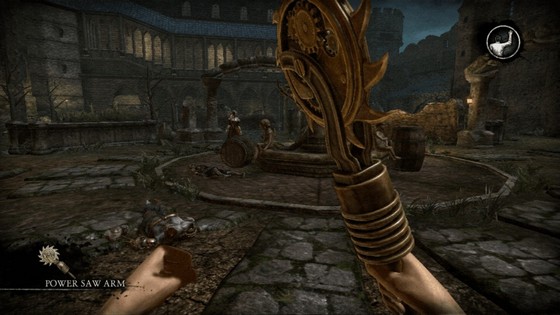 I saw dead people
Worse still, the game is chock full of Quick Time Events. Ranging from familiar action cues, such as quickfire ducking and side-stepping to avoid traps, to more novel implementations, such as covering your ears to block out Siren screams, these QTEs feel little more than predictable contrivances to justify Rise of Nightmares' motion controls.
Verdict
The over-reliance on QTEs typifies Rise of Nightmares' sensibilities. There's nothing within its gameplay that wouldn't have been better achieved through a conventional control scheme. Sega has proved developers can use Kinect to control a full first-person game, but the sheer number of necessary concessions and contrivances begs the question why they would.
If you're looking for a real scare as the nights draw in and Halloween approaches, and perhaps missed it first time around, ignore Rise of Nightmares and opt instead for the seminal Resident Evil 4, now available on XBLA and PSN in remastered HD glory for just £15. ®
More Games Reviews

F1 2011
Gears of War 3
Resistance 3
Dead
Island
Driver:
San Francisco