Original URL: https://www.theregister.co.uk/2011/09/28/iluv_shows_desktop_pc_style_ipad_dock_accessory/
iLuv shows desktop-style iPad dock
Make your tablet look like an old PC
Posted in Personal Tech, 28th September 2011 10:50 GMT
We've seen tablet cases that make a fondleslab operate as a laptop screen, but you'll soon be able to go for that desktop look too.
Accessory maker iLuv is working on the WorkStation series, a set of docks for Apple iPads and Samsung Galaxy Tabs that incorporate a speaker unit and a wired keyboard.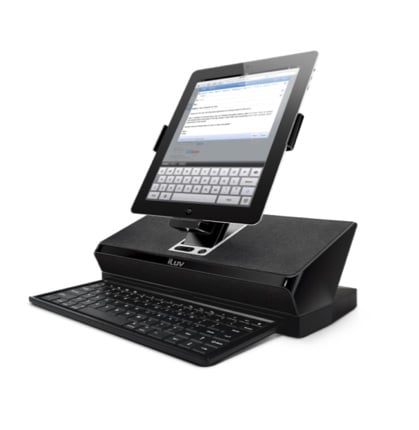 OK, so it lacks a hard drive, serial ports and a floppy disk, but you could be forgiven for thinking the tablet has morphed into an old-style PC, complete with tiny monitor.
This is the iMM737 WorkStation - iLuv will also offer the iMM517, which is the same thing but with a Bluetooth keyboard rather than a wireless one. The iMM737 will go on sale in November, the 517 sooner. UK prices are TBC. ®