Original URL: https://www.theregister.co.uk/2011/09/27/review_wireless_music_player_sonos_play_3/
Sonos Play:3 network music player
The best starter streamer bar none?
Posted in Personal Tech, 27th September 2011 08:28 GMT
Review Sonos wireless music systems have always been deeply desirable but they have also always been rather expensive. Now Sonos has released a one-box player aimed at those of us who don't own our own Caribbean island.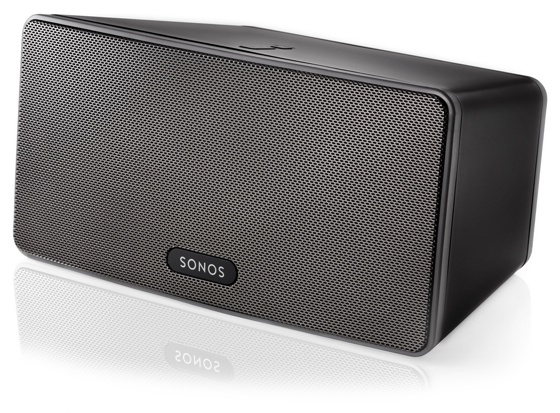 Boom box
To be honest, the £259 asking price doesn't get you a wireless music system, it gets you one that has to be wired to a router. To make it wireless, you also need a £40 Sonos Bridge which, when hooked up to your router with an Ethernet cable, communicates with the Play:3 over a bespoke AES-encrypted 2.4GHz peer-to-peer wireless mesh network
Installation is a simple matter of plugging everything in and running the supplied Windows or Mac desktop controller software - Linux users should be able to install the Windows software under Wine - and pushing some connect buttons when asked.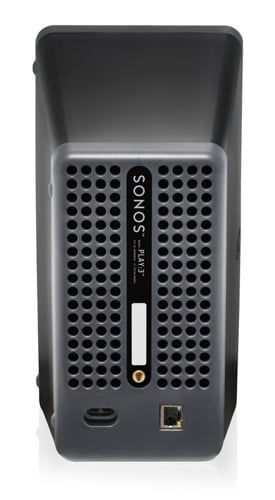 The only ports it needs, apparently
The Sonos software then scans your music library - it chewed through the 8000 tracks on my laptop in less than ten minutes - and once it's done you are good to go.
The software made a good fist of my rather idiosyncratic iTunes library. It imported my playlists and recognised my gapless albums as such. On the codec front, Sonos supports MP3, WMA, AAC, Ogg Vorbis, Audible, Apple Lossless, Flac, WAV and AIFF files.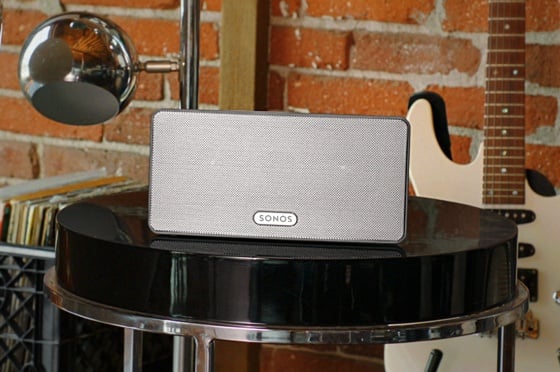 Not a shouty design
Of course, you aren't restricted to files stored on a hard drive. You can also access music from several streaming services, including Spotify, Last.fm and Napster, as well as any MP3 or WMA-based internet radio station.
Smartphone control
To enjoy your locally hosted tunes you need to keep your PC switched on - not a problem for me because my system goes on when I wake up and only gets switched off come bed time if I remember. Internet radio and services like Spotify can be streamed without a PC, and as long as your Nas box supports the SMB/CIFS networking protocol you can play music files held on remote storage.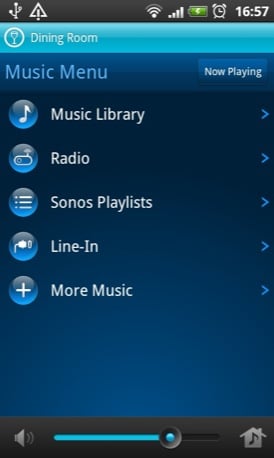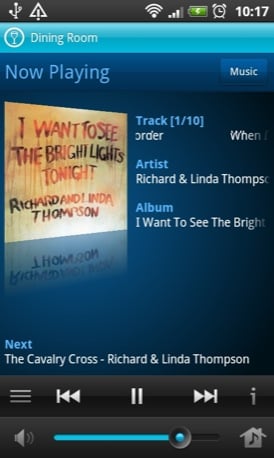 The main menu of Sonos' Controller app for Android (left) and what it's playing (right)
The Play:3 itself is a solid and well made, if rather anonymous box that's small enough to be easily positioned in a room without shouting, "Look At Me!" like the B&W Zeppelin and its ilk. The unit has rubber feet on the bottom and on the left side so you can stand it either way up as available space dictates.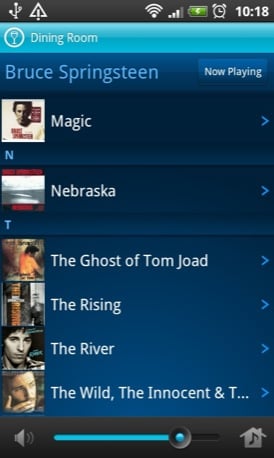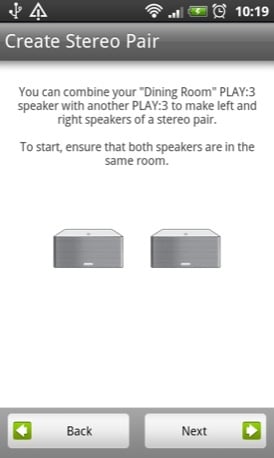 Pick a song from your library (left) then stream it to a stereo set-up (right)
Controls and inputs are limited to a power jack, Ethernet port and volume/mute buttons. There's no auxiliary input which wasn't unexpected given Sonos' belief in the primacy of the network but the absence of a headphones socket is annoying.
Sonos doesn't bundle a remote because you're supposed to use your iPhone, iPad or Android handset after installing the free Sonos app. It's an idea that's hard to argue with when smartphones are so ubiquitous and Sonos' own remote costs a terrifying £279.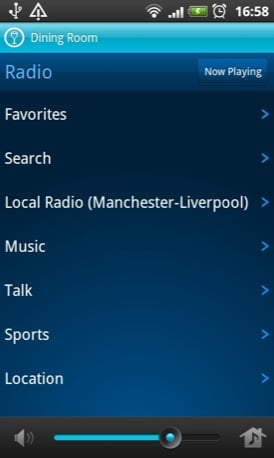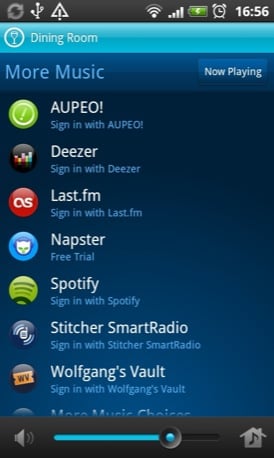 Stream songs from internet radio stations (left) and other online music sources (right)
Once installed on my Desire HD, the Android Controller app worked a treat and offered both ID3-tag and folder views of my library. If you are without a smartphone, the system can be controlled directly from your computer's desktop.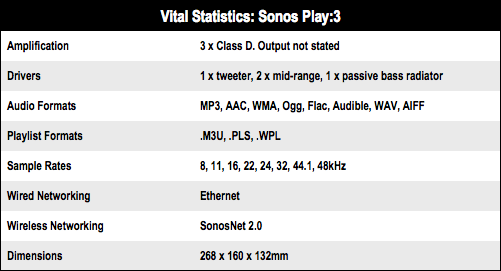 Multi-room ready
Take a Play:3 apart - impossible to do but use your imagination - and you will find a tweeter and two 3in mid-range drivers firing forward, and a passive bass radiator at the back. Each driver is individually powered by a dedicated Class-D amplifier.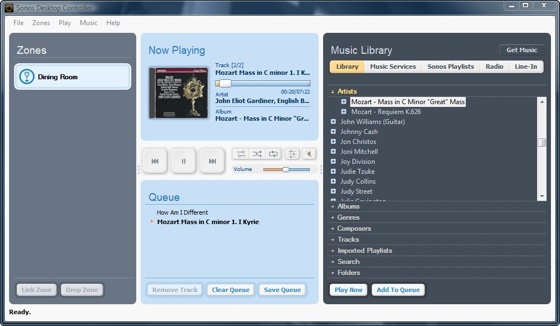 No phone? Then run everything from your PC
How does it sound? Rather good. In fact, for something so diminutive, extremely good. There's plenty of volume on tap - Sonos is keeping mum about actual power outputs - and what comes out is detailed, solid and very composed, even at maximum volume.
Compared to my now discontinued Squeezebox Boom, the Play:3 is sonically superior in every way. The only vaguely similar device I've heard that offers more to the ears is the Arcam rCube dock which will set you back a further £200.
It's worth mentioning that in over a week with the Play:3 I didn't experience a single hiccup, pause or drop-out in my listening. Everything just worked, reliably.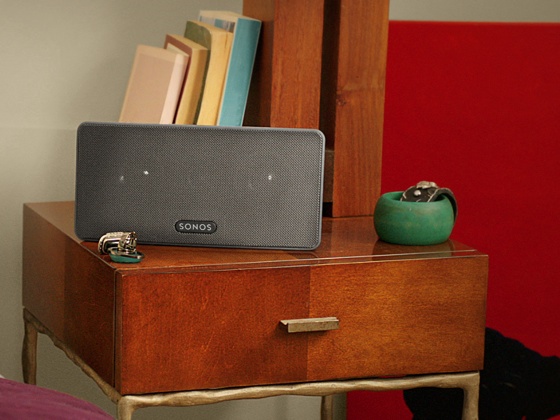 Well designed for any room in the house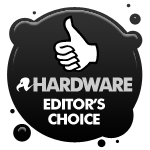 If one speaker isn't enough, you can add a second Play:3 to a room and set them up to work as a stereo pair. This being a Sonos system, speaker units and wireless bridges can continue to be added until you run out of money or rooms.
Verdict
Sonos has at last built a wireless music box for the less well-off - and built a rather good one too. The Play:3 is physically small enough to be easily sited in any lounge, office or bedroom but produces a big enough sound to act as a primary stereo. The facility to pair units up as stereo speakers and use your smartphone as a remote is the icing on the cake. ®
More Network Music Kit Reviews

Cambridge Audio
Sonata NP30
Logitech
Squeezebox
Touch
Audio Pro
WF100
Pure
Sirocco
550
Ten…
wireless
speakers