Original URL: https://www.theregister.co.uk/2011/09/27/b_and_w_zeppelin_air_app/
B&W connects iOS devices through collaborative playlist app
Social work
Posted in Personal Tech, 27th September 2011 14:29 GMT
Bowers & Wilkins has shown its eye for social scenarios, after unveiling an iOS app for building playlists with content streamed from multiple devices.
While several apps already exist that enable general music streaming, the Zeppelin Air App is apparently the first to let users share music in collaborative playlists between multiple mobile devices.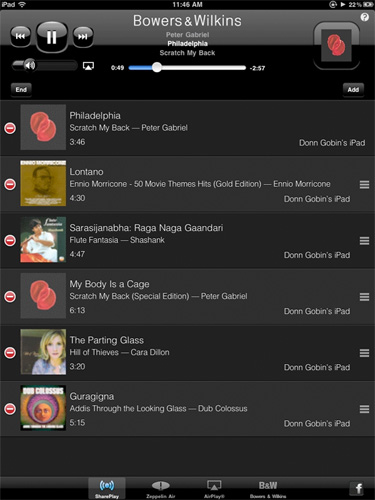 This should certainly cut out squabbles over who has the best selection on their phone, as everyone can contribute towards the group mixtape, keeping parties in full swing without having to swap jack cables around.
In order for it to work, all contributing members must have the app installed and own an AirPlay enabled music device in order to receive the broadcast. The app is free, though, so get cracking.
AirPlay requires iTunes 10.1 or later and is compatible with any iPhone, iPad and iPod touch that packs iOS 4.2 and beyond. ®