Original URL: https://www.theregister.co.uk/2011/09/26/review_laptop_sony_vaio_sb_13_inch/
Sony Vaio SB 13.3in notebook
Handy dandy
Posted in Personal Tech, 26th September 2011 12:00 GMT
Review Not everyone wants to lug a 15.6in notebook around - even less a 17-incher - so the 13.3in category has always appealed to folk keen for plenty of performance without the bulk. Sony has long offered 13.3in machines, the latest being its SB series, part of its broader S series.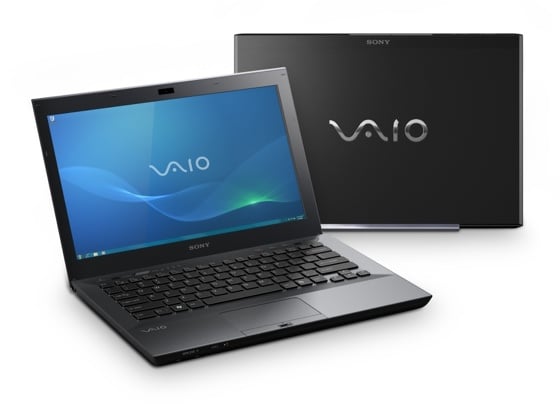 Available with a non-glossy screen. Hurray!
The SB contains a vast swathe of pre-installed software in an effort to make it easier to get the hang of than other laptops. Good job there's plenty of disk space for all this stuff, though the smart user will uninstall a lot of it.
Still, if the onboard software isn't going to set the world alight, there's plenty elsewhere to like. The 13.3in screen is bright, with a handy ambient light sensor above the keyboard to adjust brightness on the fly. The resolution of 1366 x 768 is commonplace, but it makes more sense here than on some of the 15.6in laptops that have darkened my doorstep recently.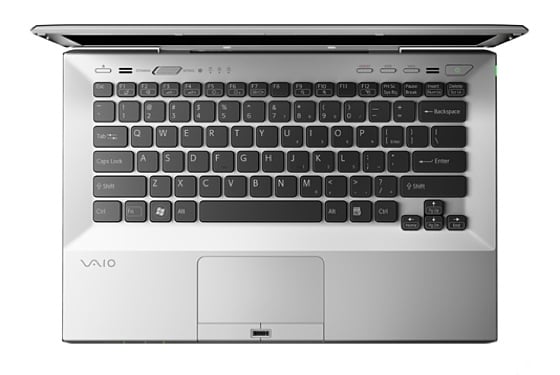 The keyboard and trackpad are decent
A minor but potentially essential point for those who work in variously-lit environments is that the SB's screen is - praise be - matte, rather than glossy.
Open the laptop up and you're greeted by a muted, dark metallic-blue finish and a standard chiclet keyboard. The understated styling works really well, making the SB look classy without over-reaching, and the keyboard is a very solid, if slightly hollow-sounding affair.
The trackpad is a slightly-off centre number that does multi-touch, although whether tricks such as pinch-to-zoom work depends enormously on the application at hand. It's next to useless most of the time - a bit like the fingerprint reader squirrelled in between the mouse buttons. Does anyone use these?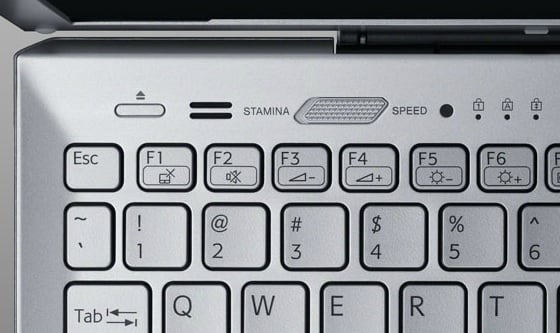 A switch to toggle between integrated and discrete graphics seems like a good idea... until you use it
There's a Stamina/Speed switch above the keyboard, which reminds me of the days when desktops had a Turbo button. Flicking it across changes the graphics chip in use from the on-CPU Intel GMA HD 3000 core to the more powerful AMD Radeon HD 6470M.
Unfortunately, its implementation is flawed. For one thing, the flicking a switch depending on what taks you want to perform isn't terribly user friendly. Secondly, the software that the switch deploys occasionally insisted that every application be closed down before the mode could be switched, although this didn't happen every time.
Under-performer
The processor inside the SB is a dual-core Intel Core i5-2410M running at 2.3GHz, and while 4GB should be considered a minimum spec these days, there were no signs of a slowdown when the SB was being asked to think fast. There's a spare SO-Dimm memory slot ready for more Ram if you find you need it.
PCMark 7

Longer bars are better
PCMark Vantage

Longer bars are better
3DMark 06

Longer bars are better
PCMark Vantage returned a decent score of 5820. Neither of the SB's two GPUs qualifies this laptop as a gamer's machine, but a final score of 5084 in 3DMark 06 suggests you should be able to get reasonable framerates on older games if you can keep image quality in check.
However, within an hour of getting the SB out of the box it was clear that it has a bit of an Achilles Heel. Like almost all laptops, it needs active cooling to stop the processor going into meltdown, but unlike most others the fan is pretty loud - when it's working hard you'll easily hear it from the next room if there's nothing else going on. Not only that, but it doesn't take much to prompt the fan into life, either.
PCMark Vantage Battery Life

Battery life in Minutes
Longer bars are better
It may have been the hyper-active fan - along with choosing Speed mode - that produced the SB's shocking intensive use battery result of just 89 minutes, which makes it of limited use for those who really push their laptops during their commutes.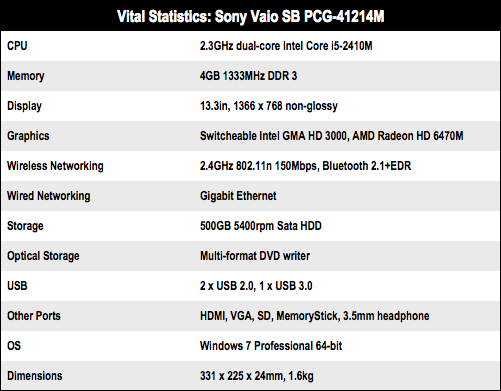 Fan-boy
Flicking the switch across to Stamina mode and opting for 50 per cent screen brightness and no active applications produced a much more reassuring time of 7 hours 56 minutes, suggesting that the battery nestled under the keyboard is actually more capable than the first impression suggested.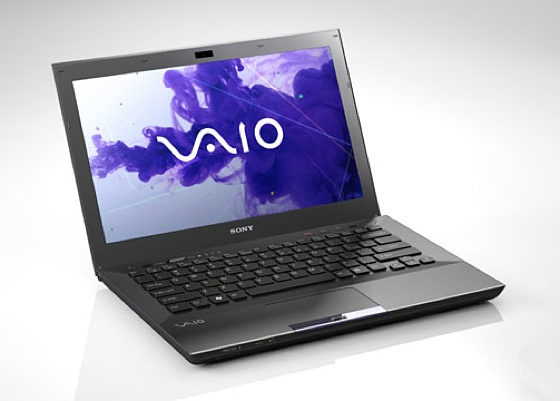 Stylish looks, but not OTT
The word 'nestled' really is appropriate, as the SB is the latest in a string of laptops with a battery that can't be detached simply by unlatching a few spring-loaded catches. You need to remove a plastic panel on the underside instead. It's not terribly onerous - there are only two screws and no muscle involved. Those who want more battery life without digging in their laptop's innards can buy an external battery that clips to the bottom of the chassis for £100.
The SB is pretty well covered for ports: a single USB 3.0 joins a pair of 2.0 ports, while the HDMI and VGA ports cover pretty much all output eventualities. Two separate slots cater for SD and Memory Stick cards. There's no mic jack, so you can only connect a pair of headphones.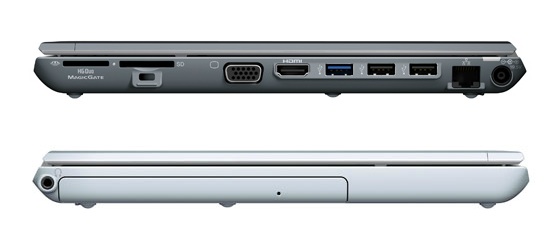 There is a good array of ports on the SB's thick sides
My review model came with a multi-format DVD writer, although in return for a somewhat steep £350 you can specify a Blu-ray drive. Sony has followed Apple's lead on the method for ejecting the drive, using a button above the keyboard. It's non-standard but works well, and the drive will pop open whenever you press the button, even if Windows hasn't started booting.
You can spec in a 3G modem for £100, and there are a range of SSD and HDD storage options on offer. Pick the SKU that's right for you.
Verdict
The Sony SB series is an interesting system. It's heavier and chunkier than the 13.3in MacBook Air, but cheaper. It's lighter than the 13.3in MacBook Pro - 1.6kg to 2.0kg - and has more than either Apple. As a handy, portable machine that will take almost anything you can throw at it it's ideal. It's just a shame it's so darn noisy. ®
More Notebook Reviews

Apple
MacBook
Air 13
Dell
XPS 15z
HP
Pavilion
dv7
Acer
Aspire
5755G
Toshiba
Satellite
P775