Original URL: https://www.theregister.co.uk/2011/09/22/review_laptop_acer_ethos_5951/
Acer Ethos 5951G 15.6in Core i5 notebook
Holey moley, a detachable touchpad
Posted in Personal Tech, 22nd September 2011 12:00 GMT
Review The Acer Ethos 5951G laptop, with its matt black casing and blue activity LEDs, looks rather purposeful. I continued to be impressed by the cosmetics as I hefted the 3.3kg slab onto my lap even though a closer look revealed the brushed finish on the lid was nothing more than plastic, rather than the implied aluminium skin.
Frankly, it's a puzzle why a 15.6in notebook should weigh quite this much in this day and age, but those are the facts of the matter.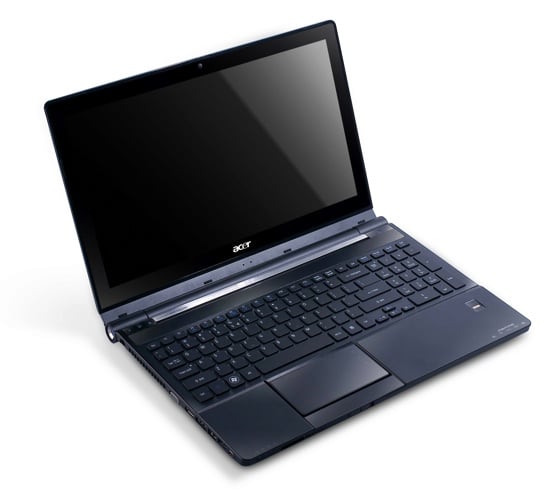 Slimline, yes - lightweight, no
At first glance, the Ethos 5951G is a conventional laptop with a specification that walks down the middle of the performance highway. The Intel Core i5-2410M CPU runs its two cores, both with HyperThreading, at 2.3GHz. It has a maximum Turbo Boost rating of 2.9GHz and is backed up by 8GB of 1333MHz DDR 3 Ram.
DirectX 11 graphics are provided by an Nvidia GeForce GT 540 M chip with 1GB of dedicated video memory. This scores 1659 in 3DMark 11 on Entry settings and 8736 in 3DMark06. That's about 50 per cent better than the GMA HD 3000 graphics that Intel provides in the Sandy Bridge core and they are more than adequate for powering the visual bells and whistles that are part of 64-bit Windows 7 Home Premium.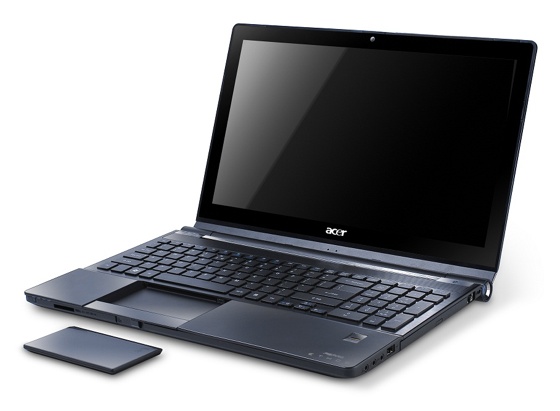 Yes, the touchpad slips out to become a remote control
The LED-backlit 15.6in screen contains 1366 x 768 pixels so it can manage 720p HD video playback, though 1080p content can be pumped out through the laptop's HDMI port. The optical drive is a multi-format DVD unit rather than Blu-ray.
Connectivity is good: USB in its 2.0 and 3.0 flavours, and there's a combo USB/eSata port too. You even get FireWire, and VGA for owners of old projectors.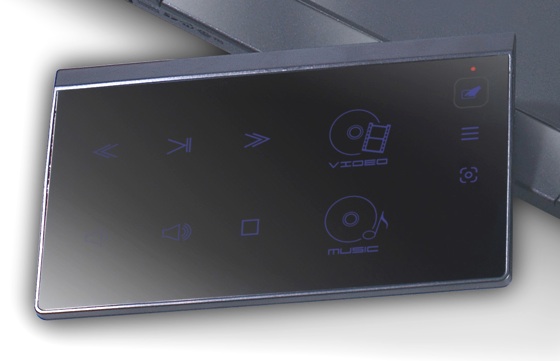 A closer look
So far, so conventional. The area where the Ethos 5951G blazes a new path lies, unexpectedly, in the region of the touchpad. Dubbed the MediaRemote, it is actually detachable. Slide the trigger at the front of the laptop to lift the MediaRemote away from its magnetic catch and you can pull the touchpad clean out of the chassis.
Mainstream performance
The MediaRemote has a rechargeable battery and a wireless range of ten or so metres. You can see it pulled apart at the FCC website here.
PCMark 7

Longer bars are better
PCMark Vantage

Longer bars are better
3DMark 06

Longer bars are better
With the MediaRemote in your hand you can sit back on your sofa and navigate around websites. If you're really weird, you could watch PowerPoint or something of that ilk. When the MediaRemote is detached the left and right mouse buttons remain in the chassis so you make selections by tapping the pad but you can't use the MediaRemote to perform right clicks.
PCMark Vantage Battery Life Test

Battery life in minutes
Longer bars are better
If that was the limit of the MediaRemote's abilities, I would have been underwhelmed - the technology would be no better than a Smartphone loaded with a suitable app. However, I was only scratching the surface.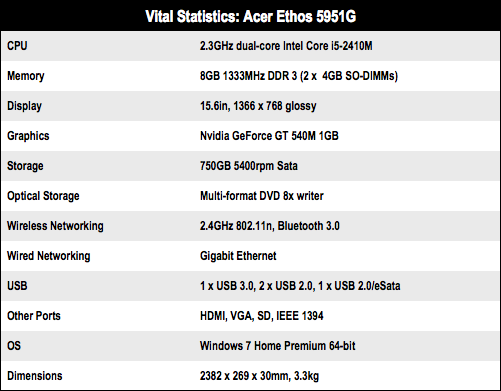 Premium pricing
Clicking the button that nestles in one corner of the pad allowed me to switch from mouse mode to media mode which lights up a set of media control buttons that were previously invisible. These buttons work in conjunction with the Acer/CyberLink Clear-fi media player software, which stands ready to play music, photos and videos using DLNA tech.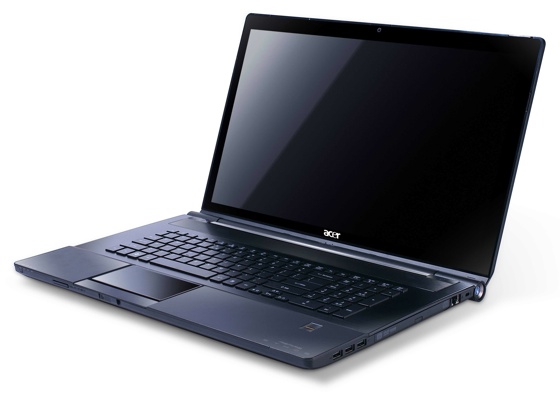 No shortage of portage
Incidentally, there's a fair amount of software included with the Acer and much of it deserves to be uninstalled. There were glimmers of hope, such as the fabulous World of Goo, however it's only a demo that limits you to a total of 60 minutes of play time.
Above the (rather good) keyboard there are three shortcut keys. One is user-defined, the second linked to Clear.fi and the third controls the keyboard backlight.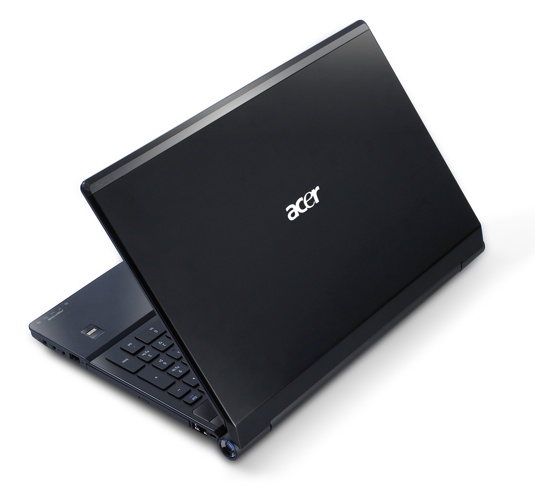 The lid is plastic, not brushed aluminium, as it might seem to be
Although the MediaRemote performs well, I have to confess that I have rarely found it to be much of a chore to lean forward a foot or two to touch a keyboard. You might have plans to operate a laptop that is connected to your TV by a short HDMI cable, in which case MediaRemote could be just what you need.
I have another word of caution as I found the touchpad operated better in MediaRemote mode than it did when plugged into the laptop. The problem is that there was a short lag between the movement of my finger and the cursor travelling on the screen.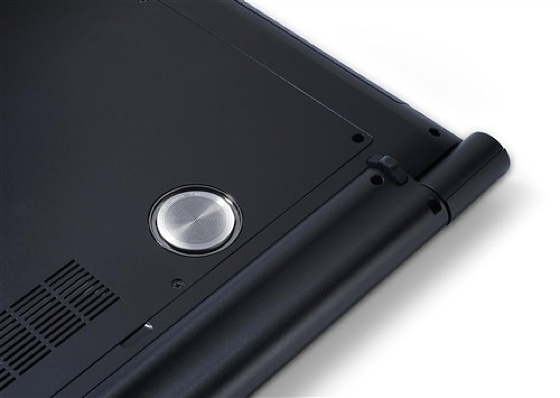 A built-in sub-woofer makes for a better-than-laptop-usual sound
Most laptops have audio that fails to impress. Acer has plastered the Ethos with Dolby Home Theatre logos and has installed a sub-woofer on the underside of the chassis with the upshot that music and movies sounds OK. The Ethos is certainly better than many laptops but it falls short of proper Hi-Fi. I can't see why the Ethos costs just shy of £900. It's a decent laptop but it doesn't seem to be worth £300 more than, say, an Acer Timeline X 8572T, or any other big-name Core i5-2410M machine. In short, you have to have been searching all your life for a removable trackpad to justify the premium.
Verdict
A good all-rounder with impressive battery life and that funky detachable MediaRemote touchpad. However, the mark-up for said is a touch too steep. ®
Thanks to SaveOnLaptops for the review sample
More Notebook Reviews

Apple
MacBook
Air 11
Dell
XPS 15z
HP
Pavilion
dv7
Acer
Aspire
5755G
Toshiba
Satellite
P775