Original URL: https://www.theregister.co.uk/2011/09/21/angry_bird_in_the_sky/
'Angry Bird in the Sky' spotted by astronomers
Glowing red space chicken features in 'scope snap
Posted in Science, 21st September 2011 10:00 GMT
Pic Astronomers peering through a mighty telescope in Chile have produced this stunning snap of the Lambda Centauri Nebula, also known as the "Running Chicken Nebula":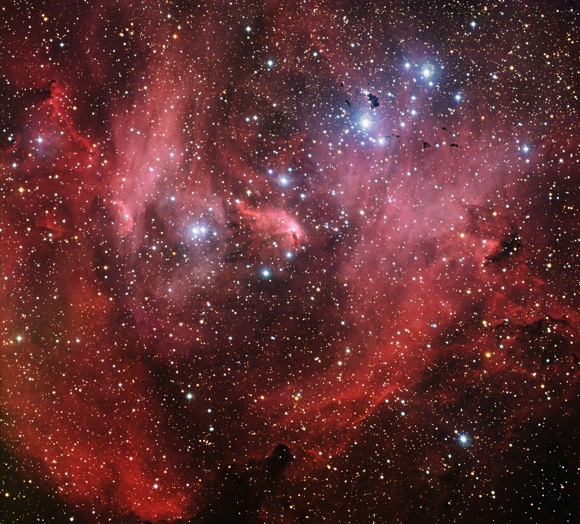 Spot the birdie. Larger version here.
The Reg received this as part of an announcement from the European Southern Observatory (ESO), headed "an angry bird in the sky". The pic was snapped by the Wide Field Imager on the MPG/ESO 2.2-metre telescope at ESO's La Silla Observatory high in the Chilean mountains. It offers a wider view than other previous images of the nebula produced by such instruments as the Hubble Space Telescope.
Readers may be interested to note that the black objects in the upper right corner are a type of space object known as Bok globules, these ones in particular being dubbed Thackeray's globules after their 1950s discoverer. They are clouds of dark interstellar dust, often in the process of collapsing to form new stars.
The pic release comes as part of the ESO's "Cosmic Gems" series, designed to highlight the wonders of astronomy to the public. You can submit your idea on just where the chicken/bird outline lies via an ESO Flickr feed, here - various interesting prizes are on offer for the winners. ®