Original URL: https://www.theregister.co.uk/2011/09/20/seven_inch_motorola_slate_caught_on_camera/
Motorola seven-inch slate snapped
Xoom Jr?
Posted in Personal Tech, 20th September 2011 11:02 GMT
Motorola has suggested in the past that the 10in Xoom won't remain its only tablet, so it was only a matter of time before some daring mortal went all MI5 with a spy camera and uploaded some shots of the bloomin' thing.
Here's the first, which, although blurry, allegedly shows the unknown Moto slate with angled corners and a much thinner body than its 10in predecessor. The Verge speculates that it's a seven-incher, based on the tablets size relative to other objects in the image.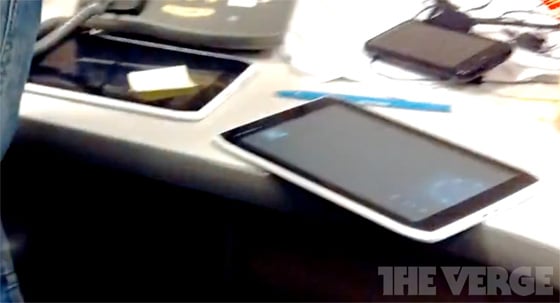 The device features at least two ports on the bottom edge - presumably micro USB and HDMI - and the word 'Motorola' can - just about - be seen on the top left.
It is also claimed to be running Android, with the Honeycomb camera app faintly visible on screen. ®