Original URL: http://www.theregister.co.uk/2011/09/20/games_review_gears_of_war_3/
Gears of War 3
Get the rounds in
Posted in Personal Tech, 20th September 2011 12:00 GMT
Review When it comes to goodbyes, Gears of War 3 proves that parting truly is the sweetest of sorrows. A swansong of bewildering scope and ambition, it's a near-flawless conclusion to Epic's highly acclaimed series.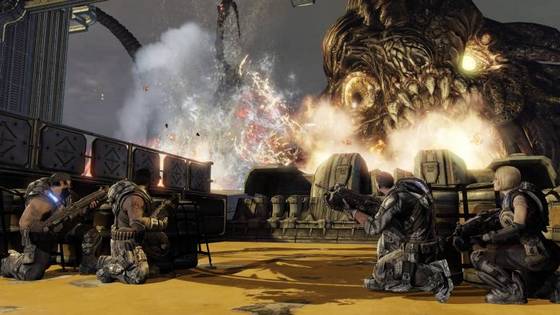 Fire in the hole
With only a handful of games able to rival it for intensity, action and drama, and even fewer for generosity and personality, Epic's finale effortlessly completes the series' claim for a place in the pantheon of greatest ever videogame trilogies.
GoW 3's single-player campaign alone puts most other games to shame. Set two years after the fall of Jacinto at the end GoW 2, the last remnants of the COG army have been driven onto the high seas in a rag-tag armada of warships. With the Locust locked in a war of mutual destruction with the Lambent, their Imulsion-riddled spawn, all hope of regaining a foothold on Sera's lands appears lost.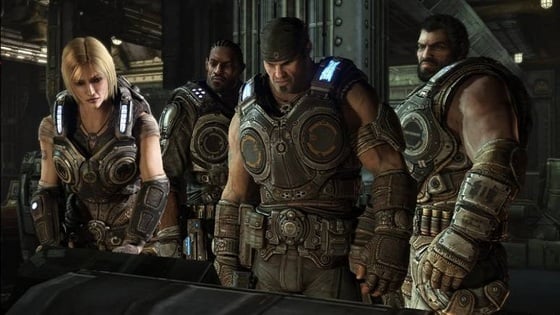 Call that a television? I asked for 50in, not 50mm...
That is until Marcus Fenix receives word his father is still alive and in possession of a super weapon that will annihilate both races, and so sets out with his Delta Squad on one last, desperate mission to save humanity.
OK, so the macguffin-chasing, humanity-saving premise won't win any awards for originality, but the scripting of events and dialogue deserves special praise. By trimming back the cut-scenes and focusing its narrative on Marcus and the Delta Squad, the game avoids the ponderous interruptions to action which hindered GoW 2.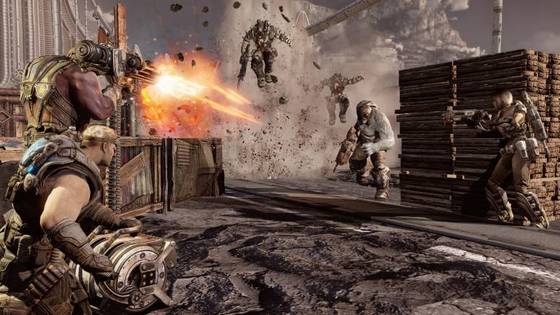 A lot of bang for the jump
That's not to say it dispenses with the series' trademark solemnity - far from it. Delta Squad's ever-engaging ribaldry persists, but the chisel-jawed band of brothers are visibly changed by the loss and suffering they've experienced. Marcus seems less of a loose canon and more at ease with the burden of leadership.
Stir one foot to seek a foe
Baird has toned town his vicious sarcasm. Dom is a shell of his former self, consumed with grief at the death of Maria. And there's even a rare opportunity for the Cole Train to do emotion, when a trip back to his Thrashball team's home stadium evokes bitter-sweet memories of his former glories.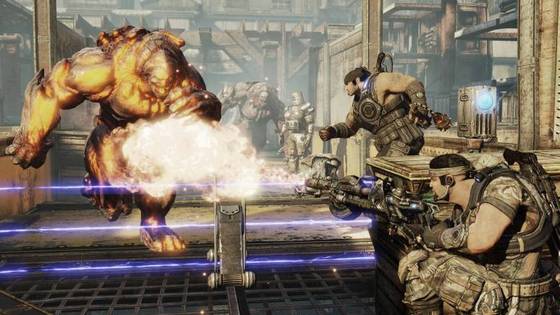 Having a blast
But Epic never allows occasional poignancy to get in the way of a good fight. For 12 brutal hours, the game hurtles you from one cinematic shoot-out to the next with barely enough time to catch your breath.
With the inimitable run-and-gun combat already honed to perfection in the first two games, Epic is free to distil the formula through an awe-inspiring spectacle of combat scenarios, enemy types and level design – all beautified by the Unreal Engine's most eye-catching display yet.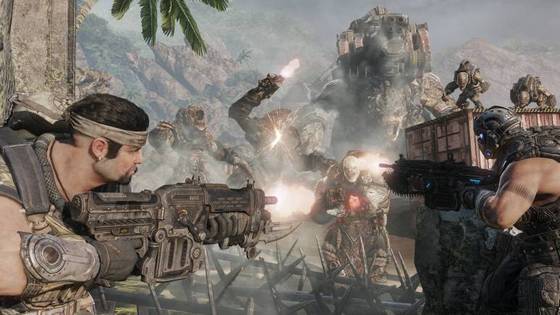 Shooting pains
While the Locust remain your primary enemy, it's the Lambent who really steal the show. Hideously mutated by Imulsion, most 'Glowies', as the COGs call them, take just a few rounds to glowing fissures and carbuncles before exploding in luminous yellow bursts, making them deadly foes in close quarters on the game's toughest settings.
Shooting other Glowies, however, causes them to mutate further, bursting out hideous appendages The Thing-like and exposing new weak spots at their extremities. It's a novel twist that injects a fresh dynamism into combat, as the game demands swift tactical switching between Locust headshots and Lambent weak spots.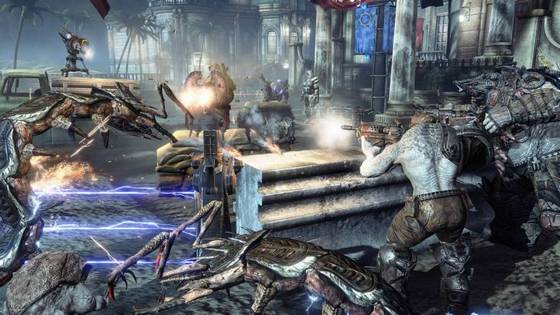 Pop a roach
If there is one flaw in the scintillating campaign, it's that the Lambent don't feature enough. The Locust provide as formidable challenge as ever, thanks to their varied types and aggressive AI, but fighting them for the third time feels a touch too familiar. Luckily, novelty is the first and only casualty of GoW 3, and the feeling only lasts until you're distracted by the next spectacle or set-piece.
Stand-up fight and a bug-hunt
In fact, there's so much going on it's impossible to absorb it all in one play-through. The campaign screams out for a second run in its Arcade Mode, which is the recommended mode for four-player co-op. Much like COD World at War, Arcade combines scoring and leaderboards with Mutators, a system of unlockable Halo Skulls-type modifiers which alter gameplay dramatically, thereby extending the campaign's longevity.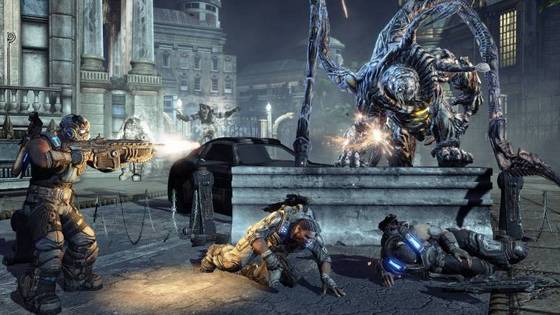 That's one grumpy gargoyle
Arcade mode would be ample additional content in most other games. But Epic doesn't do great content - it does epic content. The wealth of its multiplayer offering is virtually unrivalled. Horde mode gets a welcome strategic refresh, with the introduction of new tower defence-style fortifications, such as pop-up decoys, turrets and spiked barricades.
The new Beast mode turns Horde on its head, placing you in control of an army of Locust and Lambent to destroy pockets of computer-controlled human resistance. And if a little mano y mano is more your thing, there's also a stupefyingly comprehensive and customisable suite of competitive multiplayer modes.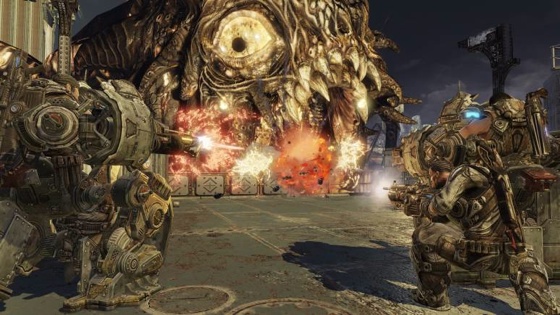 The eyes have it
Verdict
Gears of War 3 is one of the most exquisitely crafted shooters of all time. Its preoccupation with fan service and dogged devotion to brawns over brains won't win over its detractors. And some veterans will find its world a little too familiar at times.
But in refining the genre it established and serving up a veritable cornucopia of online content, Epic has ensured its farewell to Gears' fans is a truly exceptional game. ®
More Games Reviews

Resistance 3
Dead
Island
Driver:
San Francisco
Bodycount
Deus Ex:
Human Revolution