Original URL: https://www.theregister.co.uk/2011/09/20/amazon_app_store/
Amazon's app store spotted outside US
Downloading ANYTHING proves tricky
Posted in Personal Tech, 20th September 2011 12:19 GMT
Amazon users around the world are reporting that the retailer's Android store is now selling apps worldwide, despite the company's denials and our own failure to buy anything.
Amazon's alternative app store was launched in the US only, and the company tells us that this remains the case. However users from Australia, India, the UK, Africa and everywhere in between are claiming to have installed the app store and successfully downloaded applications.
Sadly, we had no such luck in our own tests: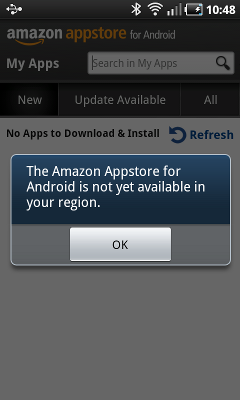 The application store has to be installed because Android's security is based on certified applications; the store brings the necessary certificates with it. If one has an account with Amazon.com (as opposed to, or in addition, to Amazon.co.uk) then one can download the store, but applications won't be distributed outside the USA to customers as Amazon has yet to set up shop elsewhere.
Given the plethora of accounts knocking around, it seems the reports of access are genuine, but perhaps limited to specific regions or quickly patched up.
So you'll just have to stick to Google's Marketplace, SlideMe or use a decent US proxy (and credit card) if you really can't live without Amazon's free app of the day. ®