Original URL: https://www.theregister.co.uk/2011/09/16/games_review_resistance_3/
Resistance 3
Hostile virus
Posted in Personal Tech, 16th September 2011 12:00 GMT
Review It's hard to know whether to blame its own over-bearing derivation or the over-saturation of FPS games in general: either way, Resistance 3 is an anticlimatic end to a series that has struggled to rise above mediocrity.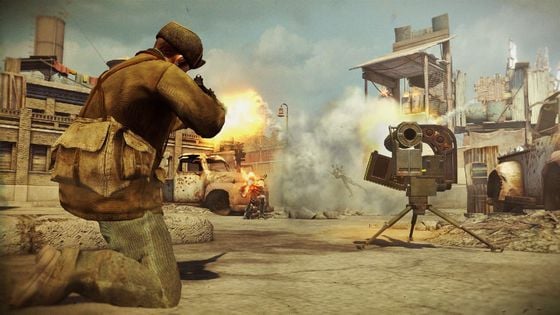 Holey smoke
That's hardly surprising. The greatest achievement of the first two Resistance games was their infusion of science fiction to bring novel enemies and weapons to the staid WWII FPS genre. But that novelty was outweighed by developer Insomniac's brazen borrowings from the shooters it sought to immitate.
Although drawing inspiration from only the best of the genre – occasionally even matching them for narrative and gameplay – when stretched across a trilogy, a lack of innovation has failed to unshackle the series from the all-too apparent influences of Call of Duty, Halo and, most of all, Half Life 2.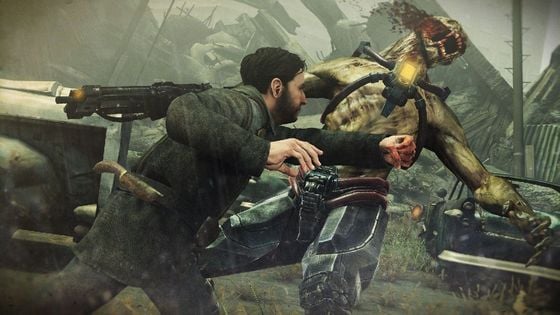 Cheeky punch
Indeed, by taking further inspiration from more recent shooters, Resistance 3 feels the most derivative of all the series. Set in the dishevelled hinterlands of a post-apocalyptic America, the parallels with Homefront and Metro 2033 are palpable.
Humanity's last remnants have been driven underground, eking out an existence in cellars and tunnels beneath rural towns. With seemingly no hope of victory against the indomitable Chimera, the resistance has largely abandoned its asymmetric guerrilla campaign, replacing it with the simpler fight and flight tactics of survival.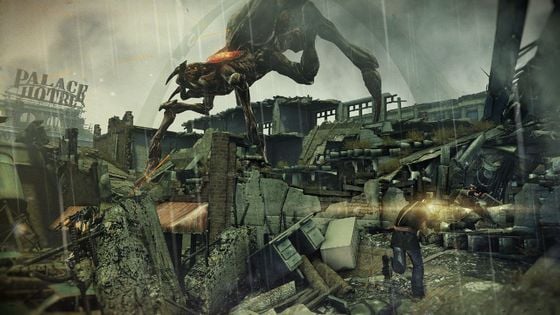 Bugged out and on the run
Your character, Corporal Joe Capelli, embodies the bleak pessimism. Following his mercy killing of erstwhile protagonist Nathan Hale – who succumbed to the Chimera virus at the end of Resistance 2 – Joe is living as normal a life as possible with his wife and son in a small community in the Oklahoma dustbowl.
Out on a spree
It's not long before Joe takes up the fight once more, though. In the briefest, thinnest of setups, resident Resistance boffin Doctor Fyodor Malikov convinces Joe to accompany him to New York and attempt to close a wormhole, thus dealing a crippling blow to the Chimera. As far as exposition goes, it's all the narrative offered as pretext for your killing spree through the occupied states of Oklahoma, Missouri, Pennsylvania and finally New York.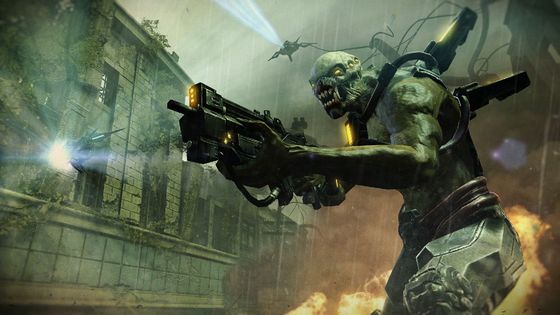 Deadly virus
It's a journey bearing stark similarities to Half Life 2, and not just because of the ever-looming wormhole in the distance. A boat ride along the Mississippi brings to mind HL2's hovercraft section, albeit one on rails. Then there's the trip to Resistance 3's own Ravenholm, a night-time mission through a rickety old mining town overrun with feral Chimera and leapers, bearing an uncanny resemblance to Zombies and Head Crabs.
If that's not homage enough, before finally arriving in New York, there's even time to take a quick trip around a crumbling prison à la Nova Prospekt. Although here, at least, Resistance 3 provides some novelty in the form of a new enemy, the Wardens, a vicious group of survivalists who don't take kindly to outsiders.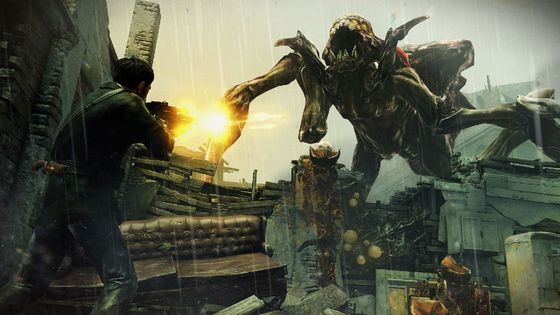 Lead belly
There's nothing wrong in re-treading Half Life 2's pathways, of course. It is, after all, one of the greatest FPS campaigns ever made. And, to be fair, Resistance 3 carries just enough uniqueness in its setting, enemies and weapons to temper the ever-present déjà vu.
As in the first two games, enemy AI is suspect. But the brute-force scripting – in which the Chimera either stand their ground or rush suicidally towards you – coupled with intricate and robust level design means that while comparing unfavourably with other top-tier shooters, the questionable AI never detracts from the pulsating gunplay.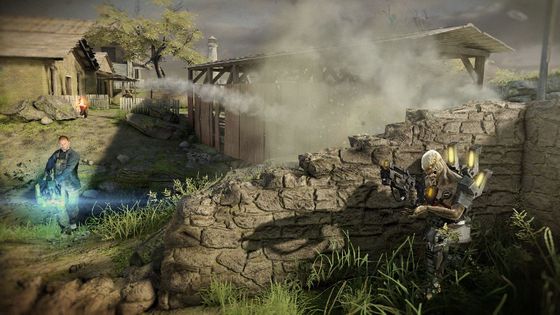 Bricking it!
Despite the game being an overall anticlimax – nowhere more so than in its flaccid last chapter – Resistance 3's weaponry ensures the series ends with a enjoyable bang. Gone is Resistance 2's two-weapon limit in favour of a return to Fall of Man's full arsenal. It's a good choice for a series which has always promoted bombastic, sandbox gunplay over a traditional 'A-enemy vulnerable to B-weapon' formula. Thanks to generous ammo caches, you're rarely without the full complement of boomsticks to toy with, from series' stalwarts, the long-range Deadeye and wall-penetrating Auger, to the surprisingly efficient High Explosive Revolver and the Atomizer, with its secondary-fire gravity well.
Lock 'n' load
It's this arsenal that elevates Resistance 3's on-line multiplayer from its otherwise woefully familiar offering. The Chimera virus isn't the only disease ravaging the Resistance universe – it's contracted a heavy dose of CoD-itus, too. For instance, its small maps set in and around two-storey buildings, and its predictable modes, perks and killstreaks – not to mention its Leaper Corpse skill reward, which brings painful reminders of Black Ops' divisive Attack Dogs.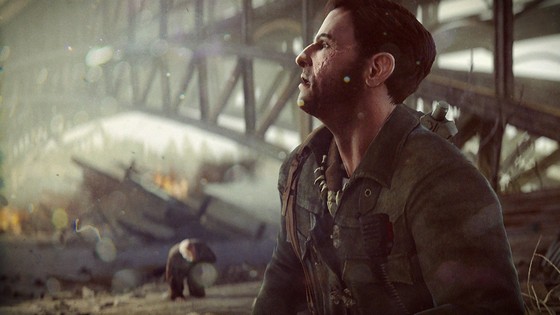 See the light
It's also a tough grind when starting out. With no off-line bot mode like Black Ops or Killzone 3, or dedicated noob area as in Crysis 2, matchmaking games firmly favour veterans, with killstreaks only exacerbating an inherent imbalance between initial loadouts and the more powerful weaponry rewarded through progression. Despite this, Resistance 3's multiplayer provides compelling enough enjoyment as you earn your way out of noobdom to offset those initial, demoralising kill ratios.
Verdict
Resistance 3 is a good game. Both its single-player and multiplayer might be highly derivate, but they're also robust and highly-polished offerings. But this is 2011, the year of the FPS. With Killzone 3, Crysis 2 and Bulletstorm already on the shelves, and with Modern Warfare 3 and Battlefield 3 just about to go to war, good just isn't good enough. ®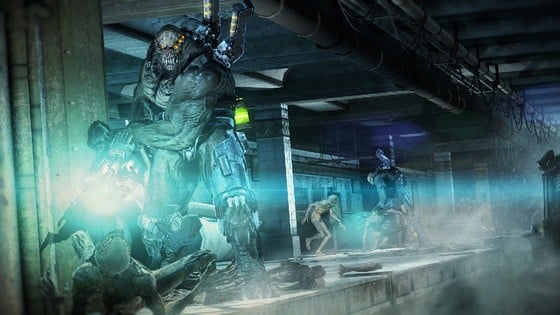 Blue your face off
More Games Reviews

Dead
Island
Driver:
San Francisco
Bodycount
Deus Ex:
Human Revolution
From Dust