Original URL: http://www.theregister.co.uk/2011/09/15/review_star_wars_the_complete_saga_blu_ray_box_set/
Star Wars: The Complete Saga Blu-ray disc set
Buy it, you will
Posted in Personal Tech, 15th September 2011 06:00 GMT
Review Cards on the table: I'm not a Star Wars obsessive. I have precious little interest in the prequel trilogy. Indeed, I prefer the high velocity chutzpah of the Clone Wars animated series. And I don't own any Hayden Christensen action figures either, although there may be a Slave Leia in my sock drawer.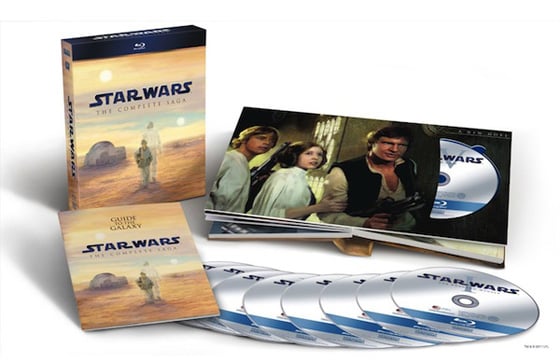 Six movies, nine discs
Consequently, I'm not coming to this blockbuster package with a checklist of supposed wrongs I want to see righted. If there's a colour tint to The Phantom Menace I'm quite prepared to believe that George likes it like that – heck, he's had enough time to make his mind up – and I'm equally happy if and when light sabres change hue mid-scene. 

However, I do have an enduring fondness for The Empire Strikes Back and I'm a sucker for behind the scenes insights into iconic cinema, of which there are plenty in Star Wars: The Complete Saga.
So I was pretty stoked when this nine disc set arrived – and for the most part, I'm pleased with what's on offer. This is Star Wars looking and sounding immeasurably better than any version we've been able to buy before.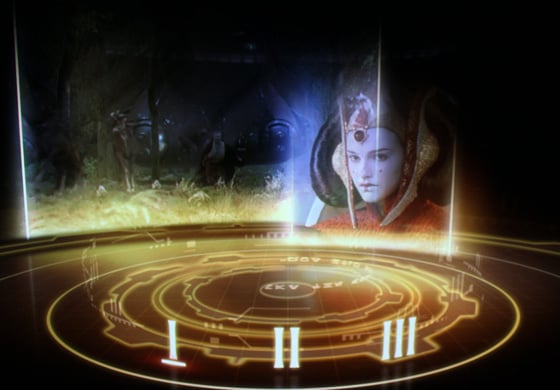 Pick a movie...
The original trilogy (episodes IV-VI) is the biggest beneficiary of this set's 1080p encode. The original movie looks sensationally fresh, with sparkling levels of detail and depth. When the Imperial Cruiser flies overhead in that epochal opening sequence, the model looks virtually three-dimensional. Brilliant if you prefer your starships made, rather than rendered.
The Empire Strikes Back is equally epic. The razor-sharp picture reveals wonderful detail: when Luke takes out an Imperial Walker 33 minutes in, you can actually see the model being brought to its knees by a judicious prod of a stick.
Sound points
The soundtrack mix on all six films is DTS Master Audio 6.1. While the tone and characteristics change in line with available budgets and technologies, they're never less than thrilling. John Williams' classic score, coupled with the distinctive audio FX and general sound design conspire to create a theatrical sonic experience that is genuinely unique.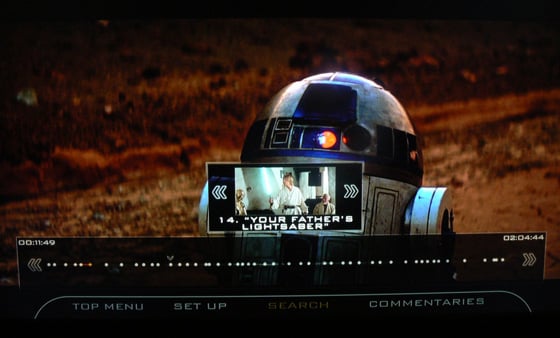 Scene menu
From a technical point of view, the last two movies (Episodes II and III) are clearly the best in the box. Both Attack of the Clones and Revenge of the Sith offer peerless video quality with bit-perfect, big theatre audio.
I was impressed when I first saw them presented in a digital theatre, and the impact remains undiminished here. Their colour fidelity and sonic detail borders on the miraculous – the stories I couldn't care less about. If you want to show off your home cinema to visiting Jawas, these platters will certainly do the job.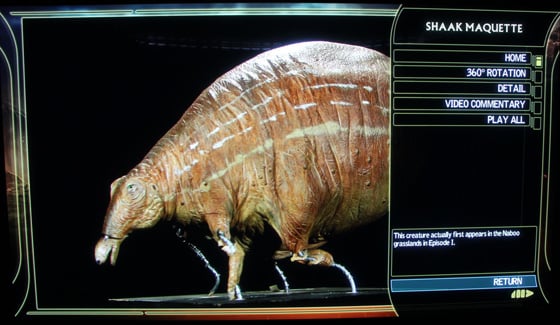 Props in depth
Three of the nine BDs in the set are devoted to extras. The first two bonus discs are divided by trilogy and broken down by episode. You can peruse interviews – typically an overview of the film plus star chat – and deleted scenes, as well as get in-depth with props and concept art. The discs are rather slow to load, but do contain some lovely trivia.
Menus are neatly animated throughout. However, I wasn't that enamoured with the way certain assets are handled. The interview elements, which contain fascinating behind-the-scenes footage, are presented in a window rather than full-screen. This affectation is plain irritating. On the plus side, it is nice to rotate models and props and zoom in for fetishistic detail.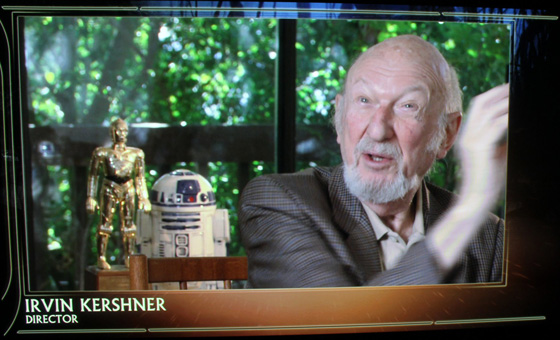 Windowed interviews
The third bonus disc is the Saga's only real disappointment. While it offers no fewer than seven documentaries, these are of assorted vintages and variable interest. The disc inexplicably concludes with a feature-length showreel of spoofs and third-rate references that have cropped up on TV shows and in movies over the years.
End of story?
Admittedly, there are a few laughs to be had but ultimately it's a space-filler and you can't help but think something more worthwhile could have been included. None of the extras from previous Star Wars sets are present, which means fans are still going to have to keep those legacy DVD releases on their shelves for some time to come.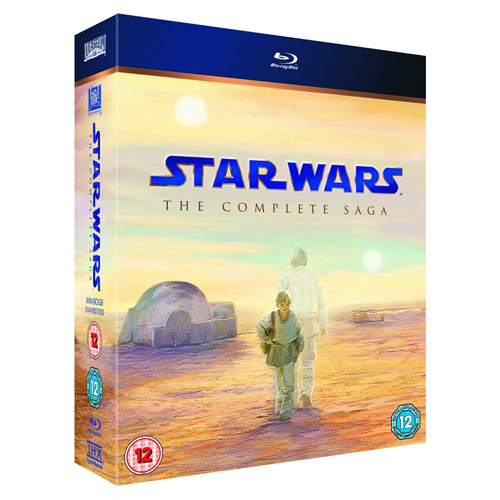 It's complete, apparently
Verdict
There's no surprise in a conclusion that declares Star Wars: The Complete Saga to be a must have for hi-def addicts and SF fans alike. But that's basically the way it is. Buy it safe in the knowledge that you'll never have to fork out for these movies ever again – or at least until the original version of A New Hope gets the green light… or a special edition including Ewoks: Caravan of Courage and The Battle for Endor escapes from Lucasfilm's vault of shame. ®
More AV Reviews…

Akira remastered
Blu-ray disc set
Onkyo
TX-NR609
The Lord of the Rings Trilogy
Extended Edition
Blu-ray disc set
Sony
VPL-HW30ES
Tron: Legacy
3D Blu-ray disc set