Original URL: https://www.theregister.co.uk/2011/09/14/ten_digital_voice_recorders/
Ten... digital voice recorders
Modern dictators
Posted in Personal Tech, 14th September 2011 06:00 GMT
Product Round-up As mobile phones and other electronic gizmos generally pack their own voice recorders these days, the necessity of buying of a standalone dictaphone seems doubtful. Yet a dedicated model has distinct advantages with typically better recording quality, a longer battery life and voice actuation. Also, recordings are not going to be interrupted by phone calls and if colleagues need to use it, you'll be less bothered than handing over your phone.
Unless mentioned otherwise, all of the following models have voice actuation (paused recording during silent passages), monitoring functions and external mics support. Also, with one exception, all feature built-in speakers, although low-fi is the order of the day here.
Grundig Digta 7

German company Grundig has been in the dictation industry for over 50 years and this shockproof model takes itself very seriously. The Digta 7 features a configurable slide switch, which seeks to make the recorder effortless to operate without having to focus on fiddly controls.
Albeit somewhat plasticky, this clunky transport control is designed to help users feel their way through operation. Clearly based upon old-school tape dictaphones, it certainly took some getting used to. Foibles aside, the build quality is first rate, with a lightweight yet sturdy body surrounded by touchy-feely rubber. The display is large, bright, clear and logical. It's all just a bit too walkie-talkie though.
Appealing to corporate concerns, the Digta 7 packs in 128/256-bit encryption, pin number protection. Then there's speech recognition with built-in Nuance VoCon to enable ID tagging of recordings, and an elaborate docking station, with a port to charge the spare battery. Oh and if that wasn't enough, the Digta 7 even offers Bluetooth capabilities – apparently, the first standalone dictation device to do so.
Sound is well received and and of a very high standard, recorded in either DSS/Pro, MP3 or Wav from a selectable 8 - 48kHz sample rate. Data is stored automatically to the 2GB in-built memory, although there is SD card expansion too and a rechargeable battery touted to survive 25 hours of recording. In order to justify the cost though, using the Digta 7 on regular basis is a must, as well as a need for all those security settings. It's a big product that demands you spend big as well.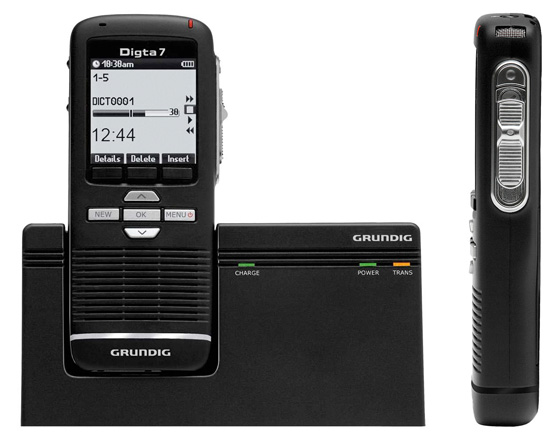 Reg Rating 80%
Price £260
More info Grundig
Olympus LS-3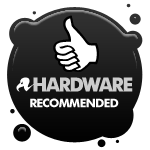 Switch the Olympus on and it starts talking to you, reading every move aloud. While thoughtful for the blind or partially sighted, I hastily switched it off. The LS-3 is reassuringly weighty and robust. The layout doesn't overwhelm, with sensibly positioned controls that make light work of navigating its large, bright display.
Audio is recorded in numerous formats, with Wav, MP3 and WMA all on the cards in various bit-rates. The highest, a whopping 96kHz/24bit Wav recording is as crisp as they come. While the two condenser mics pick up a broad soundscape, a third omni-directional central microphone helps bring out a subtle bass with great results. To help keep an eye on levels, there's two peak indicator lights too. The aluminium body result in a fair amount of handling noise, so you need to be mindful of this.
Recording time is rated at 44hours from its two AAA batteries. Rechargeable cells can also be topped up through its USB port. The LS3 packs 4GB of memory, but can be expanded with MicroSD and throws in an additional port for an optional remote control as well as a tripod mount.
The Olympus LS-3 is a wonderful device with just about every setting under the sun. It even has pre-record buffer that eliminates moments of lost starts to sentences by capturing two seconds of audio prior to hitting go. Alas, it is a bit on the pricey side, which just keeps it from clinching the Editor's Choice award, and it could benefit from lower handling noise, but overall the LS-3 is a noteworthy device, which sits firmly up there as one of the best in this roundup.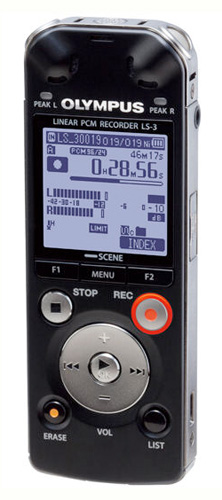 Reg Rating 90%
Price £180
More info Olympus
Olympus WS-550

The WS-550 has a lightweight, somewhat flimsy build, with a conservative design and button placement intended to be an ergonomic fit for a right hander. However, these buttons are a little small and someone with fat fingers might struggle. The display is definitely a plus point, though, bright and clear with logical menu layout and an informative dashboard.
This minimalist recorder does pick up a lot of handling, and consequently should remain deskbound. Its mics are well placed and pick up a wide soundscape delivering a fantastic stereo image. The recordings are quite bright which are great for voice definition, but can be a bit thin, with no real weight behind the sound.
While MP3 and Wav files are supported for playback, the WS-550 instead records in WMA format, with six different quality levels to choose from. It holds a less than average 200 files over four folders, although with just 2GB of storage it's hard to see it spilling over. There's no memory expansion slot, which is a bit annoying, especially if the WS-550 wants to fulfil its secondary function as a music player. You also have to enter a menu setting to tweak playback speed, which makes scrubbing an impractical prospect. Not great for skimming lectures.
It runs on a single AAA rechargeable battery that boosts juice through the recorder's USB connection. The battery life is a decent 21 hours too. Unfortunately, the price is high for what you get, especially for just 2GB storage with no means of expansion.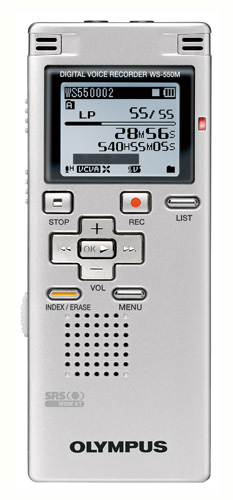 Reg Rating 75%
Price £80
More info Olympus
Panasonic RR-XS410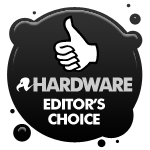 The Panasonic RR-XS410 is awash with controls that make the device seem overcomplicated. Couple that with a plastic pearl body and tacky-clack buttons, and first impressions aren't so great but using the the recorder is a different matter, and I was suitably impressed.
Recorded sound quality in either uncompressed PCM (44.1/48kHz Wav) or various bit-rates of MP3 is top notch. The stereo microphones handle a broad frequency range, yet keep ambient noise in the background. Voices are crisp and clear compared others on test that could be rather muddied. You can also select which environment you're recording in, so be it musical performance, meeting or lecture, there are microphone settings for most situations, even Karaoke.
Variable playback speed is included among the transport controls. Whack it up to 200 per cent and it doesn't sound like the Alvin and the Chipmunks, either, it's the same pitch, just faster. The device can store 199 files in four folders, with an additional 199 line-in recordings available in a fifth. Navigating through these is simple enough and the bright orange display really stands out.
The RR-XS packs a built-in memory of 4GB, with expansion available through the MicroSD slot. Powered by a single AAA battery, which has a rated battery life of up to 21 hours, the Panasonic has a lot going for it. Connecting to the computer with a built-in USB plug is handy too. Quite a nifty little character and, given its price, is highly recommended.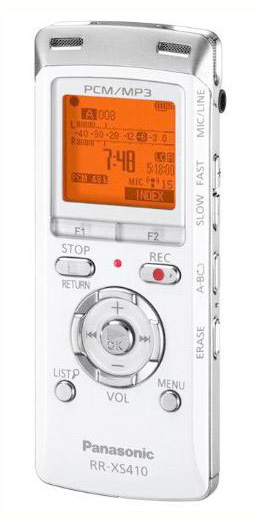 Reg Rating 90%
Price £100 (Out in October)
More info Panasonic
Philips Voice Tracer LFH0615/27

Although I quite like its almost 1980s styling, this Philips has no backlight on the basic calculatory display. Its plastic body isn't exactly robust either, which is a bit of let down following its retro-tastic start. A mini USB port on the side connects to the PC, so a cable is a necessity and, with no memory expansion, you'll have to make do with the 4GB onboard.
The Voice Tracer is easy to use, though, and can power on and start recording at an instant. There are 396 recording banks spread over four folders to fill, as well. However, this Philips drops the Wav format – which its predecessor had supported – instead, going solo with MP3, all in mono. There's a mammoth battery life of up to 141 hours, though and a fairly nifty voice actuation features, plus Philips ClearVoice - essentially an onboard dynamics processor to even out variations in signal level.
Sadly, sound quality is far from ideal and quite bassy. Talking into the microphone is a must here. For a triple figure price, the Philips was one of the least clear in my London Underground test too and I cant say I was overjoyed with the overall results.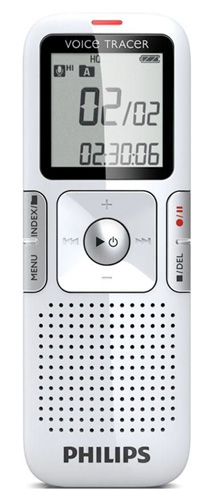 Reg Rating 70%
Price £60
More info Philips
Sony ICD UX300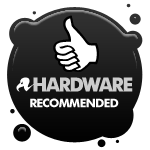 Sony's ICD UX300 is a nicely-sized recorder that serves its purpose reasonably well, with just a few shortcomings. For starters, the 4GB memory is all you get, as there's no storage expansion. Even so, filling all 990 recording slots is an unlikely prospect.
The microphones also appear to have little protection from the elements, protruding from each side and picking up a lot of wind in outdoor environments. There is some noise reduction tech installed too, which won't solve the problem of wind, but does a good job cutting out noise on the tube and reducing the background hustle and bustle.
It's unlikely to serve too well in a voxpop interview on Brighton beach, but use it in a meeting or seminar and the UX300 does more than a sufficient job, delivering a crisp sound. A switch on the side changes the skip track buttons into playback speed controls, also skimming through the track without a chipmunk squabbling in your lugs.
Other features include voice actuation, a direct USB connection and the ability to double up as a music player. The lack of additional storage and the wind-sensitive microphones is just too much of a let down to justify the triple figure price point, though.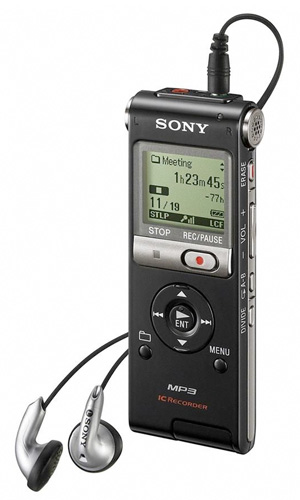 Reg Rating 80%
Price £119
More info Sony
UltraDisk DV7

With the DV7, UltraDisk is catering for the lower end of the market here, and this memory key, radio and voice recorder combo is, apparently, one of the company's best selling products in the UK.
This particular model holds 4GB of data and records in three formats, MP3, Wav and ACT. Despite it's small size, the DV7 still manages to pack-in relevant features such as voice actuation. It does take a fair time to start recording and process at the end, though, and it doesn't have much in the way of file protection. Changing settings can be quite fiddly too and there's no fast forward, let alone scrubbing ability.
Captured from a pinhole-sized microphone, the audio quality was never going to realistically compete to other models in this roundup. Indeed, the DV7 is better used as a handheld interview or personal dictation box rather than lecture capture or use in noisy environments.
While not ideal as the office dictation machine, the DV7 is definitely a handy to have in your pocket when the mobile phone is out of juice and spontaneous ideas are brimming. It's focused on the recording aspect, but still provides a fob-pocket-sized audio device with a range of format support, and all for the price of £45. Things could be worse, although tests revealed the DV7 wasn't Mac compatible.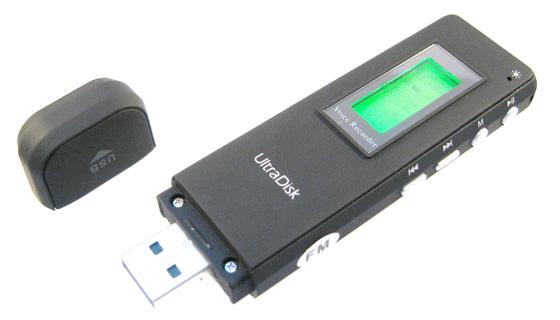 Reg Rating 65%
Price £45
More info UKET
Ultradisk DV10

The 8GB Ultradisk DV10 is essentially just a USB key with a voice recorder built in. Flick the switch on the side and within a few seconds, the key starts recording, blinking a little red LED lamp to let you know the status. Turn it off and the file saves, popping an MP3 onto storage. It doesn't get much simpler than that.
The resulting sound clips are actually pretty decent for a mic that's hard to spot, but it's not ideal. Still, to have a device you'd probably carry around with you attached to a keyring, the bonus functionality is warmly welcomed. Obviously there's no way to listen to what's being recorded, delete files on the go, or attach any external mics. It's just a memory key with a switch and microphone. Simples. Oh, and there's no Mac compatibility either. Bummer.
Also, the DV10 remains a tad on the pricey side. For a tenner more, you get the aforementioned DV7 and heaps of additional playback features as well as a headphone port.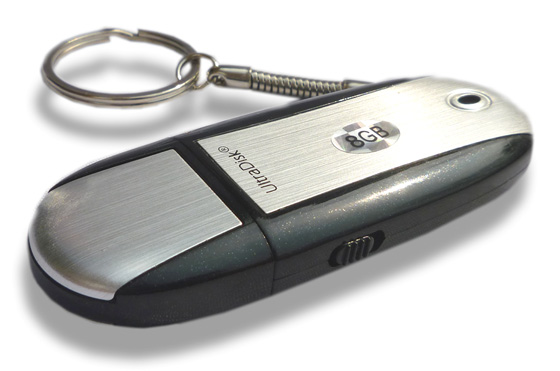 Reg Rating 55%
Price £35
More info UKET
Zoom H1

Last but not least we come to the Zooms, starting with the H1, which leaves me with mixed emotions. There are many positives to be said, such as the pair of directional microphones that record with a broad frequency range to a very high standard. Many of the audio settings are built-in to the body as physical switches too, which saves fiddling around with battery-draining and monitor-distracting screen manoeuvres.
Unfortunately, for voice recording, the H1 could be better. There is no pause button for record, so it creates a new file each time you stop. Plus the cheap plastic body picks up a lot of noise when held and pressing buttons can be disastrous mid-recording. It's also pretty sluggish to boot and slower than most to process after a recording ends.
There's still much to love. Users can choose between various Wav and MP3 formats, with uncompressed recordings blowing my socks off in quality. There's also a bright orange screen, MicroSD expansion, and decent background noise elimination with a low-cut switch.
The H1 runs on a single AA battery and life could be longer, but overall you've got to hand it to Zoom here, the H1 is a pretty nifty tool, and an affordable option for any careful dictaphonatic. What it seems to lack in build is made up for in sound and the price point is very reasonable.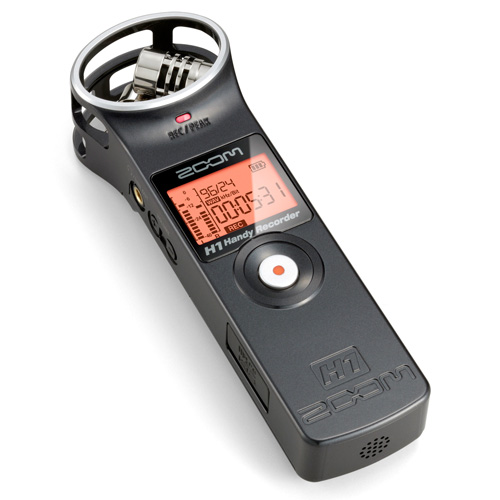 Reg Rating 75%
Price £78
More info Zoom
Zoom H4n

First off, it has to be said that the H4n is more than a voice recorder, and sits higher up the pecking order in a field-recorder area of products. Moroever, it doesn't merely handle audio recording, but can plug into a PC and act as an entire audio interface with XLR and Jack ports. There are heaps of features for music recording too, but as the focus here is on voice recorders, so we'll skip that – click here for more.
As a recorder, the device is a great tool for dictation too, albeit a chunky one. Indeed, the Zoom H4n looks a bit like an oversized taser, with the two built-in mics protruding from the top. The capture pattern of these mics can be adjusted by twirling their nozzles round. As with its smaller sibling, the H4n records in a range of file formats, from low-rate MP3s all the way to a 96kHz/24bit Wav recording.
The basic display set against a bright orange background is clear and easy to navigate through using the jog-wheel on the side. The H4n has no built-in storage, although it does come bundled with a 1GB SD card. Unfortunately, the SD card can accidentally pop out through its cover, should you squeeze the device in a tight grip, thus losing any recording currently in process.
As a standalone dictation device, you probably don't need to splash out on something as extravagant as this. While the likes of the Grundig costs just as much, the Zoom H4n is undoubtedly versatile but in this group context, it is the proverbial sledgehammer to crack a nut. ®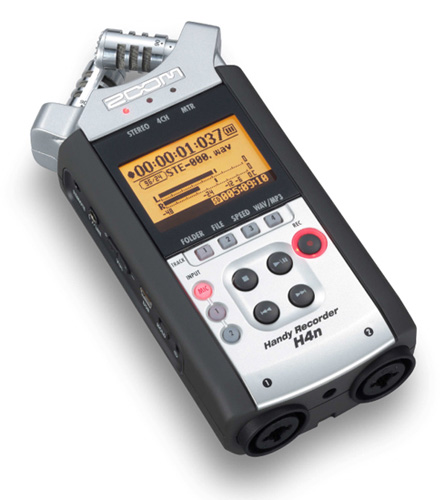 Reg Rating 80%
Price £260
More info Zoom