Original URL: https://www.theregister.co.uk/2011/09/13/review_irobot_roomba_780/
iRobot Roomba 780 automated vacuum cleaner
Rug munching machine
Posted in Personal Tech, 13th September 2011 06:00 GMT
Review The Roomba is the most widely known of the robot cleaners, and with competition mounting, the company, iRobot, has not been sitting on its laurels. The Roomba 780 is the latest model, and boasts a larger collecting bin, built in scheduling and HEPA filters.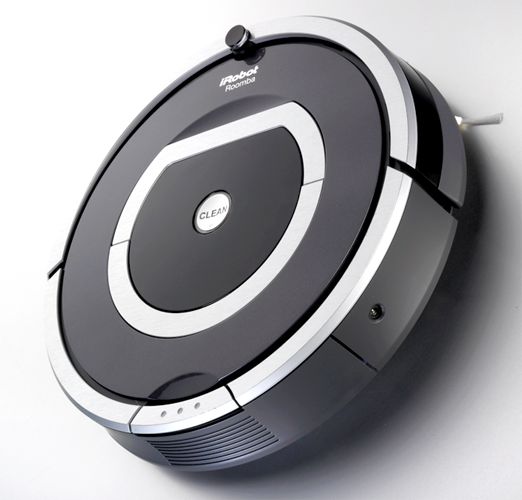 iRobot's Roomba 780 boasts improved battery management
Also, presumably in response to oft-aired complaints, the 780 features new battery management software that claims to prolong battery life. Apparently, this allows for 50 per cent more cleaning cycles before replacement.
In terms of design, there's nothing really new to the 780 from the outside; it's a sleek black and silver unit, with a large 'Clean' button on the top, and a touch panel below, which can be used to schedule cleaning sessions, set the time, and select spot cleaning, or tell the Roomba to return to its dock.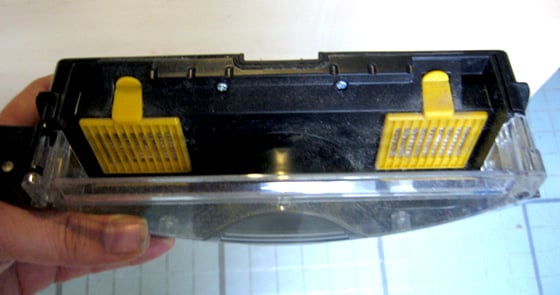 The bin features two HEPA filters to reduce the amount of dust expelled back into your home
The package includes a remote control, two beacons, which can be used to confine the Roomba to a single room, or to force it to finish a room before leaving, plus spare brushes, HEPA filters and cleaning tools. What you don't get – which seems just mean at £500 – is the batteries for the beacons and remote control.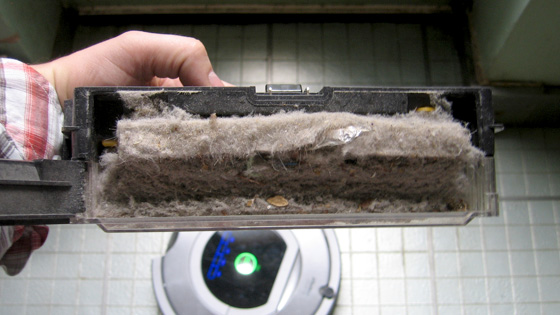 The bin holds a reasonable amount of junk: receipts and screws all manage to get picked up – as long as it's not too full
As with previous models, there's no fancy laser or photo based mapping; Roomba starts spiralling outwards and appears a little random, though it does cover the whole room eventually. When extra dirt is detected, it does a little twirl over the spot until it's satisfied, then moves on. It proved fairly good with obstacles and cables, though a discarded boot lace did cause a bit of a tangle.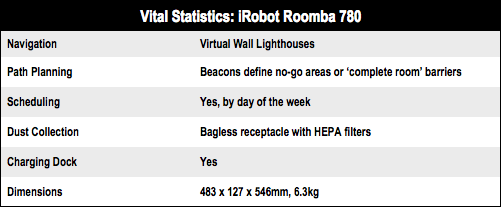 Carpet tunnel syndrome?
Thanks to the rotating side brush, it proved better than the recently reviewed Neato XV-15 at reaching into corners, though they're still far from perfect, and if you have seriously grubby nooks and crannies, you'll need to reach for your crevice nozzle.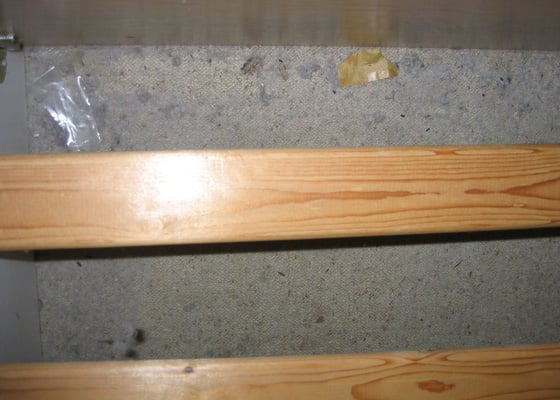 A lot of dust accumulates down here…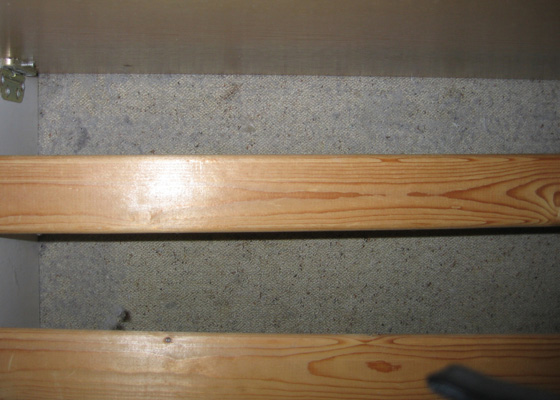 ...the most stubborn bits at the edges proved hard to shift
The path into the dust bin is straightforward too, and the Roomba managed to pick up a number of screws that were lying around, along with the other usual debris of my horrifically untidy flat, as the photos show.
There's a light that warns when the bin is full, and although Roomba will carry on working, rather than simply stopping when it comes on, it's advisable to pay attention – with a full bin, it didn't manage to pick up some bits of cigar wrapper that presented no problem when it was empty.
Similarly, though it sucked up the contents of an ashtray emptied in front of it, as the photos show, there were still some traces visible. Roomba sucks, but not as much as the Neato, and for best results, you really will need to empty the bin regularly – and wipe the sensors, which sometimes indicated it was full when that wasn't the case.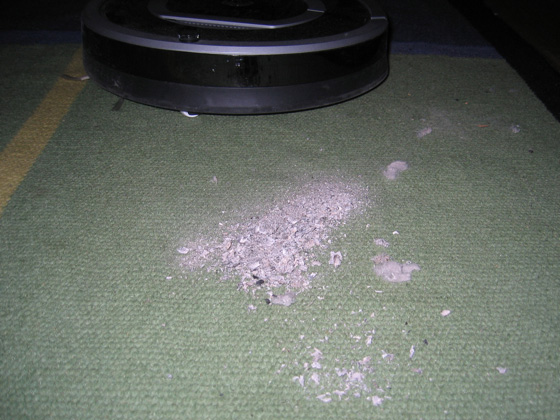 In spot mode, Roomba makes fairly short work of the contents of an ashtray...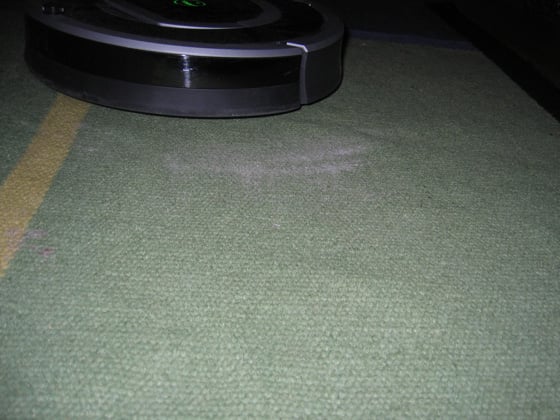 …but I had to empty the bin to make sure these last remnants were sucked up
Overall, if you don't have too many odd corners, and live a fairly uncluttered life, the Roomba 781 will certainly do a pretty good cleaning job. Indeed, it dragged far more fluff out of my carpets than I expected.
Clean sweep?
As with the Roomba 581 that I looked at a while ago, when there are problems, the device announces what they are, so you can fix them quite easily. And if it's gone to sleep by the time you find it, a press on the power button will repeat the message.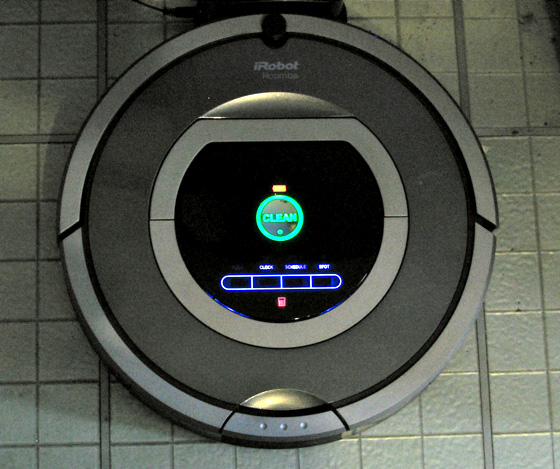 Docked: touch controls make it easy to schedule times for unattended cleaning
And, should you want to use it as a drinks trolley, the remote control allows you to drive it from one location to another, which might also be a quicker way of returning it to the dock. For that task, it uses the beacons to navigate, but without the mapping savvy of some of the competition, it can take a while.
And, the dock is a bit lightweight, with the Roomba managing to push it out of the way on one occasion, rather than docking successfully. A weight in the bottom would have helped tremendously there.
Verdict
It's quieter than the competition, and does a pretty good job; the addition of HEPA filters is welcome, as are iRobot's claims to have improved battery longevity by 50 per cent. But like all robot cleaners, for a really deep clean, you'll still need a standard vac. Ultimately, despite the good performance, the price prevents the Roomba 780 from achieving a higher score. ®
More Gadget Reviews

Neato Robotics
XV-15
automated cleaner
Audio Pro
WF100
wireless streamer
IRISnotes
Executive 1.0
digital pen
H2O
shower-powered
radio
Videotree
VideoSpa
bathroom TV