Original URL: https://www.theregister.co.uk/2011/09/13/micron_enterprise_monday/
Momentary Micron skirt-lift reveals big flashy box
Enterprise SSD to stride the catwalk next Monday
Posted in The Channel, 13th September 2011 10:39 GMT
Micron is dropping heavy hints about a new enterprise solid-state storage system next Monday.
Scott Shadley, a senior manager in Micron's product marketing organisation, has tweeted merrily away, saying: "Wonder what it is that @MicronTechNews and @RealSSD are going to share @ #SDNYC... catch the preso on Monday twitpic.com/6k2zs2."
The twitpic is here: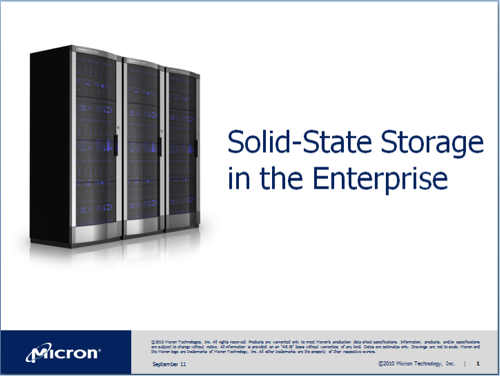 From what appears to be a presentation slide, it's pretty clear that Micron is going to announce a product in the enterprise solid-state storage space.
The company makes memory and is a partner with Intel in IM Flash Technologies, a flash chip fab business. It sells solid-state drives, such as RealSSD, and P320h PCIe flash cards, using silicon dies from the IMFT fabs.
There could be a new Micron solid-state drives coming out on Monday or a new PCIe device. Our gut feeling is that it's unlikely to be anything higher up the enterprise storage stack than a drive-level component as that is Micron's core business.
Micron is thought to be EMC's flash partner in the Project Lightning initiative to have EMC storage array-managed PCIe flash caches in servers. Rumour is that this stuff is currently in beta test.
We'll see if we're right on Monday, September 19. ®