Original URL: https://www.theregister.co.uk/2011/09/12/review_fujitsu_stylistic_q550_windows_7_tablet/
Fujitsu Stylistic Q550 Windows 7 tablet
Oak Trail Atom-powered fondleslab, anyone?
Posted in Personal Tech, 12th September 2011 12:09 GMT
Review Fujitsu is pitching its latest Windows 7 tablet directly at the enterprise and business markets. That's a wise move because Windows in its current form is never going to hold a candle to iOS and Android Honeycomb in terms of consumer usability. It also means Fujitsu can load the Q550 down with tricks and treats and not worry too much about the impact on the price.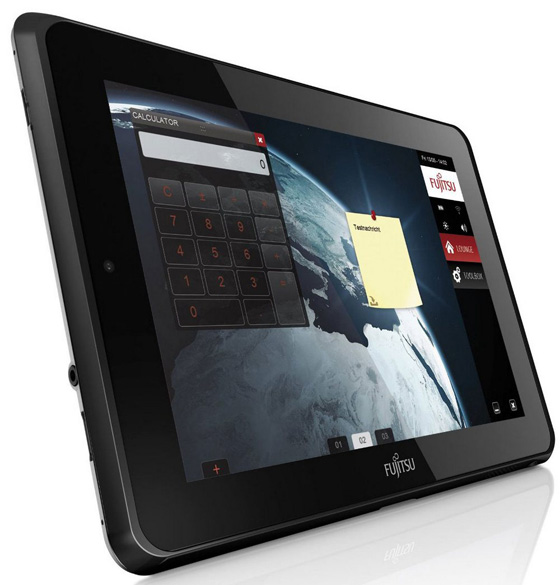 The business in hand: Fujitsu's Stylistic Q550 Windows 7 tablet
For your 800 quid you get a 10.1in 1280 x 800 IPS multitouch screen, a 62GB SSD, a 3G modem, an Intel Atom 1.5GHz CPU with 2GB of RAM, Windows 7 Professional 32-bit and some other less expected goodies that I'll come to later.
It's not a bad looking box of tricks either. It's more smart than stylish, and despite the all-plastic case it feels very solid. Indeed it should weighing in at 860g with the optional 4-cell battery. Check the sides and you will only find one USB socket to accompany the HDMI port and an SD card slot that will completely swallow said card.

Dedicated buttons avoid fiddly touchscreen tasks
Tucked away around the back there is a smartcard reader and fingerprint scanner to secure those corporate secrets ...or your pr0n stash. There is also a docking port at the bottom but the charging cradle it is intended to dock with is an optional extra. It will set you back around £40 but it does come with four extra USB ports.
The is no wired connectivity on-board, but you do get Bluetooth 3.0 and the Ralink 802.11n Wi-Fi card will work at 5GHz as well as 2.4GHz. Equipped with two microphones, as well as front and back cameras, it makes a more than decent communications device.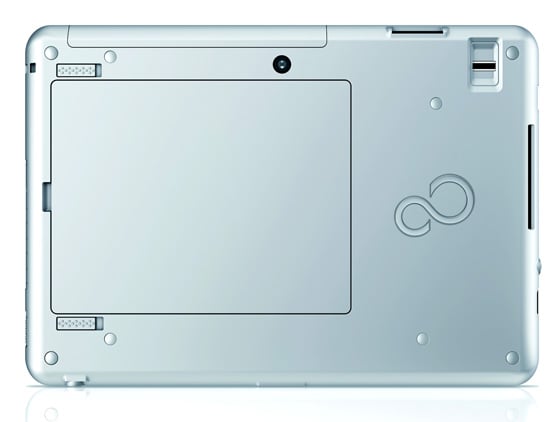 The battery can swapped out - note the Smartcard reader on the right
A selection of physical buttons are marshalled down the right hand side - power, keyboard launch/enter, screen rotate, wireless enabler and CTR ALT DEL screen lock. Having that amount control at your fingertips is a good thing, but the buttons are on the small side and their actions a bit nebulous, so using them isn't as easy as it should be.
Visual appeal
The screen itself is an absolute cracker. Decent resolution aside it uses in-plane switching and has a matt finish, so it works in just about any light and at just about any angle. It's very pleasant to the touch too.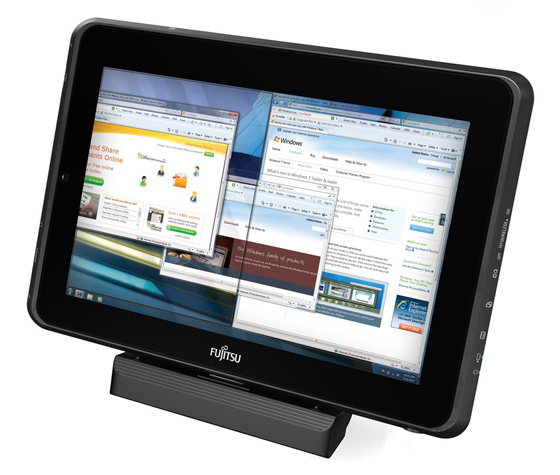 The dock is an optional extra but features interface expansion
This is the first time I've rubbed noses with the new Oak Trail platform, which, according to Intel, offers improved power management, 1080p video decoding, faster web browsing and support for HDMI. All well and good but we are still only talking about a 1.5GHz Atom CPU and even with 2GB of RAM everything runs depressingly slowly.
To underline this the PCMark Vantage benchmark suite returned a pretty grim figure of 1304, significantly lower than the 1687 managed by the also significantly cheaper Acer W500 Windows tablet. And don't forget the W500 has a Radeon graphics card while the Q550 makes do with Intel's integrated GMA600 GPU, hence the laughably bad 3D Mark06 score of 126. Roll on Cedar Trail.

Another proprietary dock slot
Turn off all the Aero effects in Windows and fiddle with the scroll bar widths and window sizes and the user experience improves a bit, but compared to the latest touchscreen UIs from Apple and Android, it's still difficult to use, turgid and frustrating in equal measure.
Fujitsu has at least acknowledged the unsuitability of Windows 7 as a touchscreen interface and tried to provide a fix by installing an N-trig digitiser in the screen and also bundling a digital stylus. This certainly makes Windows 7 easier to use – especially if you like writing on it and using OCR. This set-up also turns the Q550 into a graphics tablet.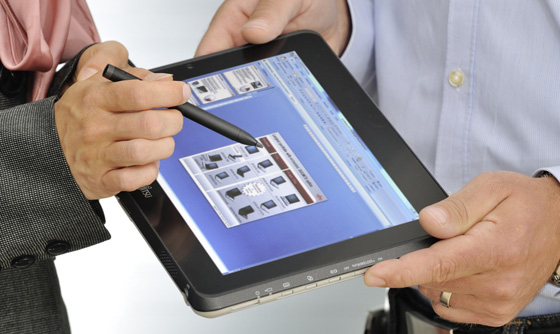 Actually, it's not that heavy as to need three hands...
Graphics tablets aren't my thing and I'm certainly no artist but even I managed to amuse myself using the ArtRage demo and Gimp, so I suspect this is a feature of the Q550 that will attract both interest and custom.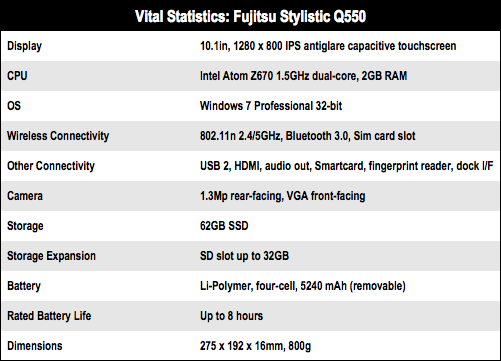 Pen points
It's a shame then that Fujitsu couldn't find room for a stylus slot. Leaving the pencil to dangle from a lanyard is a poor alternative, especially if you are left handed – the tether eye is on the right – where it becomes a positive menace. On the bright side, the digitiser layer has no discernible impact on the vitality of the screen and you don't forsake any multitouch functions.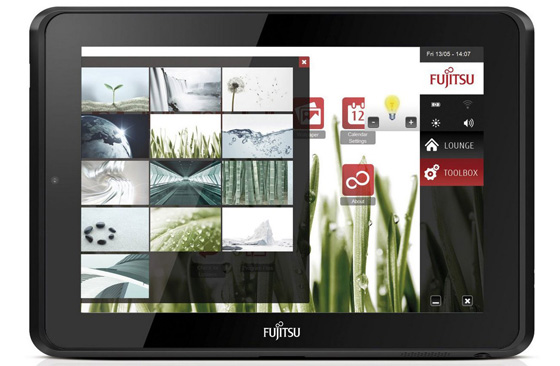 Well made, but Windows 7 can be a bit clunky at times
Another Fujitsu Windows 7 band-aid is the Infinity Lounge overlay, which drapes itself over the desktop and lets you key access settings and some Microsoft applications without actually having to finger Windows itself. A promised OTA upgrade will let you place shortcuts to any installed programme in the Lounge. When that arrives it may be worth using.
With a 4-cell 5240mAh battery I was expecting good things and wasn't disappointed. Loop an SD video at full-screen and you will run out of juice at around the 5 hour mark. In mixed and less exacting use you will get between 7 and 8 hours from a charge as long as you don't have the screen brightness turned all the way up. Incidentally, you can even swap batteries with this Q550 to extend operational time still further.
With no fan passive cooling is the order of the day. The benefit is total silence, the drawback a fair bit of heat build-up if you leave the thing running hard while, for instance, laying flat on a bed. By the end of the battery, test things had become quite toasty warm.
As is my wont with Windows PCs, I stuffed a Ubuntu instal stick into the USB slot to see what would happen and the answer was nothing. After the initial instal screen everything went threepenny-bits up and no amount of tinkering or yelling got me any further down the Linux highway. Incidentally, being Windows-based means that SysAds can lock out various ports and connectivity to prevent the terminally curious from compromising business security. Likewise, custom OS disc images can also be loaded onto the device.
Verdict
There's no denying that the Q550 comes with all the bells and whistles and the digitising kit will appeal to some but the fundamental gutlessness of the underpinnings makes it hard for me to give it an unqualified recommendation. I'm not even sure that business users won't get a bit impatient with the essential turgidity of the thing, though at least they won't have to cough up £800 for the privilege. ®
More Tablet Reviews

Samsung
Galaxy Tab
10.1
HP
TouchPad
RIM
BlackBerry
PlayBook
Lenovo
Thinkpad X220T
Ten…
Budget
Android tablets