Original URL: https://www.theregister.co.uk/2011/09/09/review_game_driver_san_francisco/
Driver San Francisco
Speedy detective work
Posted in Personal Tech, 9th September 2011 12:00 GMT
Review Defusing bombs, rounding up drug runners and saving damsels in distress, just a sample of the heroic acts possible while behind the wheel of a high performance vehicle – who knew? Driver San Francisco is a game that rather lacks any semblance of plausibility, yet holds such a penchant for the ridiculous that you'll be amused enough to not particularly care.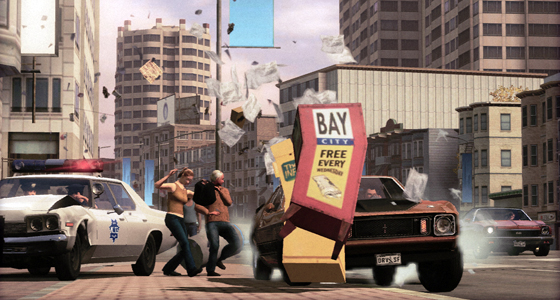 Pedestrian crossing
In this latest outing, the role of Detective John Tanner is revived – last seen taking a bullet in the clumsily named Driv3r. We discover that Jericho – Tanner's arch-nemesis – is finally in custody and about to have his sentence passed. Cue the bad guys, springing him using a predictably over-the-top and explosive manner, culminating in the unfortunate Tanner being on the painful side of a car versus human collision.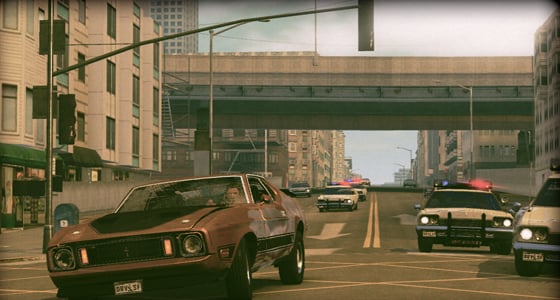 Playing fast and loose
One cutscene later and we're presented with the gaming version of the BBC's Life on Mars, or perhaps Iain Banks' The Bridge. For those of you not au fait with either, we're ostensibly left to play in a driving sandbox of San Francisco taking place within Tanner's coma-induced subconscious. Here, actions may, or may not, have any bearing on the real world and our hero's chances of waking up from said coma.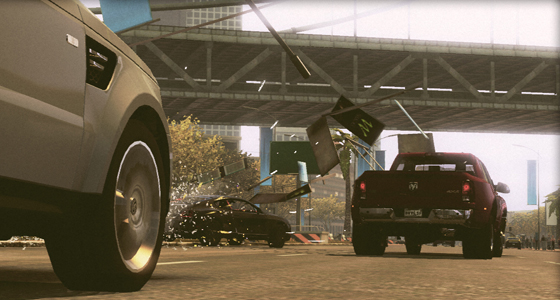 Warning: a coma may affect your ability to drive or operate machinery
The beauty of this elaborate setup soon becomes apparent when Tanner 'shifts' into the body of the ambulance driver currently ferrying his critically impacted body to the local hospital. After some initial and understandable confusion, he dutifully gets down to what he knows best: driving. And thus transports himself to the hospital in record time to boost his chances of recovery.
Streetwise
Next, Jones, Tanner's crime-fighting partner, must be convinced of these newfound shifting powers. It's around this point that Driver's all-new mechanics become fully apparent, as we're introduced to Tanner's ability to survey the famous streets of San Francisco from vertigo-inducing heights.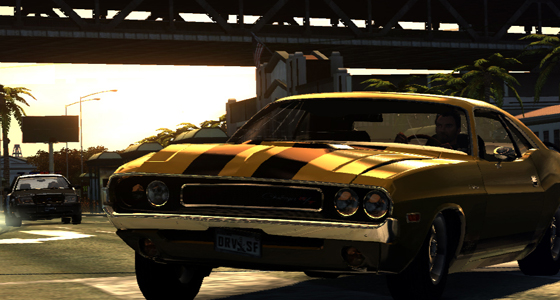 No satnav required
In a move said to be inspired by Google Earth, the action can be zoomed out to god-like heights while life continues as usual on street level – Tanner's current vehicle even continuing to be driven on auto pilot by a remnant of his personality. Though cool at first, this power gets even better as the game progresses, the zoom-level getting expanded to take in the ever growing areas of San Fran that you have access to (certain regions being locked down to begin with).
It's a system with obvious connotations when it comes to novel gameplay. For instance, in high speed chases where, not only can you pursue a criminal through the streets, but actively zoom into cars, buses and trucks further down the road to set up roadblocks, or else brazenly drive them headfirst into your oncoming prey. This is especially cool in chases where multiple cops might be pursuing one perp; Tanner rapidly shifting from one cop car to another, as the situation demands.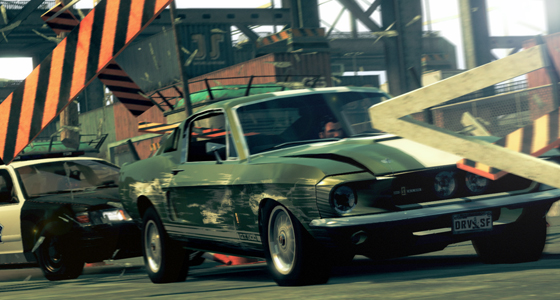 Another barrier to progress
Multiplayer is similarly bolstered by the shift effect, with modes such as Capture the Flag, Tag and Checkpoint Rush all enhanced by the ability to plan for your opponents downfall, like stacking so many dominos. These thrillingly frantic high speed hijinks are made all the sweeter by the familiar backdrop of San Francisco. Anyone with even a cursory knowledge of the city will surely get a kick out of skidding through the famous Lombard Street twists, or flooring it on the Golden Gate Bridge.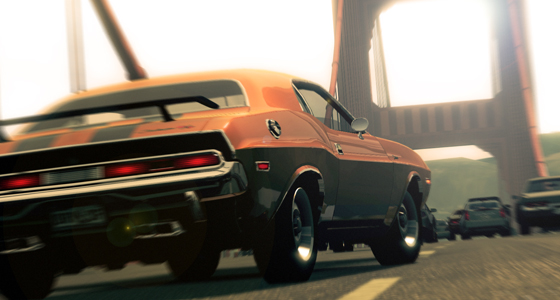 Take it to the bridge...
Despite being a universe entirely of his own design, Tanner has seen fit to include not only low-level hoodlums in his delusion, but also the big kahuna himself: Jericho. Locating him provides the bulk of the game's 'straight out of 24' plot and Jones and Tanner's following leads soon suggests Jericho's prison break was just the first step of a larger scheme.
Cruise control
Locations of story critical missions are highlighted in gold while Tanner surveys the city from his bird's-eye perspective, with side missions highlighted in blue. The player is free to choose missions and there is never any particular impetus for the plot to be progressed. Indeed, simply cruising around San Francisco in one of the game's many licensed vehicles is engrossing enough, if you're of a mind to simply chill.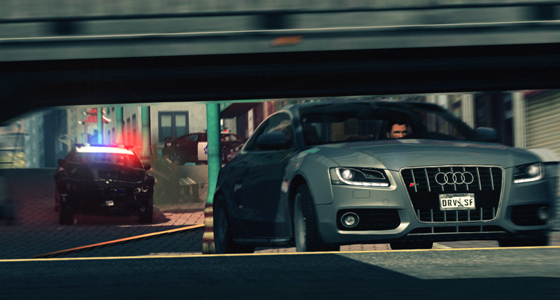 Hello John, got a new motor?
That said, mission types carry enough variety to keep you engaged – races, pursuits, dares, stunts, escorting and even bomb defusal all making an appearance, demanding the use of Tanner's shifting in slightly different capacities. There's even the occasional humorous touch; a shift into a brand new Audi for example prompting the passenger, the daughter of the driver, to thank her dad so much for her "sweet-sixteen present". Cue Tanner inevitably writing it off by slamming it into the back of his prey. Alas, we don't get to see the resulting conversation once Tanner leaps out again, but hey, you can't have everything.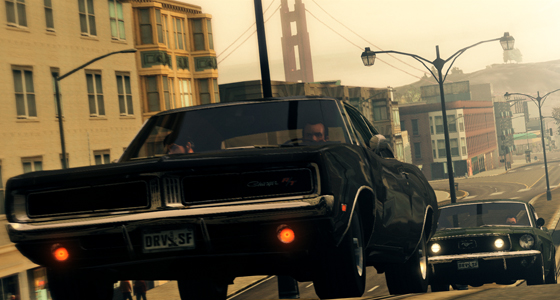 Night riders
Liberally scattered across the city are a number of garages too, places at which further cars can be bought and Tanner's additional powers (turbo boosts and increased ramming power) upgraded. All of the missions you've already come across can also be re-entered here, perfect for anyone looking to beat their best times or else complete a previously unattainable objective.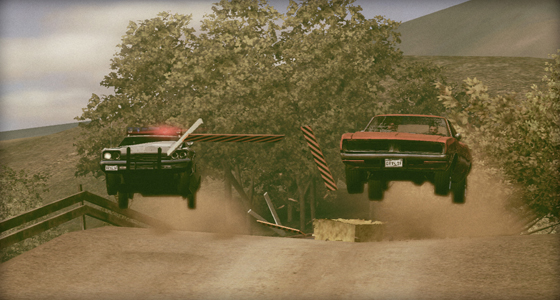 Includes flight simulator...
With such positivity it's easy to forget that the game does have its flaws. Anyone looking for a 'proper' driving experience will find the handling of cars arcade-like to put it mildly – though, that said, it's more convincing than GTA's driving for example. There's also the annoying tendency for mission critical takedowns to be showcased by the game's engine. It looks pretty, yes. But taking the control away from you, even momentarily, sees your car go careering into the nearest barrier with alarming alacrity; so prompting yet another restart.
Verdict
Driver San Francisco is a game that could have all too easily failed in its inception, with its unique selling point dismissed as just a gimmick, like so many poorly thought out and badly implemented ideas before it.
Thankfully, the game's developer, Ubisoft Reflections, was given time to get the formula right – over four years. It's a commitment that shows in the quality and just downright fun that pervades Driver San Francisco, a game worth taking the time to explore. ®
More Games Reviews

Bodycount
Deus Ex:
Human Revolution
From Dust
Shadows of
the Damned
Call of Juarez:
The Cartel