Original URL: https://www.theregister.co.uk/2011/09/09/onkyo_tx_nr609_av_network_receiver/
Onkyo TX-NR609 AV network receiver
Multichannel maestro
Posted in Personal Tech, 9th September 2011 06:00 GMT
Review AV receivers have made a concerted effort to keep up with TVs, consoles, set-top boxes and disc players in recent years by incorporating an Ethernet port to play your digital music collection over a network as well as internet radio and extras like Last FM and Napster.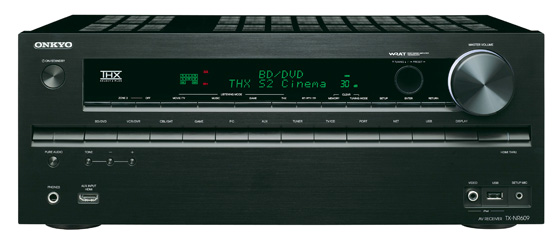 Double bass player: Onkyo's TX-NR609
Onkyo's current range also adds Spotify as a big selling point. You'll need a Premium subscription but that also gives you access to its higher quality 320kbps bitrate. A wireless USB dongle (UWF-1) is available separately if you can't run a network cable into the back of the unit.
The newest in the brand's 600 series of mid-range receivers, the TX-NR609 has pleasing, minimalist styling and, unlike models lower in the range, it adds PC/console RGB video connectivity, the user-friendly Audyssey auto calibration, THX Select2 Plus certification and outputs for up to two subwoofers, in case you're feeling ostentatious. There are six HDMI inputs with 3D compatibility, Audio Return Channel and a passthrough mode for one HDMI input when the receiver is in standby.
Its HDMI output carries 4K video upscaling, which unless you happen to run the local cinema, is beyond what most people need right now but it's reassuring to know it's capable of creating up to 2160 lines of vertical resolution. As it stands, its upscaling of video sources into conventional 1080p HD is well up to scratch.
A full complement of home cinema audio formats is supported, including Dolby TrueHD and DTS-HD Master Audio. There's also Dolby Pro Logic IIz for taking stereo or basic surround sound and polishing it for multichannel listening. This is of course optional, as is Audyssey's auto set-up and DSX processing, which purists might want to avoid (the manual set-up is relatively quick and easy too).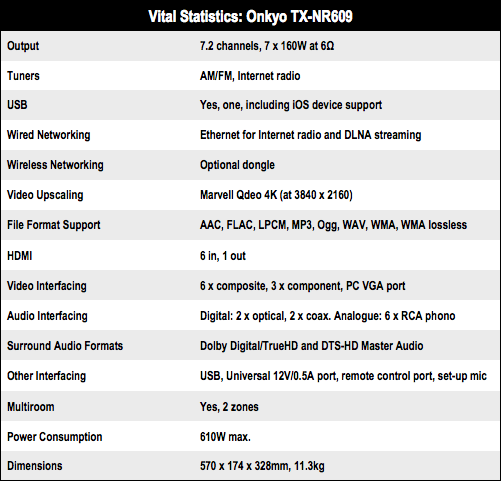 Remote viewing
The user interface is unfussy and straightforward to navigate. You can also find your way around things like the network audio menus via the front panel display, so you don't always need the TV on to see what you're doing when just playing music, but a TV obviously gives you a bigger view.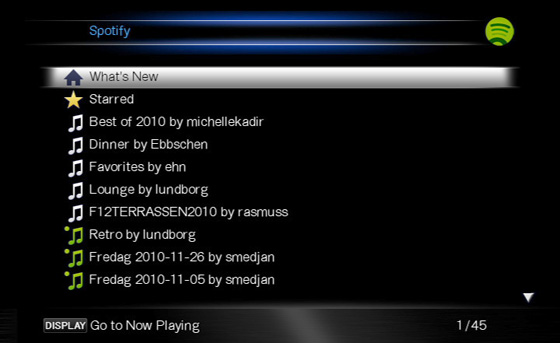 Network audio features include media streaming, internet radio, Napster and Spotify Premium access
Alternatively, the receiver also has an iOS app to work with Apple touchscreen kit, and a recently launched Android app to turn mobiles into glossy touchscreen remotes for menu and sound controls. To its credit, the Android version also plays audio files from the phone over Wi-Fi to the receiver. In conjunction with the Spotify app, it all enhances what you can do with the product.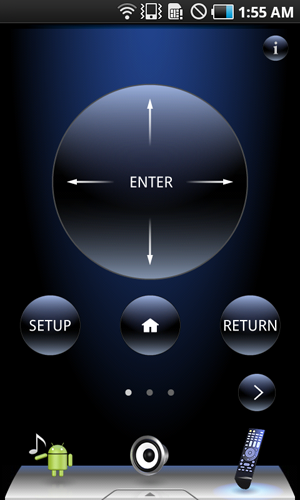 The latest Android app can stream audio from phones or control the receiver
There's no DAB radio tuner (unless you attach an external module) or Apple Airplay support but the DLNA media streaming, internet and on-demand features make up for that. There are other ways of hearing Spotify through receivers (via computer) but having it built in saves an awful lot of fuss and improves the bitrate – if you don't mind shelling out for the premium edition.

Old school remote: compact, versatile and not overly complex
At launch, the Spotify menu lacked its own search feature (you had to use the PC or phone app to find tracks or save playlists) but it was added in a firmware update in early August, as was the AUPEO! customised internet radio service.
Sonic boon
Streamable formats over a local network include MP3, WMA, WMA Lossless, FLAC, WAV, Ogg, AAC and LPCM, which covers most audio bases (photos and videos are not supported). You can also play sound files from hard disks and memory sticks attached to the USB port, which also accepts iOS devicess and not just the newest models.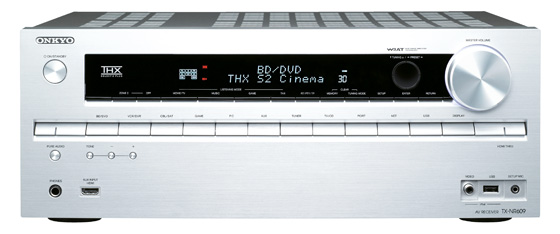 Also available in silver
Its performance with Blu-ray sound is slick and substantial, from the grittiness of gung-ho alien invasion flick Battle: Los Angeles or the swirling, engrossing surround mix of Tron Legacy. More understated cinematic fare, such as The Road, is conveyed with smooth and compelling quality. Given its sturdy feature set on the pure audio side, too, it's no surprise to find its music handling is also admirable, especially with lossless and uncompressed sources but also with the likes of AAC and MP3 (at fair bitrates) or Spotify playback.
Verdict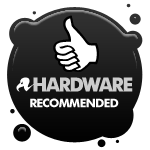 Overall the TX-NR609 is a hugely adaptable receiver that acts as a high-calibre AV hub for home cinema and HD video upscaling, as well as masterful radio and music listening, which enlivens even modest sized speaker systems. ®
More Audio Gear Reviews...

Audio Pro
WF100
Ten…
wireless speakers
Pure
Sirocco 550
Ten…
DAB kitchen radios
Marantz
Melody Media