Original URL: https://www.theregister.co.uk/2011/09/09/apollo_17/
Apollo 17 Moon landing: Shock revelations
New photographic evidence blows lid on massive cover-up
Posted in Bootnotes, 9th September 2011 15:35 GMT
The recent release of Apollo landing sites snaps, captured by NASA's Lunar Reconnaissance Orbiter (LRO), was a serious kick in the 'nads for the black helicopter brigade and their tiresome insistence that the good old US of A faked the Moon landings.
American astronauts did indeed walk on the lunar surface, and that would seem to be an end to the matter.
Well, it would be if we at El Reg had not received sensational proof of a massive cover-up reaching to very highest echelons of the US administration and fast food industry.
Consider if you will the LRO image of the Apollo 17 site: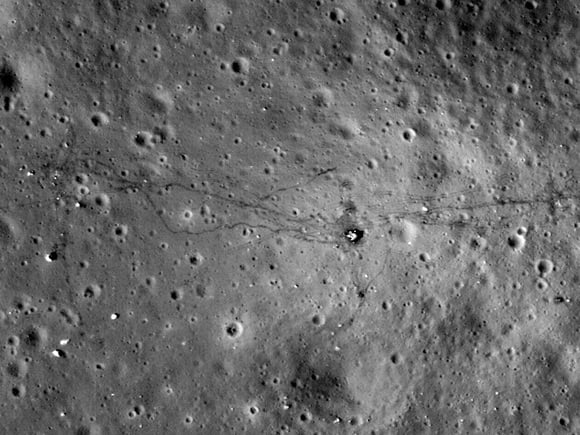 Yup, just what you'd expect to see, but what's significant here is not what is clearly present, but what is missing. According to our Pentagon source (known to us only as "Sore Throat"), NASA image manipulation experts have spent the last two weeks painstakingly removing evidence of an early 1960s operation so secret that the CIA had president Kennedy assassinated when he inadvertently overheard two spooks discussing it in a White House toilet.
We can now sensationally reveal that when commander Eugene Cernan and lunar module pilot Harrison Schmitt landed on the Moon on 11 December 1972, this is what they were looking for: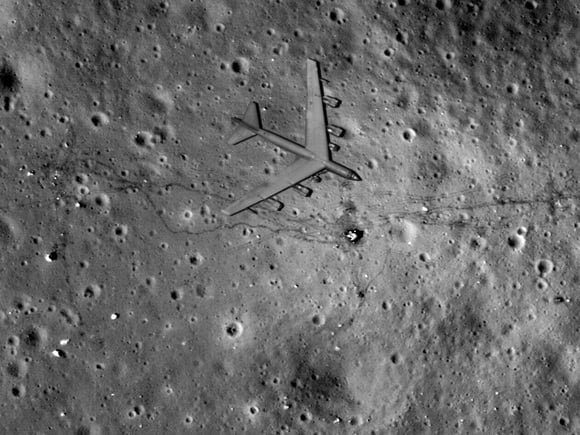 The B-52 in question crash-landed while carrying advance supplies for "Operation Stonebaked", a cunning plan to open a lunar pizza franchise, launched amid fears that the Soviet Union might be moving rapidly towards a boiled potato and vodka kiosk in the Sea of Tranquility, thereby causing an immediate extraterrestrial fast food gap which the United States would be hard pushed to close.
Optimus Prime, or it didn't happen!
Cernan and Schmitt were entrusted with retrieving vital data from the stranded bomber - including the classified recipe for spicy tomato and pesto pizza topping. This part of the mission went smoothly, but attempts to destroy the aircraft failed when NASA's $3bn space matches refused to light due to the lack of atmosphere.
It's fair to say this revelation has rocked our belief system to the very foundations of world-weary cynicism on which it rests. But there's more...

The above is an undated photograph supplied by Sore Throat showing the Apollo 17 landing site. Click on the image for a bigger version and read on...
According to Sore Throat's notes, on the left we have Lord Lucan entertaining a couple of crew members from the Mary Celeste. Approaching this cheerful gathering are several of the lost legionaries of Marcus Crassus, eager to tuck into a few slices of margarita pizza after a long march following their mysterious disappearance in 53BC following a severe ass-whupping at the hands of the Parthians.
On the far right we have a rather bewildered Commander Lionel "Buster" Crabb - evidently not killed in a 1956 underwater scrap with a Russian sailor in Portsmouth Harbour - being entertained by none other The King himself.
The chap on the right foreground is equally unimpressed with Elvis's rendering of Viva La Luna! It's the emperor of Atlantis, who's convinced he's found the Holy Grail stashed in the storage bay of the Lunar Roving Vehicle, and is rushing off back to his people in their polar sub-surface water kingdom to break the historic news that he now has the power to return them to a rebuilt Earthly oceanic habitat off the coast of Frinton-on-Sea (Essex, UK) accidentally destroyed by Thetan nuclear strike during the filming of a John Travolta sci-fi movie epic.
Sadly, closer examination of the artefact reveals it's a NASA polystyrene advanced space cup, developed at a cost of $8.7bn but later abandoned in favour of the Russian equivalent - three-cent disposable paper cups readily available from Wal-Mart.
The identity of the photographer in the centre foreground is uncertain. He's probably Chinese, which means he's looking for a) a suitable site for the Chinese to fake their own Moon landing; b) a good spot to erect a noodle stall; or c) a Swedish lesbian lunar enclave. You decide.
Soaring above the Moon's surface, meanwhile, we see Amelia Earhart on her eternal quest to locate the lost airmen of Flight 19. She's flying into some serious weather, though, in the form of a somewhat irate Optimus Prime, who's a bit pissed off Lord Lucan didn't invite him for lunch.
What happens next we can only imagine, since this the only surface image Sore Throat was prepared to reveal. As he explained to our man during a rendezvous in an underground car park in Basingstoke: "You gotta believe me, the other stuff is so mind-blowing humanity just couldn't take it." ®
Related stories
You can find more miniature revelations right here.