Original URL: https://www.theregister.co.uk/2011/09/08/review_orange_monte_carlo/
Orange Monte Carlo budget Android smartphone
That Riviera touch
Posted in Personal Tech, 8th September 2011 12:01 GMT
Review If during the last 12 months you wanted a cheap but decent prepaid smartphone there was really only one choice, the Orange San Francisco. But now its big brother is in town – the Orange Monte Carlo.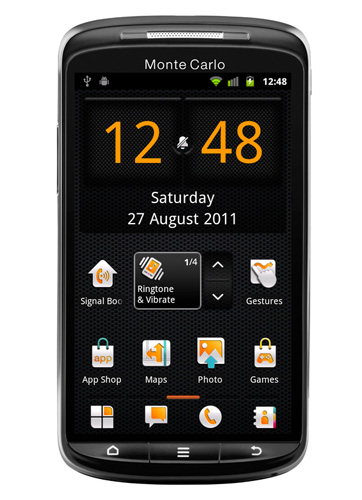 Orange's Monte Carlo: a good bet?
This is another handset from Chinese manufacturer ZTE that in its homeland is known as the Skate. The Monte Carlo boasts a 4.3in 480 x 800 screen, 800MHz CPU and Android 2.3.4 – evidently, Orange is attempting to put a high-end smartphone into the hands of PAYG customers for just £150.
Like the San Fran, the Monte's solid construction belies its price point. The body is made of glossy plastic and the smart uniform black is broken only by the side mounted faux-chrome volume rocker and power button, which, like the three system buttons below the screen, have a pleasantly damped action.
A 3.5mm audio jack is at the top in just the right place but the micro USB port is halfway up the right-hand side – it looks and feels wrong. The screen is plain old TFT LCD rather than OLED or IPS but it's sharp, colourful and supports decent viewing angles. The hitch is that it feels like it's made from plastic not glass and there is no oleophobic coating either, so it loses out in the tactile stakes to more expensive handsets.
To get the Monte down to price, something other than screen material qualities had to give, and that's the CPU. It's the same processor that appears in HTC's ChaCha. The 800MHz clock speed is reasonable, as is the 512MB of Ram but it's an ARMv6 chip so it's no powerhouse and you won't be playing Flash video.

Only 11mm thick, but looks chunkier than it is
Or any other sort of video beyond standard definition H.264, for that matter. As a video player the Monte sucks baboon nuts. The Snapdragon super-phone styling writes cheques the hardware can't cash. Run even slightly demanding apps and the lack of horsepower shows – Angry Birds for instance, is only just playable.
Orange peel
Another budget feature is the limited system storage, the Monte makes do with just 512MB, yet out of the box, only 130MB is free. This makes me rue the 20-odd megabytes taken up by rubbish like Orange Maps, Orange Mail, Orange Photo, the Orange App Store and half a dozen crummy games.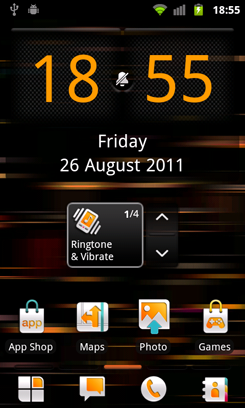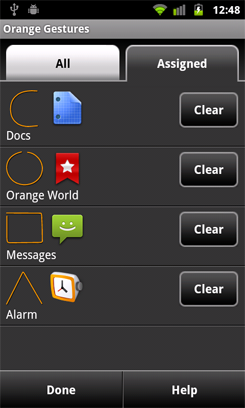 Main menu and gestures options
The final cut corner is its Wi-Fi is 802.11b/g rather than 802.11n. Alas, it's a pretty poor iteration at that, with wireless signal reception sometimes showing as somewhat marginal in places where my HTC Desire HD indicated a full or near-full signal.
Benchmarking with Quadrant Standard, the Monte Carlo notches up a score of 955. For comparison, the Desire HD scores 1430. Yet despite less than impressive results, superficially, the Monte Carlo feels almost as slick as the Desire HD. It's certainly a good deal faster than the San Fran, and if ZTE's aim was to deliver user interface experience akin to a Snapdragon phone but at a knock down price, then it has succeeded.
For a budget handset the Monte packs in a couple of interesting features. Borrowed from the CyanogenMod7 playbook is Gestures, which lets you fire up an app by tracing a pattern on a home page though not on the lock screen as per CM7.
The Monte Carlo also comes with Orange's HD Voice and Signal Boost technology. HD Voice is Orange's name for the Adaptive Multi-Rate Wideband speech codec. It improves voice call quality across the board – imagine everything sounding like Skype – but it only works when calling other HD Voice users.
Signal Boost, on the other hand, uses the phone's Wi-Fi connection to hook up to Orange's cellular network in areas of poor or no reception – it's UMA or Unlicensed Mobile Access by another name.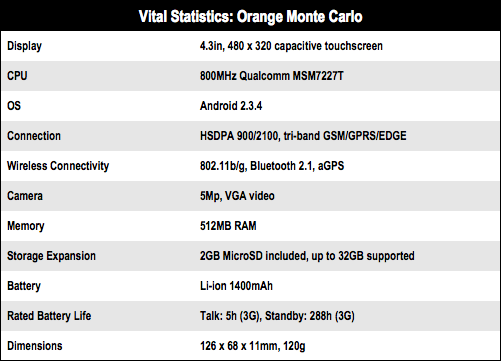 Root causes
While Orange has given with one hand technically, it has taken with the other aesthetically. The launcher design is awful. First order of businesses for any owner must be to switch to something like Launcher Pro, though this means saying goodbye to the gestures feature.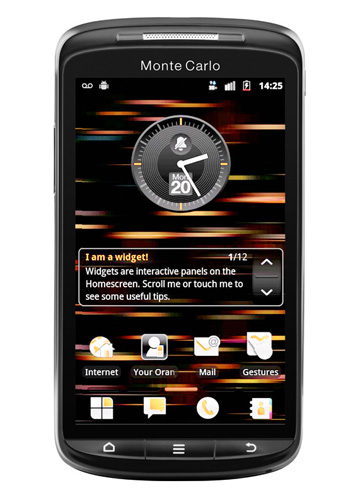 All in all, a respectable budget offering
The auto-focus 5Mp camera comes with an LED lamp but is very ordinary and seemed to sometimes take a blind guess at exposure necessary settings. To put it another way, it's exactly what I expected for 15 Charles Darwins, not a jot more. That said, the 5Mp snapper fitted to the Samsung Galaxy Fit is much the better camera. Video can be recorded at a maximum resolution of 640 x 480. At the price I can't bring myself to criticise the absence of a forward facing camera.
Where the Monte beats the Desire HD is on battery life. Indeed, the HTC is admittedly shockingly bad on this front. I was able to get a good 36 hours out of a charge, 50 per cent more than I manage from my HD under the same heavy usage regime.
On a final note, the boys in the backroom have already rooted the Skate – worth doing just to remove the Orange bloat – and I imagine custom Roms including CyanogenMod7 will be available in the very near future. Of course, Rom swapping may put the kibosh on Signal Boost and HD Voice.
Verdict
The Orange Monte Carlo is not a phone for playing games or watching video, trick call technology, slick UI and decent battery life it is worth every penny of its asking price. Yes I'd like more system storage, a glass screen and a Cortex CPU but that would make it a £350 phone not a £150 one. Less bloat from Orange would also be very welcome. ®
More Budget Phone Reviews

Samsung
Tocco Icon
Vodafone
Smart
HTC
Salsa
Nokia
C1-01
Motorola
Defy