Original URL: http://www.theregister.co.uk/2011/09/08/review_kingston_wi_drive_wireless_storage/
Kingston Wi-Drive wireless flash storage
Fondleslab file fattener
Posted in Personal Tech, 8th September 2011 06:00 GMT
Review The lack of any direct storage expansion in Apple's iOS products has been one of the more enduring causes of complaint for those using or pondering on owning one of these devices. Kingston Technology demonstrated its idea of a workaround when it previewed the MobiSX at CES at the beginning of the year. Now in production, with a name change to boot, the Kingston Wi-Drive relies on wireless data transfer to deliver its 16GB or 32GB iOS storage expansion.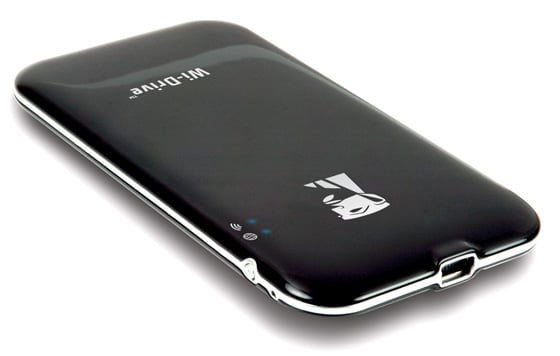 Instant upgrade: Kingston's Wi-Drive
Looking every bit like a black iPhone 3G without a screen, the Wi-Drive has just one mini USB port for data transfer from a computer, that also serves to charge the device. You get a cable in the box, but no PSU. A small illuminating button on the side lights green when on and charged, changing colour to red as the battery fades. On the front, tiny blue LEDs adjacent to wireless and network icons start to flicker when establishing communication and a greenish one in the centre flashes to indicates data access activity.
First things first though. You need to download the Kingston Wi-Drive app to get anywhere when linking to this wireless flash drive. After installation, the iOS device needs to locate the Wi-Drive in the Settings > Wi-Fi listing, and connect as you would any access point. By this time you'll have gathered that your Internet access is buggered now, but there is a workaround, more on that in a moment. For now, let's stick with the easy option.
For a start, unless you've previously hooked up the Wi-Drive to a computer with USB and created folders and copied content, you're not going to have a very productive time linking the drive wirelessly. Assuming it's already bulging with media, when fired up, the Wi-Drive app's home screen simply shows a drive icon and the IP address. Tap on it and your files and folders will show up.
To make things easier, the Wi-Drive app user interface has shortcut icons for photos, video and music bookended by the Home and Settings options. These shortcuts aren't that great though. Photos are listed by name, rather than showing a thumbnail. However, if you click on one, the image shows and there's a tile icon that, if prodded, will reveal thumbnails. So that's OK, it'll even run a slideshow for you.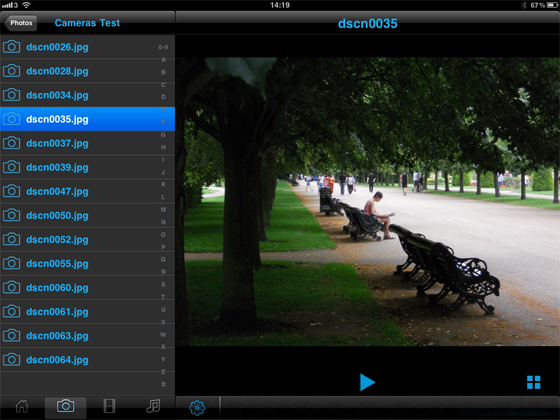 Picture viewing was trouble-free, but lacks an option to change image orientation
The music files are a similar sprawl of filenames and there's alphabetical labelling on the side that should help to jump to certain titles. But if most of your music files are prefixed by numbers, then this option doesn't help. Moreover, the video listing will only show the file format that the Wi-Drive supports. Yes indeed, the device relies on its own media player to show content which, when its own 'All Video' listing is used, filters out AVI, MKV and WMV formats, to name a few.
Playing around
Ignore the video listing and normal browsing will show all files, regardless of playback support. This is just as well because you can browse the device from other apps. By entering in the Wi-Drive IP address using the latest OPlayer HD app on an iPad 2, I was able to see all the folders and play just about any video format I had on there.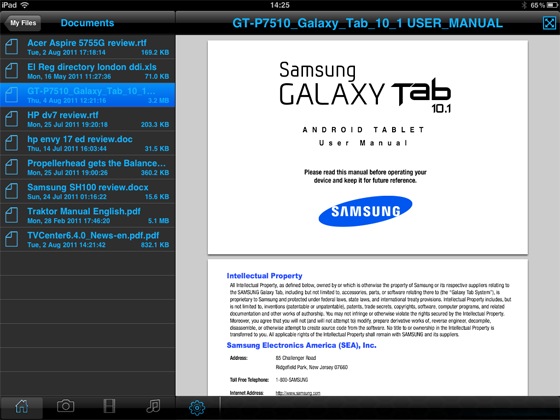 Document viewing is straightforward if the format is supported
Document support includes MS Word, Excel and Powerpoint along with PDF and text. Although RTF files are listed as supported, the test files I tried weren't readable. If you use Pages – Apple's iOS wordprocessor – or the Numbers spreadsheet (both featured as part of the Mac's iWork suite), you'll not be able to read these files either. So it's not quite as joined up with the iOS user experience as it might be.
Kingston claims the Wi-Drive can support three iOS devices simultaneously, and this certainly rang true when connected to an iPad and two iPhones, each accessing different content. The only issue was with one of the iPhones accessing a movie with a fairly high data rate. Yet overall, access was fairly snappy.
Returning to the issue of Internet access, the Wi-Drive has an ace up its sleeve. Its configuration menu has the facility for it to join an existing wireless network and then act as a bridge to that access point. You still connect to the Wi-Drive as before, but now even networked computers can access its content by entering in the IP address. It all worked without a hitch on my home Wi-Fi set-up, but admittedly, I didn't get anywhere trying this out with the rather more robustly configured office WLAN.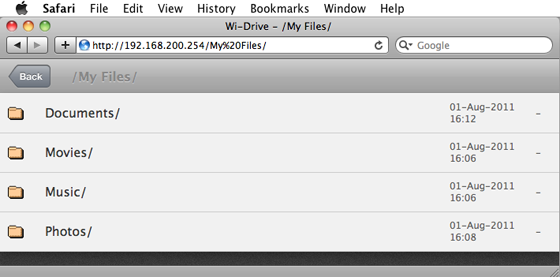 Files can be accessed wirelessly from computers too
In use, the Wi-Drive can be a bit clunky at times. You really need to have the device turned on with lights a-glowing before running the Wi-Drive app. If the app is running first, the connection doesn't seem to kick in so readily. Admittedly, I tired of waiting and found quitting the app and running it again proved the most effective way to reliably gain access.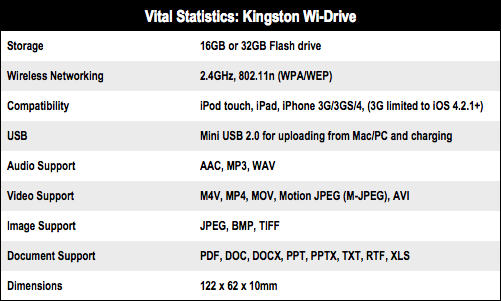 Aerial view?
While it seems an ideal device for stocking up on content for travel, it does have a fatal flaw – being wireless, there's no way you can use it on a plane. Also, when hooked up to a computer to transfer content, its wireless connection is unavailable, so you can't check content playability as you pile it on.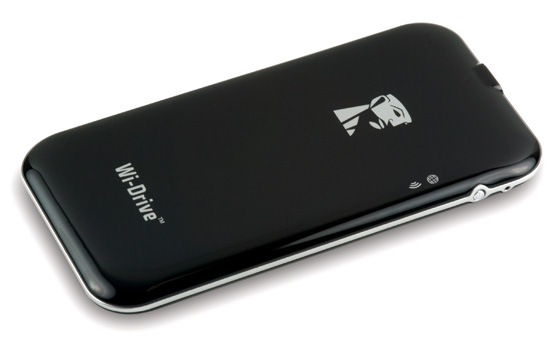 An impressive wireless range, but there's no escaping that it's pricey
It does exceed itself in other areas though. The 802.11b/g wireless range is quite something, which in tests was easily double its quoted 10-metre reach. Its battery life lives up to its 4-hour rating too. The only issue here being that the low battery red warning light comes on when there's still plenty of juice to keep you going for another hour or so. Oh, and speaking of warning lights, when the pale green power button glows, you can barely see if the device is on in daylight.
Verdict
As a concept, the Wi-Drive is useful, but far from perfect, especially given that even the 16GB model is just a fiver shy of a ton. No doubt it will be refined, but in its current form – as a device geared to relieve storage restrictions – it is rather odd that it imposes its own limitations. After all, Kingston has traditionally provided the means to upgrade equipment, but with the Wi-Drive, the company has made a device with its own storage limits. Undoubtedly, Kingston wants to sell its chips, but given the Wi-Drive's price, it is the lack of an SD-card slot to further extend its capacity that rather takes the shine off this compact and capable iOS storage expander. ®
More Storage Reviews

LaCie
CloudBox
Seagate
GoFlex Satellite
Zalman
ZM-VE200
Ten…
Desktop
USB 3.0 HDDs
Ten…
Portable
USB 3.0 HDDs