Original URL: https://www.theregister.co.uk/2011/09/07/review_storage_seagate_goflex_satellite/
Seagate GoFlex Satellite 500GB wireless hard drive
Buckets of content storage for your fondleslab
Posted in Personal Tech, 7th September 2011 12:00 GMT
Review Tablets being generally pricey, buyers tend to opt for the least expensive, lower capacity models. It has to be said, 16GB isn't a paucity, especially if you're happy juggling files back and forth.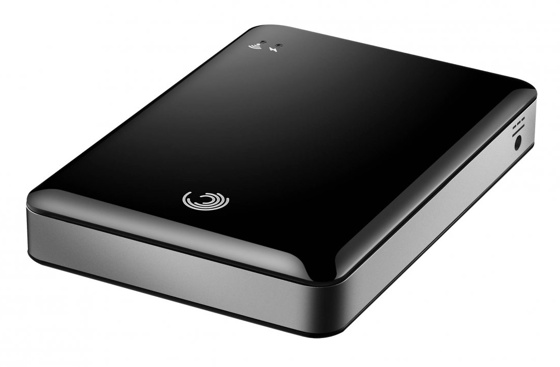 The GoFlex doesn't just connect wirelessly, but also by USB and - optionally - eSata and Firewire
But you may well have a content collection well in excess of that. And what do you do if you have an iPad? Itrequires iTunes to get files across. If you're travelling, it means you'll need to take a computer with you, or rely on a potentially slow net connection and an online store like Dropbox.
Better, surely, to take your files with you in a handy container that's capable of making them accessible to the iPad without a net connection or iTunes.

It's thicker than your average portable hard drive
Enter Seagate's GoFlex Satellite, a 500GB external hard drive with on on-board battery and a Wi-Fi access point.
As such, it looks like any one of a host of portable external HDDs, just a little thicker. A cover comes off one end to reveal Seagate's proprietary GoFlex port which takes adaptors for USB 2.0, USB 3.0, Firewire, eSata and such - the Satellite comes with a USB 3.0 adaptor and cable.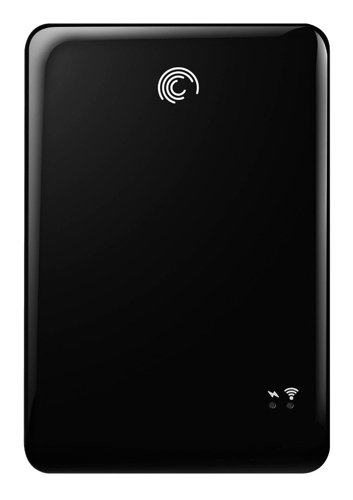 A wireless activity LED and battery charge light are the only info readouts
Seagate also bundles a USB car charger and a small AC adaptor too, which helps cover the fact that the £160 you'll buy it for is three times the price of a standard Seagate 500GB USB 3.0 portable hard drive. That seems a lot for a five-hour battery and an Wi-Fi adaptor.
iPad owners can download the inevitable app, but the GoFlex Satellite can be accessed through a browser too, making it immediately useable with a host of other platforms. That's handy if you plan to use it with different devices.
Wireless music and movie streaming
You log on to the GoFlex Satellite's WLAN directly and it's a slow connection, but sufficient for streaming media. Seagate's browser UI is a tad clunky - taps aren't responded to immediately - but it works. Tap on, say, a movie and if your browser and/or platform supports it, it will play - or you can download it for playback later.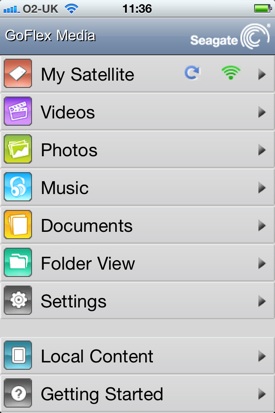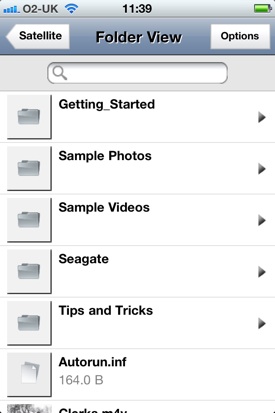 The inevitable iPhone app could run more smoothly
On the iPad, that means Apple-friendly formats for video and audio, but other platforms are more reasonable. And there are apps that'll run on the iPad that support other media formats. Seagate recommends OPlayer HD, a £3 purchase - £2 on the iPhone - but the free version, OPlayer Lite, works just as well.
All well and good, and I was soon playing AVI files and MP4s loaded onto the drive.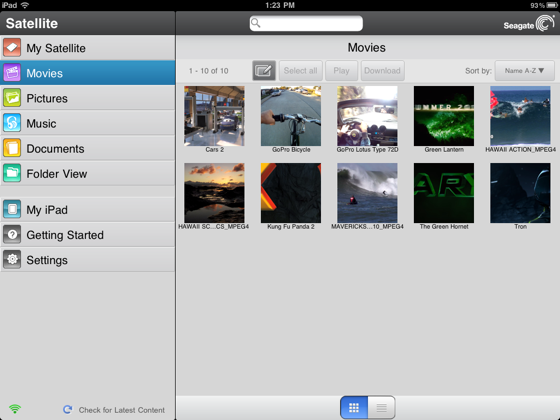 The iPad version is easier to navigate...
But if you want to store more exotic file formats, you run into trouble. I dropped a stack of 2000AD .CBZ files downloaded from Clickwheel.net. Neither Seagate's app, nor OPlayer, knew what to do with a .CBZ, and didn't even have the wit to ask me what to do with the file. Fortunately, Safari did, and I was able to download the files in ComicFlow.
So, yes, you can access your odd-format files, but you might need to use a varierty of different apps to get them all.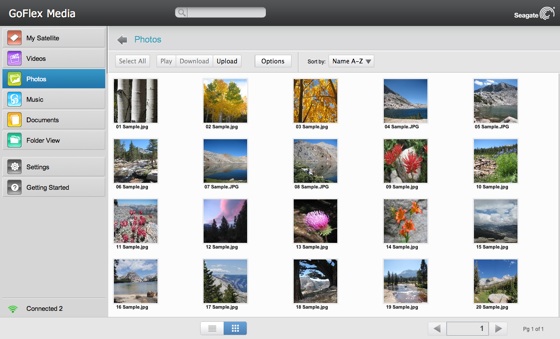 ...but the on-board browser UI is cross-platform
To be fair, that's not really Seagate's fault, but it nonetheless limits the product's utility. Credit where it's due, Seagate has tried to make the sytems as easy to use as it can. Techies will bemoan the lack of SMB filesharing access - though since the GoFlex Satellite runs Linux, it can be added - but the system is straightforward for those with of a less geeky bent.
Verdict
Seagate's GoFlex works a wireless-connectable external hard drive, and it's nice to tap into 500GB of content storage from an iPad, iPhone or any other brand of smartphone or tablet. But you pay a lot extra for that battery and wireless access point, and you can't connect to the internet while you're tablet is talking to the GoFlex, unless it's a 3G-enabled one, of course. It's a good product, but it needs to bring you as the buyer a lot of utility to justify the price. ®
More Tablet Accessory Reviews

Vogel's
RingO
iLuv
keyboard
case
Exogear
Exomount
Solwise
Net-3G-A10
Osun
MushRoom