Original URL: http://www.theregister.co.uk/2011/09/07/review_hp_pavilion_dv7_6101sa/
HP Pavilion dv7 17.3in Llano notebook
AMD's Sandy Bridge alternative?
Posted in Personal Tech, 7th September 2011 06:00 GMT
Review Heave the 3kg HP dv7 from its enormous box and you can't help but have your hopes raised: this is a notebook that gives the impression of high-end consumer tech promise. The brushed silver back has a refined air to it and Apple stylee, the HP logo lights up using the screen's LED lamps. Appearances aside, there are tech treats within as this machine has AMD's Sandy Bridge competitor, Llano, a 32nm chip with an integrated GPU.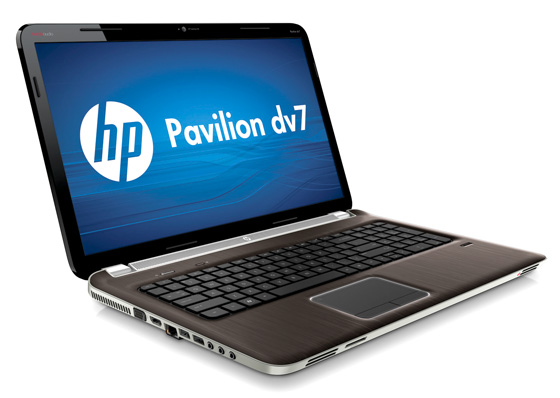 Llano powered: HP's Pavilion dv7
Unfold the system and the excitement fades slightly – the dv7 isn't ugly, per se, but the inside is not as enticing as its exterior. The keyboard isn't a particularly shining example, as there's a definite cheapness to. The keys are rather clacky and a slightly hollow feel underlines the dv7's place as a budget laptop.
Still, you can get up to speed nicely on it, and the addition of a proper numeric keypad on the right hand side suits me, but might not appeal to everyone. Just under the number pad is a fingerprint reader – a useful inclusion, bolstered by HP's SimplePass 2011 software, which allows you to set up profiles for password-protected websites.
The palm-rest of the dv7 is made from aluminium, and apart from the obligatory stickers features a fingerprint reader and a button marked with a globe emblem. Pressing this takes you to your home page, opening a web browser, if necessary. If a web browser is already open, it takes you away from the page you're on to load your home page – something I had to keep in mind when writing this review for Reg Hardware in Google Docs.
The glossy screen feels huge. It's 17.3in across with a resolution of 1600 x 900, which is a reasonably good trade-off between size and pixel density. Yet it's disappointing the dv7 doesn't have a matt finish option. On bright, light-coloured screens – word processing, for instance – there's no appreciable problem. Watching a dark, moody TV show such as The Killing, results in far too many reflections.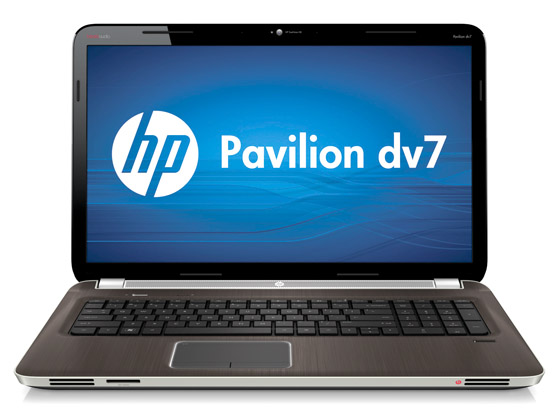 While laptop audio is never great, the Beats system does perk things up a bit
The dv7's all-round appeal is bolstered by the presence of above-par audio. It's a Beats system, with a wide speaker bar running almost the full width of the screen at the back of the base, and a dedicated sub-woofer on the front-right underside of the chassis. You couldn't exactly run a nightclub on it, but it's certainly loud and reasonably punchy, and makes a decent fist of filling a room with sound.
Performance charts
As a desktop replacement it's heartening to see a good selection of ports. The right-hand edge of the dv7 has a pair of standard USB ports; the left-hand edge a pair of USB 3 ports. Those with external monitors are well catered for, with VGA and HDMI outputs. Pleasingly, for a computer likely to find its way into university dormitories, there are two headphone jacks alongside the 3.5mm audio-in socket. The front edge houses an SD card slot.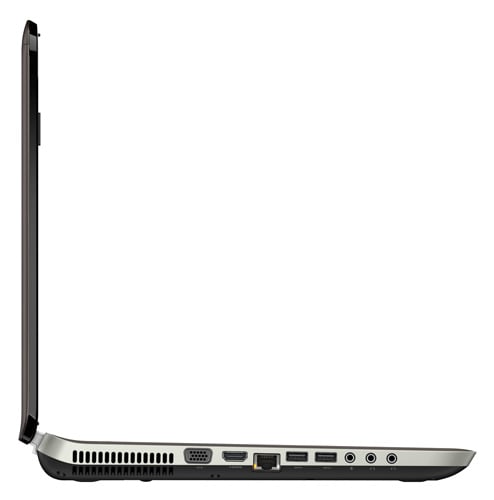 Four USB interfaces appear in total, including two USB 3.0 ports
If the outside of the dv7 is fairly workaday, the inside houses some interesting silicon. AMD has developed the Llano family of chips to put it in direct competition with Intel's Sandy Bridge Core i series. The AMD A4-3310MX dual core CPU is one of the first Llano chips to emerge and is among the lower performance incarnations, more akin to Intel's second generation Core-i3 processors.
Running at 2.1GHz, the A4-3310MX 32nm chip has 2MB of L2 cache and an AMD Radeon HD 6480G built in – this CPU/GPU combination is what AMD refers to as an APU - accelerated processing unit. Broadly speaking, Intel's latest Core i3, i5 and i7 offerings with their integrated graphics could also qualify as APUs.
The Pavilion dv7 is supplied with 6GB of RAM, which provides plenty of memory for the graphics chip to borrow from, plus more than enough spare to make light work of open applications.
Application performance from the A4-3310MX is good, rather than great, scoring 3919 under PCMark Vantage. Enough, certainly, to get through the majority of jobs likely to be thrown at it, if not quite as muscular as machines powered by Intel's Core i5 chips. Only those doing fairly intensive encoding jobs are likely to grumble and this isn't really the machine for number crunchers. Still, there were no real-world holdups using common applications, and the dv7 was perfectly smooth playing back full-screen HD video.
Benchmark Tests
PCMark Vantage Results

Longer bars are better

Battery life in Minutes
Longer bars are better
The integrated Radeon is all well and good, but it's a tad underpowered when it comes to gaming. With just 512MB of (shared) DDR3 RAM and a relatively low core clock of 444MHz, means it's better placed to shunt applications, rather than polygons, around the screen. For games, the dv7 includes a second, meatier piece of hardware, this time a Radeon HD 6490M with 512MB of GDDR5 RAM and a core clock of 750MHz. Tasked with running 3DMark 06 it returned a score of 5085. Adding a further factor to regard, AMD calls this particular dual graphics package of APU plus discrete GPU the AMD HD 6515G2.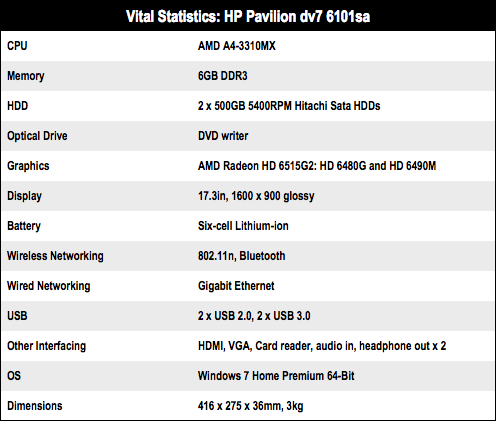 Desk job?
Like the Samsung RF711, the dv7's expansive chassis is put to good use, and accommodates a pair of 500GB Hitachi hard disks, while the right-hand edge houses a Lightscribe DVD-writer. The absence of a Blu-ray player is a touch disappointing, though.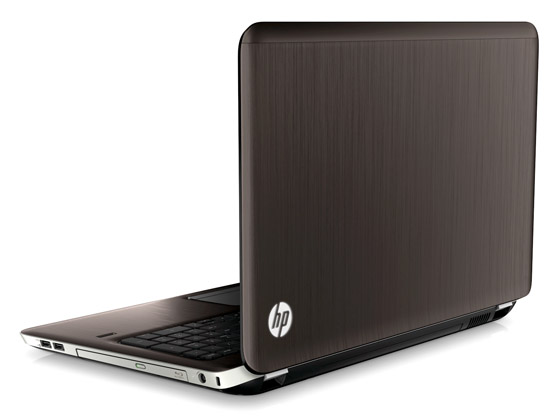 Desktop replacement at a tidy price
The idle battery life of the Pavilion dv7 was slightly surprising – it's not unusual to see under four hours on a big desktop replacement, so the 5hrs 54mins result bodes well for those who want something to use away from the mains. The intensive use test was less impressive, although 2hrs 11mins is still likely to be acceptable to all but battle-hardened road warriors.
Students looking for a machine to get them through a few years of all-purpose computing should look no further – this is a great deal, powered by an up-to-the-second processor and with enough headroom to last a decent while, and the relatively long battery life is a definite plus.
Verdict
The HP Pavilion dv7 has a huge screen, and while power users will crave more pixels, there's not much you can't do with 1600 x 900. Its desktop-replacement credentials continue with the full-size keyboard and numpad, and although this isn't exactly the best-looking machine out there, its ergonomics are perfectly fine for daily desk work, if you don't mind the off-centre trackpad. Those with high-end aspirations should be mindful of the relative lack of computational poke, yet at under £600, there's a lot to like here. ®
More Notebooks Reviews...

Dell
Alienware M18x
HP
Envy 17 3D
Toshiba
Satellite P775
Samsung
RF711
Lenovo
Thinkpad Edge
E420s