Original URL: http://www.theregister.co.uk/2011/09/06/games_review_codemasters_bodycount/
Bodycount
Esprit de corpse
Posted in Personal Tech, 6th September 2011 12:00 GMT
Review In the ever deepening reservoir that is the FPS genre, most games ultimately fall into one of two categories. There are those which encourage thought, exploration, tactical nous, micro-management of resources and, of course, a good shot. We're talking the likes of Deus Ex: Human Revolution, Half-Life 2, BioShock and even Modern Warfare to an extent.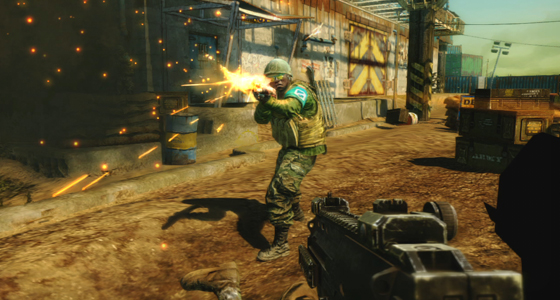 Hailing bullets
Then there are those which encourage charging your foes, guns blazing, emptying clip after clip into your hapless victims and vacating the area while muttering an Arnie-style quip. Duke Nukem 3D, Serious Sam and Bulletstorm all belong in this latter category and now, so too, does Bodycount.
Here, ammo is plentiful – seemingly spewing out of fallen hostiles before magically rushing toward the player. The guns are big, the enemies angry, while shacks, fences and most other kinds of cover have the nasty habit of disintegrating before your eyes when under sustained gunfire.
Meanwhile, a counter in the upper-right portion of the screen continuously counts your rapid skills – rewarding trick shots, multiple grenade kills and so on, and confirming once and for all that this is a game of action rather than thought.
Bodycount's plot deals with a civil war in a war-torn part of Africa; neither side giving ground and both sides baying for blood. It's a situation a little too close to current world events to make proceedings particularly humorous. The game's solution too – to have the player dealing death to both sides – is a bad fit for a gameplay setup and more akin to the 'space cowboy' approach, as seen in the likes of Duke Nukem 3D and the recent Bulletstorm; where bullets are fired and questions not even considered.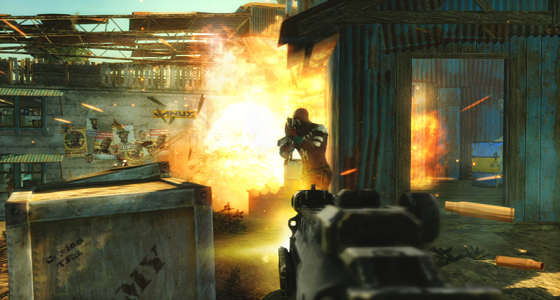 Heated exchange
To fill in the blanks as regards the plot, the player takes the part of Jackson, an operative working for 'The Network', an underground security force with interests in military activity throughout the world. Operatives are expected to follow the orders dished out by their superiors – expect to have objectives constantly relayed by your demanding commander – who will all too frequently tell you to "talk to the Militia commander," before changing their minds and simply having you shoot him instead.
Plotting destruction
In fact it's moments like these which not only make a mockery of the plot, such as it is, but leave you suspecting that maybe, just maybe, the whole story thing was something of an afterthought. Not that plot is everything in the arena of the FPS, especially those that favour brawn over brains, but sadly Bodycount's action, while OK, just doesn't push any boundaries nor introduce any noteworthy ideas of its own.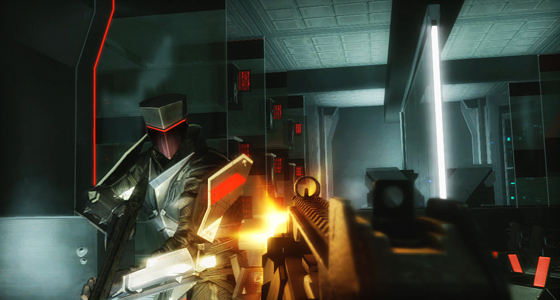 The scene changes make it appear like two games were grafted together
Among the selling points is scenery destruction, which has been done in games such as Red Faction for years, and will be done to greater effect than this in Battlefield 3. Then there are the power-ups you gain as you blast your way through the game – a damage limiter, the ability to summon air strikes and a device which reveals enemy location amongst them – but, again, nothing not implemented elsewhere.
Finally, there's the kill counter itself. Sure it's fun at first, but lacking the variety and sheer wit of the similar system installed in Bulletstorm, with far fewer creative ways of describing the various trick shots available.
The hostile forces too, display an equal unwillingness to surprise, falling not only into the trap of being blessed with an ability to detect the player from a country-mile away (if they happen to be facing in your direction), but also often blundering straight through the player character. It's enough to bring back the clipping issues which so plagued games back in the 1980s.
You will eventually take on troopers who resemble some kind of lovechild betwixt Cylon and Stormtrooper, but while heavily armoured – and so tougher to kill – their actual intelligence is barely improved and their effectiveness simply down to there being lots of them in a confined space. That said, fun can be gleaned from charging headlong into their midst, while unleashing whatever weaponry is at hand – generally consisting of a rifle and a shotgun, though primary and secondary guns can be changed at console terminals.
Light ammunition?
Bodycount's environments are basically small sandboxes – in which you're free to wreak your own brand of havoc – so you're free to experiment, grenades proving particularly entertaining when tactically placed. There might be a mission objective, but if you would rather take your aggression out on the natives, there's no need to hurry.
Black thoughts
The only issue with this kind of structure – with all too many enemies strewn across a stage – is that in order to precisely aim your weapon, you have to hit a shoulder button to zoom, at which point you usefully lose the ability to move. Fine, if you're behind cover – though that gets shredded away quickly – but not very healthy at all if you're forced to stand in a spot by a specific mission objective. Given that enemies continuously, and randomly, generate on all sides of you doesn't help matters either.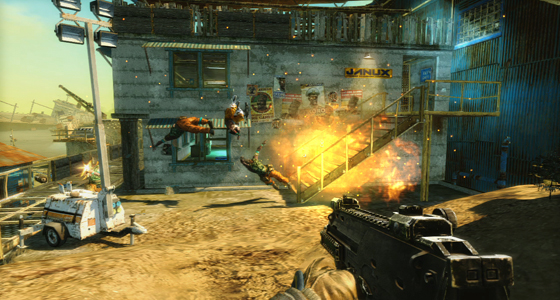 Fire fighting
Graphically, there's little going on to shout about either, the destructible environments looking reasonable enough but lack any real clarity of textures, which is possibly down to the game using an adapted Dirt 3 engine. Character models are of the cartoonified variety, somewhat similar to Brink's but not as well animated. How much damage you're suffering is also difficult to glean; a red mist might be a visual indicate you're being shot, but working out just how near death you often proves difficult until it's too late.
Multiplayer is similarly lacking in bells and whistles, with just co-op, deathmatch and team deathmatch options available at release, this is a little shocking considering what is expected and demanded of the genre's creme de la crème. Imagine the outcry if Battlefield 3 or Gears of War 3 were released with so few on-line options available.
Verdict
Over all, Bodycount feels like a game made by a development team that hasn't seen the progression in the world of the FPS these last few years. A spiritual successor to the decent PS2 generation shooter, Black, it might be, but Black – for all my fond memories of it – wouldn't cut it today and, simply put, nor does Bodycount. There's no doubt the team has the potential to put a fast and furious shooter together but, this time at least, they've not quite managed it. ®
More Games Reviews

Deus Ex:
Human Revolution
From Dust
Shadows of
the Damned
Call of Juarez:
The Cartel
Air Conflicts:
Secret Wars