Original URL: https://www.theregister.co.uk/2011/09/02/review_dell_alienware_m18x_gaming_notebook/
Dell Alienware M18x 18.4in gaming notebook
Playing away from home
Posted in Personal Tech, 2nd September 2011 12:00 GMT
Review Last year, Dell added to its Alienware laptop family and simultaneously expanded the definition of ultra-portables with the tiny-beefcake M11x. This year's new addition, the flagship M18x, now expands the other end of the spectrum.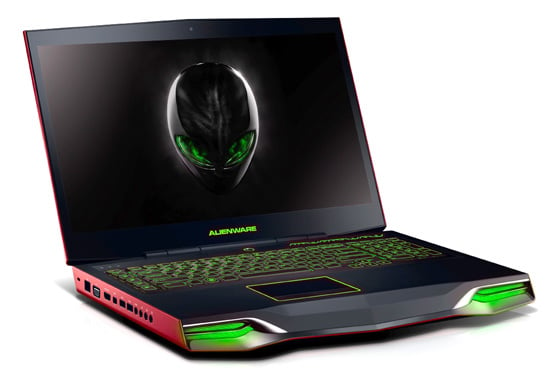 Big player: Dell's Alienware M18x
Labelling this colossus a desktop replacement tells only half the story. At 436 x 322 x 53mm and with a starting weight of 5.41kg, the M18x is only four legs short of replacing your actual desk. Factor in a 1.54kg power adaptor and your back will spasm just contemplating lugging this titan around LAN parties.
Happily, this isn't Miss World as having a huge body isn't such a disadvantage here. Indeed, the M18x is a head-turner, with its pedigree rhomboid chassis and imposing Pontiac Firebird-style front slope and grilles striking a deft balance between geek and chic.
This Alienware machine's mishmash of materials initially appears discordant, but their functionality highlights fastidious attention to detail. The anodised aluminium of the lid and sides (available in Nebula Red or Space Black) are extremely tough. Short of standing on the case, there's no flex whatsoever. The M18x is scratch and smudge resistant too. As is the large soft touch rubber wrist area, which provides excellent grip. Talking of grip, the half-octagon texturised-rubber panel at the cover's rear is dead handy when carrying this monster underarm.
The design excellence extends to the keyboard. The large 99 x 56mm trackpad is the smoothest, most responsive and precise I've ever used. White-bordered 18 x 18mm keys make for comfortable typing, with good stroke distance and low noise. There's even a column of programmable macro keys on the left, ideally placed for MMO-players in proximity to WASD. Providing the finishing flourish, Alienware's signature AlienFX illumination offers customisable back-lighting from a palette of 20 colours to four keyboard zones, the macro keys, trackpad and grilles.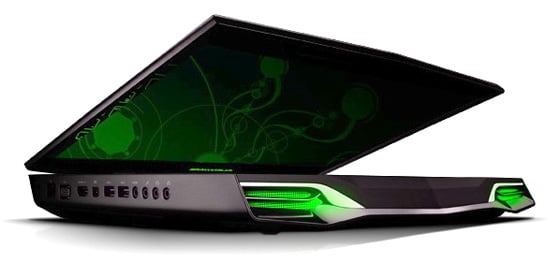 With dual drives and GPUs, it's a bit of a fatty
Port placement further exemplifies the meticulous attention to detail, with all the heavy cabling kept to the rear. Running along the left, from front to back, are two headphone, one mic and an S/PDIF sockets, plus two USB 3.0 ports, MiniDisplay, VGA, Gigabit Ethernet and a Kensington Lock.
Port authority
The 54mm Express Card and 9-in-1 card reader slots sit neatly above the slot-loading optical drive on the right, followed by two USB 2.0 ports and an eSata/USB 2.0 combo. There's also an HDMI-in port – hardly a system-seller, given the ubiquity of HDTVs, but a novelty which should find occasional use. Nothing along the front, as you'd expect, but those iconic grilles cleverly double as speaker vents for the impressive Klipsch-powered audio. Lastly, the rear is wisely left port free, with just the power socket placed between four main ventilation grilles.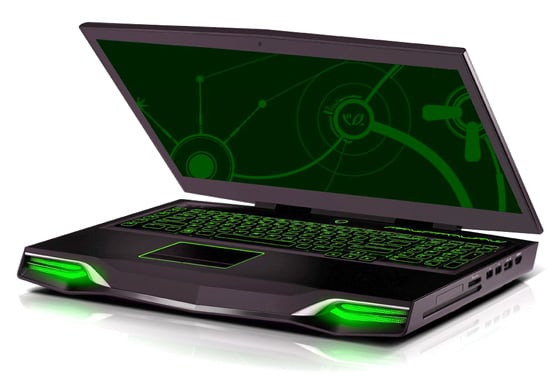 Among the ports is an HDMI input enabling the screen to be used by external devices
The design isn't flawless, though. The membrane media bar is fiddly and unresponsive. More concerning, despite the soft touch rubber, the sharp edge above the front left grille presses painfully into the wrist when reaching for the WASD keys. You can disable the trackpad and reconfigure the keys more centrally, but, at 53mm in height, it's still an uncomfortable climb over the smoother central slope.
As with all Dell computers, the M18x is highly configurable, making any evaluation relative. The only standard components are the chassis and glossy 18.4in 1920 x 1080 WLED LCD screen. Fortunately, that screen is top-notch, with exceptional HD picture quality, stunning contrast and brightness, and excellent viewing angles.
Opting for the base model's single Geforce 460M graphics card is like installing a Golf GTI engine in a Ferrari. It might be reasonably nippy, but it's way short of the power the marque promises. I'd suggest the test unit supplied – itself a mid-to-low configuration – should be considered the true entry-level model.
With its 2GHz i7 2630QM CPU (Turbo Boost to 2.9GHz) and paltry 4GB of 1333MHz RAM, the only additions to make the difference during testing were the dual 2GB GDDR5 AMD Radeon 6970 GPUs in CrossfireX and the two 500GB Momentus XT drives in Raid 0 "Stripe". Initial misgivings aside, the results were nonetheless impressive.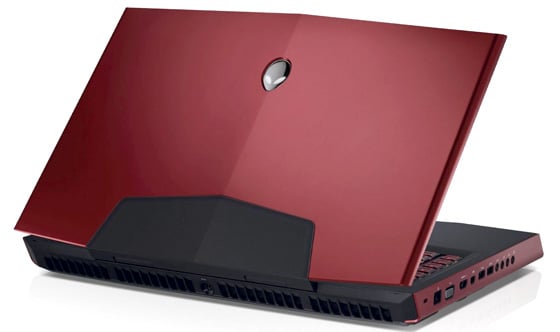 Configurations start at £1700 and can climb to around £5k
The M18x scored 10050 in PCMarkVantage – way ahead of the 17in laptops and MacBook Pros tested recently. In 3DMark Vantage it achieved 9856 on the extreme settings, with the GPU rated at 9633. PCMark 7 scored 3273, while 3DMark 11 scored 1910 on extreme settings, which, although perfectly acceptable, reflect the low RAM and lack of SSD on the review model.
Crysis point
Actual gaming corroborated the benchmark results. Crysis ran maxed out at 1920 x 1080 on Very High with 8xAA and VSYNC at 39FPS. Crysis 2's vanilla build (DX10) ran at 1920 x 1080 on its Hardcore setting at 48FPS. An even sterner test was provided by patching Crysis 2's recent DX11 and high-res texture packs, in which the M18x still performed admirably, at 36FPS on Ultra settings.
Benchmark Tests
PCMark Vantage Results

Longer bars are better
Battery Life Results

Battery life in Minutes
Longer bars are better
Two of 2011's major titles confirmed its DX11 credentials, suggesting the configuration will remain competitive for the next couple of years. Deus Ex: Human Revolution ran at 48FPS on average with all DX11 features on. And Battlefield 3's alpha trial, although not presently supporting CrossfireX (or indeed SLI, for that matter), still ran at a rock-solid 54FPS on high settings in single-card mode.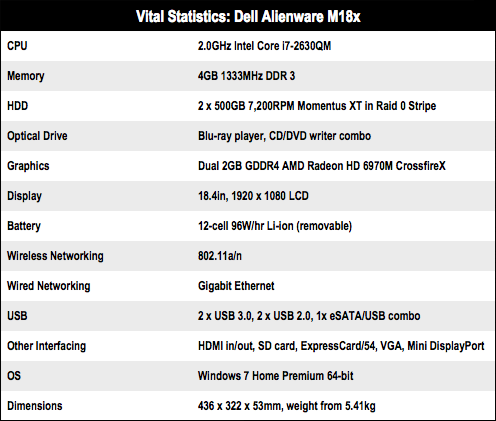 Moveable feast?
The BF3 test did raise one major annoyance, though. While AMD and Nvidia have improved mobile driver roll-outs in recent years, Dell remains notoriously slow. Both drivers are customised to support hot key and power management functions, and suspend/resume behaviour, so you're tied into Dell's updates. A critical element of PC gaming, it doesn't augur well that, at time of writing, after six weeks and eight weeks respectively, AMD and Nvidia's latest drivers were unavailable on Alienware's flagship laptop.
Packing heat
Then there's the issue of the battery. The M18x lasted 1 hour 17 minutes on a looping PCMark Vantage test with everything on, and 1 hour 58 minutes when switched to integrated graphics – which, incidentally, requires a reboot every time on both AMD and Nvidia configurations.
Those durations are understandable, of course. Combined, the CPU, dual GPUs and fans pull around 250W from the 96W/hr 12-Cell Li-ion battery, so you'll only get around 20 minutes of gaming. But even that's not an option here as Dell instead automatically underclocks the GPUs with battery use.
Frame rates drop off a cliff, and games need scaling back to low settings to achieve anywhere near the comfortable 30FPS mark – hardly worth it for the extra 20 or so minutes underclocking provides. It might seem harsh to complain. But it's an important point when you can pick up a more powerful desktop for around £500 less. At 5.4Kgs, the M18x's already slim advantage of mobility is further eroded by the constant need to plug it in.
Verdict
The M18x lives up to expectations. It feels lovingly crafted around gamers' needs, combining superlative design, build quality, aesthetics and scalable power. But it comes at a cost. The review model's price compares reasonably well to other gaming laptops, but component upgrades incur a luxury brand tax, with the top spec costing close to £5k. The real issue, however, is one of positioning. The extra size, weight and power consumption required by the dual graphics cards pushes it into competition with much cheaper desktops. For all it's gaming power, that's one contest the M18x can't win. ®
More Notebooks Reviews...

HP
Envy 17 3D
Toshiba
Satellite P775
Samsung
RF711
Lenovo
Thinkpad Edge
E420s
Apple
MacBook Pro
17in 2011