Original URL: https://www.theregister.co.uk/2011/09/02/international_rocket_week/
El Reg's NAOMI rocket throws launch-pad strop
SPB fails to get it up at International Rocket Week
Posted in Science, 2nd September 2011 11:01 GMT
We at the El Reg Special Projects Bureau have just about recovered from our trip last weekend to International Rocket Week (IRW), in the somewhat rain-lashed and chilly outskirts of Glasgow.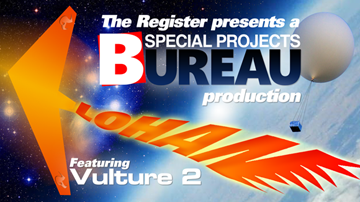 As followers of our Low Orbit Helium Assisted Navigator (LOHAN) project will be aware, we headed off to a campsite outside Paisley on a mission to find out just what kind of rocket motor might power the Vulture 2 spaceplane, which will somehow launch from altitude before gently gliding back to Earth.
Myself and fellow Reg hack Bill Ray, temporarily seconded to the SPB for his vital ability to put up a teepee-style tent in the dark and pouring rain, were met at the IRW base camp by main man John Bonsor.
In an agreeably ramshackle building attached to a Scouting activity centre, John introduced us to the assembled rocketeers – a mixed bunch of enthusiasts who'd filled every available inch of table space with laptops, rocket bits, bags of crisps, Marmite, and the occasional alcoholic beverage, evidently providing vital fuel for rocketry activities.
This montage gives some idea of the range of projects on the go when we arrived on Friday night (click the pic for a bigger version, ditto on some of the photos which follow):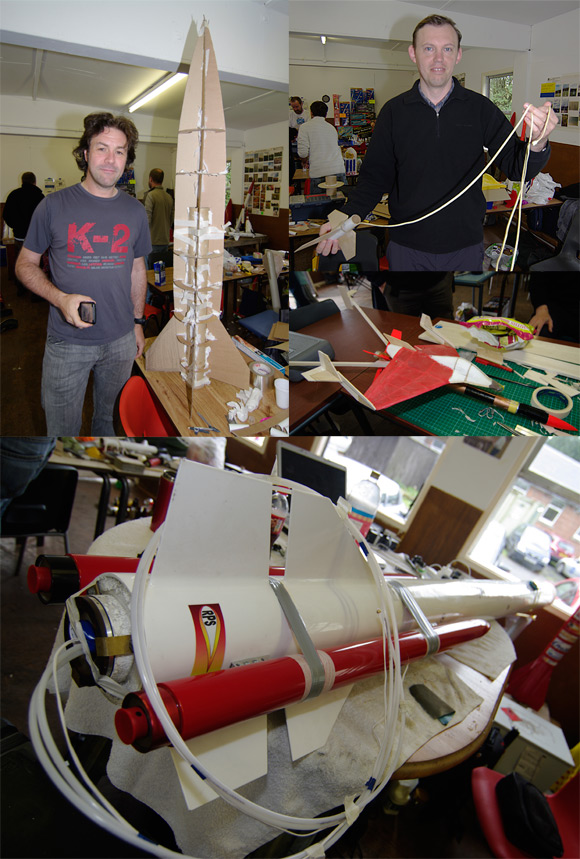 Here we have, clockwise from top left: Darren Longhorn of the West Yorkshire-based North Star Rocket Group (NSRG), showing off his partially-built Shiny Thing spaceship; Andy Moore demonstrating some advanced rubber-band technology; an experimental space plane concept, very much in the spirit of the Paper Aircraft Released Into Space Vulture 1; and the tail end of Jonathan Rhodes' Spirit Of Columbia.
The Spirit Of Columbia was without a doubt the most fearsome vehicle on show, packing an M Class (10,000 Newton-seconds total impulse) hybrid motor burning nitrous oxide and polyethylene, augmented by two J Class solid rocket boosters each pumping out 1,280 Newton-seconds of total impulse. The 4.6 metre, 26kg beast is capable of reaching an altitude of 2,100 metres, and here are a couple of snaps of it soaring heavenwards on Saturday at the Fairlie Moor launch site, roughly 16 miles from base camp: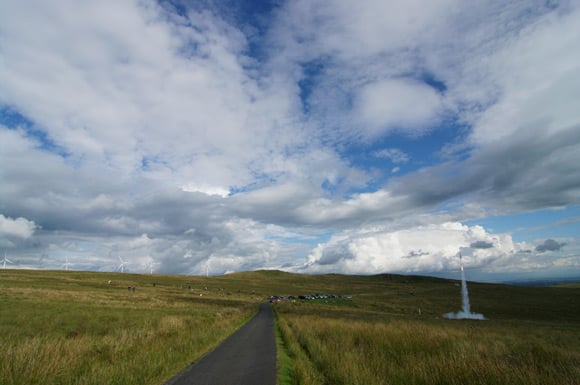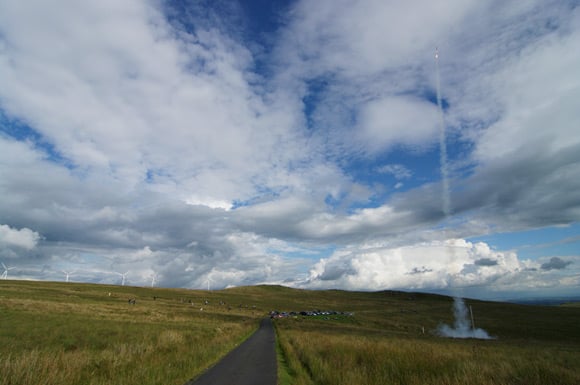 Before Jonathan pressed the big red button on his Spirit Of Columbia, however, there were plenty more launches which could be enjoyed from the comfort of a folding chair.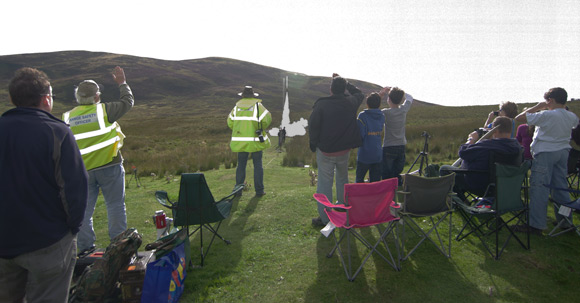 John Bonsor was on hand with reflective jacket and impressively powerful megaphone to supervise the proceedings and provide a running commentary...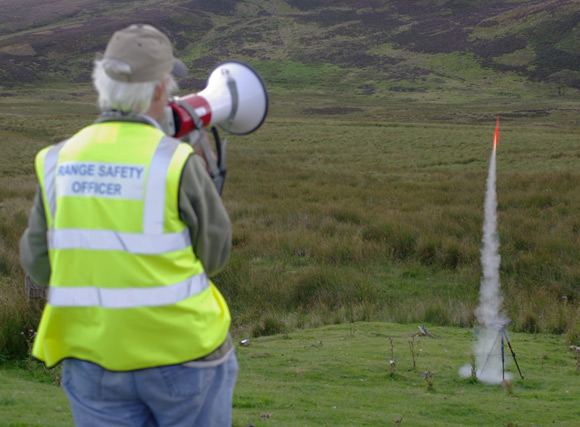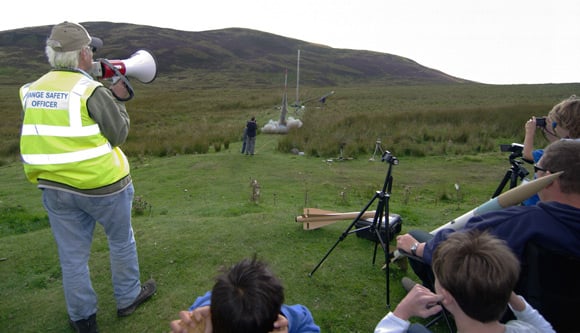 ... and here he is with Bill Ray and family, who are proudly showing off our own contribution to the launchfest – an off-the-shelf Aerotech missile hastily christened "NAOMI":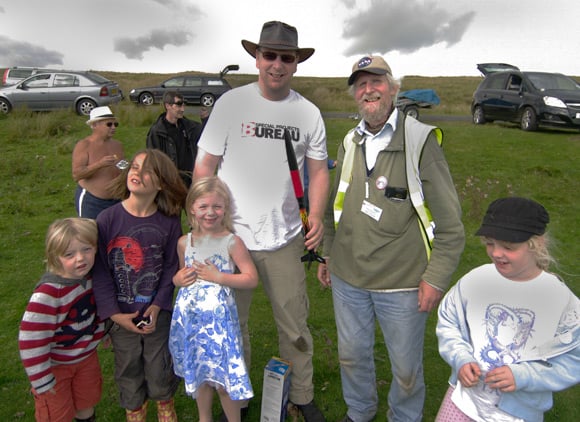 This choice of name proved ill-advised, as you'll see, and before we even slipped the solid charge into NAOMI's tight rear orifice, rival rockets were beginning to fill us with a decided sense of inadequacy in the length and thrust departments.
Here's a good example: Gordon Walker of the Scottish Aeronatics & Rocketry Association (SARA) with his impressive Big John K Class solid motor lifter: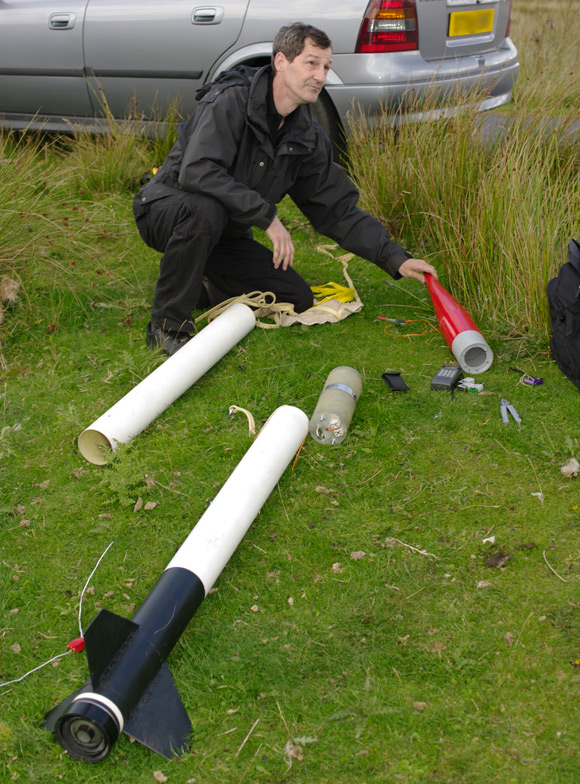 Mercifully, there were plenty of rather more modest constructions demonstrating you can make a rocket out of pretty much anything. Try Howard Smith with his Pringle Can projectile, which flew on a C Class solid motor...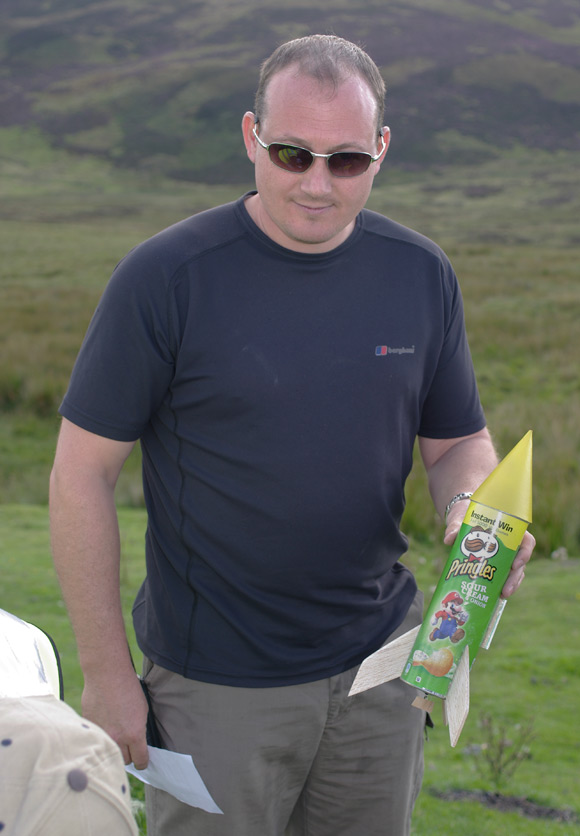 ... or this splendid confectionery-themed cluster: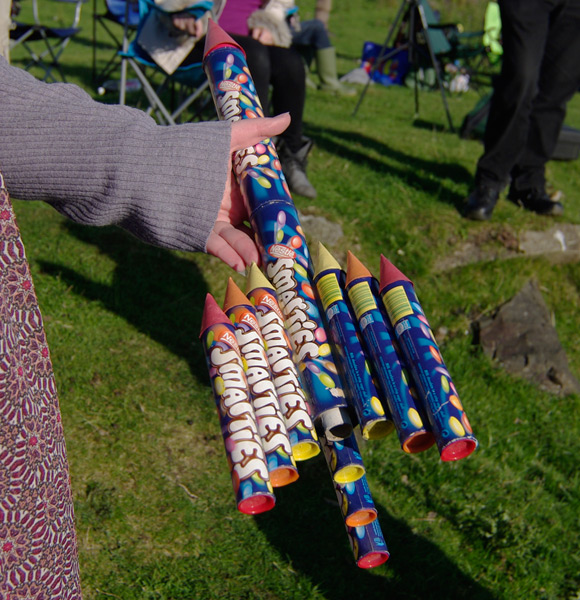 The award for the most preposterous contraption, though, went to Peter Waddington of the NSRG and his Mars Got Talent Hyperspace Line Dance Display Group: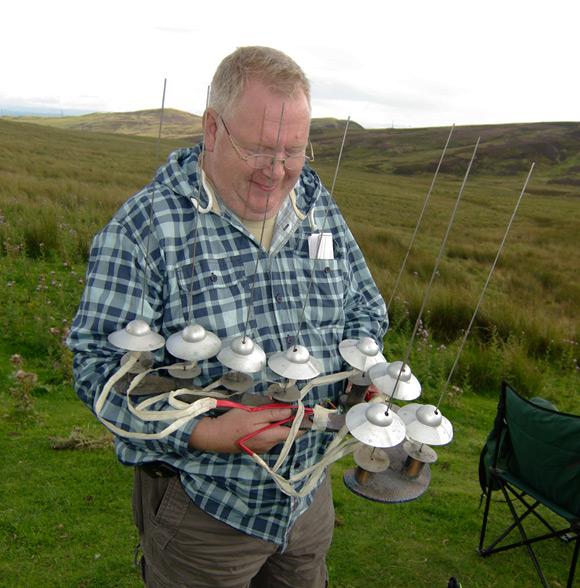 We should explain that each saucer packed an A Class solid motor, producing 2.5 Newton-seconds total impulse each, and the plan was that they would all fire simultaneously to provide the cheering crowd with a truly amazing aerial line-dancing experience.
In the event, it didn't quite happen like that. Here's our pic of the moment of ignition, which doesn't do justice to the anarchic saucer display which followed: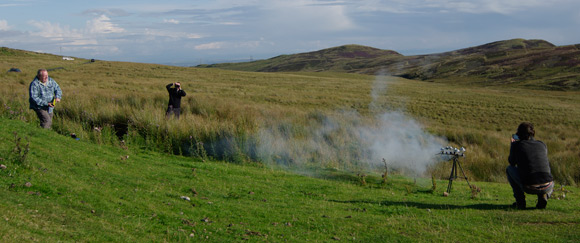 Suitably inspired by Peter's Martian madness, Bill stepped up to the launch pad to mount NAOMI, ably assisted by SARA's Ken Thomas: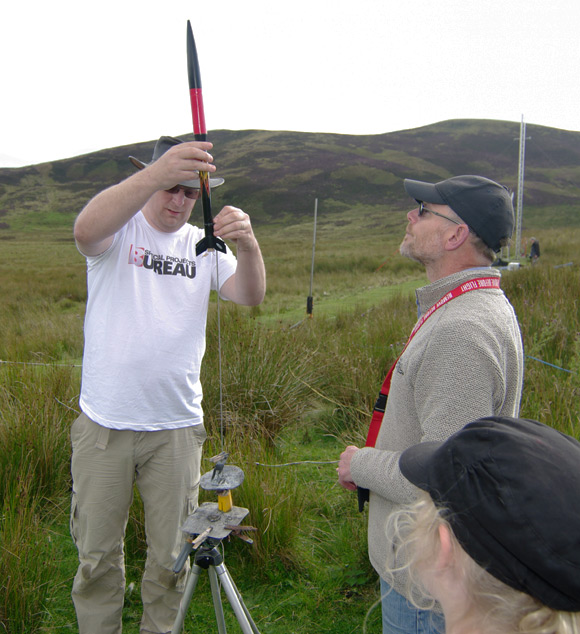 With the igniter connected...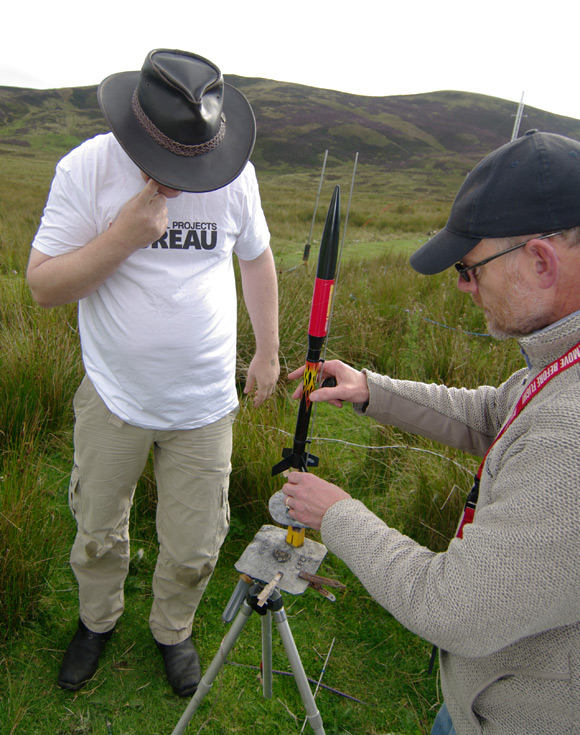 ... Bill retreated to a safe distance, as the hushed crowd awaited El Reg's first rocket-powered foray into the blue yonder. Following a suitably dramatic megaphone introduction by John Bonsor, in which he announced our intention to push the envelope of rocketry with the LOHAN spaceplane, Bill pushed the button, and the motor fired...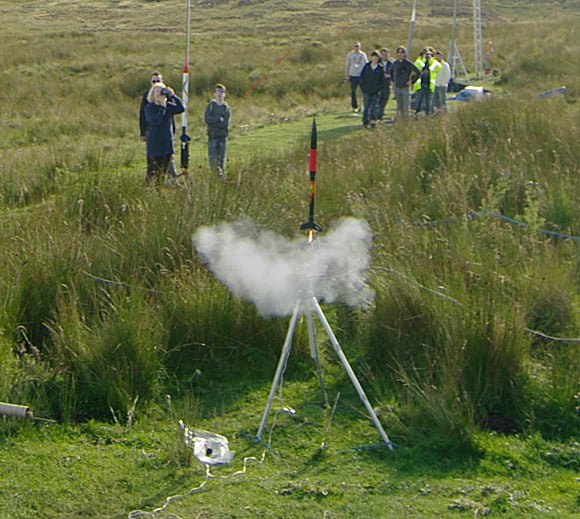 Unfortunately, and to the great delight and merriment of the spectators, the Special Projects Bureau failed to get it up. NAOMI stuck firmly to the pad, hopping off only when the parachute ejection charge fired, with a feeble "pwoaff".
The flight statistics can be summarised thus: Maximum altitude 1.5 metres, downrange distance from pad 60cm: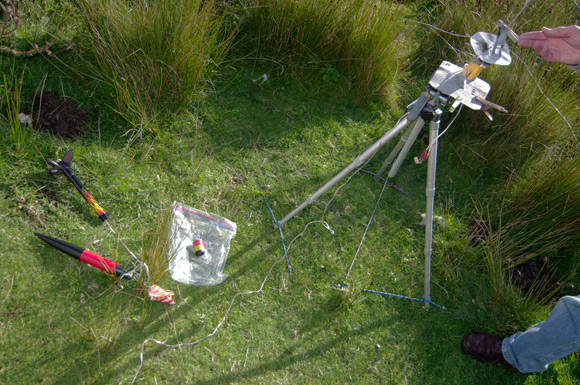 At this point, we decided that NAOMI clearly stood for Negligible Altitude Obstreperous Model Initiative. It was then left to a young lad...
... and a mother-and-daughter team...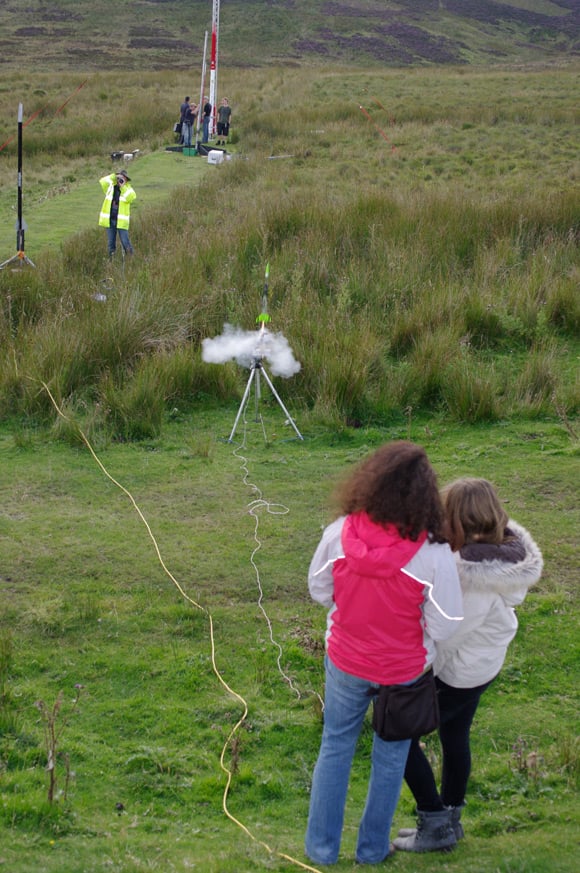 ... to show us how it's done. We're delighted to report that at the second attempt, NAOMI finally headed skywards with an agreeable whoosh: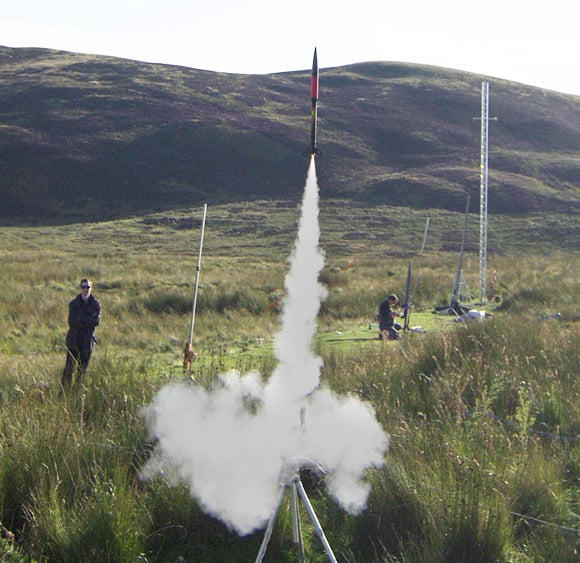 In summary, a good time was had by almost all, although Jonathan Rhodes has certainly had better days. His Spirit Of Columbia soared from the pad with a mighty roar resembling that of a turbocharged Porsche engine strapped to a V1, but broke apart a few seconds into the flight and came down in pieces across Fairlie Moor.
Jonathan later explained he thought the screws holding the motor to its circular mounting plate had failed, allowing the hybrid power unit to force its way through the rocket's centre.
Back at base camp, armed with some hands-on experience of rockets, and having witnessed the pitfalls of a range of technologies, Bill and I presented our LOHAN concept to the rocketeers, and our initial thoughts on a power plant for the Vulture 2 spaceplane.
There was complete agreement among the experts that there is only one way to go with the LOHAN rocket motor, and that will be revealed in due course, once we've done a bit more research and identified the right unit for the job.
In the meantime, we'd like to thank all of the International Rocket Week participants for their hospitality and enthusiasm for our LOHAN initiative, as well as their invaluable advice as to how to get Vulture 2 off the ground. ®