Original URL: http://www.theregister.co.uk/2011/08/31/review_car_mpv_renault_scenic_bose_edition/
Renault Scenic Bose Edition 1.6 130dCi
A boombox on wheels?
Posted in Science, 31st August 2011 07:00 GMT
Review Many years ago, a family friend who at the time flew for the United States Air Force gave me a personal tour around a Fairchild A10 Thunderbolt and said: "Y'know, Al, she ain't a plane she's more a gun with wings."
Something similar could be said about the Scenic Bose Edition which isn't so much a car as a stereo system with a tyre at each corner.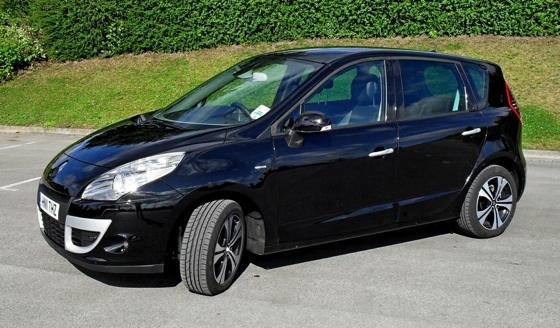 Bose-black suits the design
In every way, the new Bose Edition is the pinnacle of Scenic evolution. Not only does it come with the sort of stereo you simply don't find in cars of this class but it also has an integrated TomTom navigation pack, the latest turbo-diesel stop/start drive train and a styling pack that comes close to making it look like a car you would actually want to buy rather than have to because of untamed fecundity.
Since the Bose hi-fi is the main reason the Scenic is sat in Reg Hardware's secret underground car park, let's start with that. The system consists of nine speakers, a sub-woofer and a digital amplifier. If you are wondering where all that kit goes the schematic below shows where everything is stashed.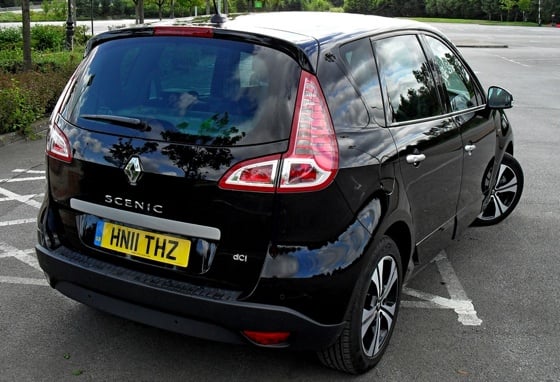 Looks OK from the back
Apparently, the system is 30 per cent smaller, 40 per cent lighter and uses 50 per cent less energy than "comparable" systems, though Bose could have made 20 per cent of those statistics up. Renault isn't saying what the system's power output is but, whatever the number, it's seriously loud.
And the impressive volume is matched by the audio quality. Everything sounds rock solid, extremely detailed and immensely composed. After many hours of listening, I can honestly say it's just about the best sounding stereo system I've encountered in anything on wheels with a price tag the sensible side of £50,000.
All that Bose audio gadgetry also makes the Scenic Bose one hell of a speakerphone when you have your handset connected to it over Bluetooth.
Tech tucked everywhere
The Bose pack doesn't stop at the aural. It also includes those funky 17in black Schuss alloy wheels you can see in the pics, the gloss black door mirrors, Bose badges on the front wheel arches, piano black finish to the dashboard, stereo surround and air vents and the door sill Bose logos.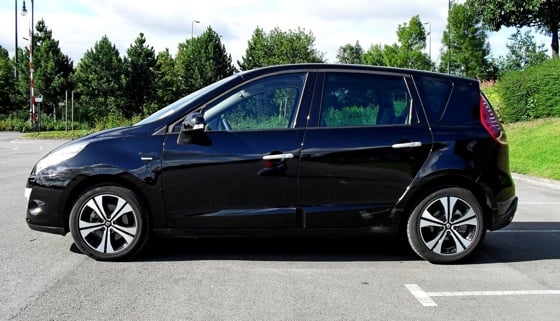 Alloys come as standard with Bose pack
On a more practical level, it adds dual-zone climate control, front and rear parking sensors - handy in a car whose frontal extremities are impossible to see from the driver's seat - and a sliding centre console to the spec list. That's a fair amount of kit, but for £1500 so it should be.
Bose Edition Scenics are by default also TomTom Scenics so you get a very good connected satnav to accompany your very good stereo. There's little point going into details about this because we've reviewed enough TomTom PNDs in these pages over the years to give you a good idea what to expect: HD traffic, Google's Local Search and all TomTom's Live services.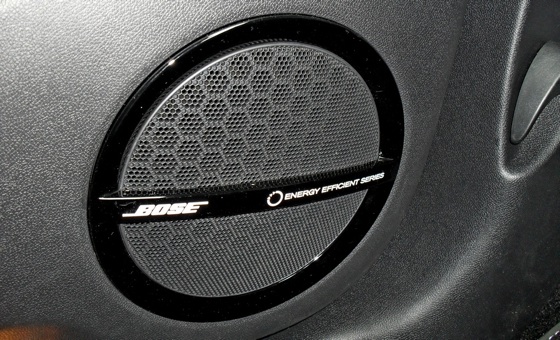 Bose speakers all over the place
Managing all these ancillary systems in the Scenic does take some getting to grips with because the navigation and audio systems stand alone: two distinct systems, two distinct screens, two distinct control systems. This means menu navigation for everything other than the TomTom has to be done using the three-line LCD instrument strip rather than the satnav's much larger 5in screen.
Without the benefit of a touchscreen, the dash is rather crowded with controls, some of which duplicate those on the steering column control paddle, which itself hides behind one of the wheel spokes. It all makes you appreciate the ease of use that comes with a touchpanel and I'd suggest a good read of the various user manuals and some thorough familiarisation before you set off.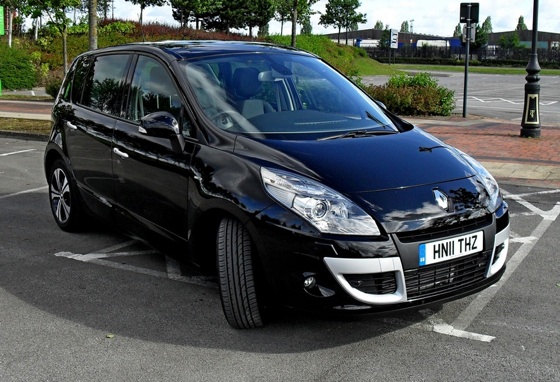 Every girl's crazy 'bout a sharp dressed MPV
Under the bonnet, the new 130bhp 1.6 litre turbo-diesel delivers 236lb ft (320Nm) of torque from 1750rpm, which makes for pretty energetic progress but only as long as you keep it spinning at more than 1500rpm. Below that it struggles to pull the skin of cold rice pudding - I found myself grabbing for first gear on a number of occasions when second really should have done the job - and would have in the old 1.9 litre model.
Inside the Renault Scenic Bose Edition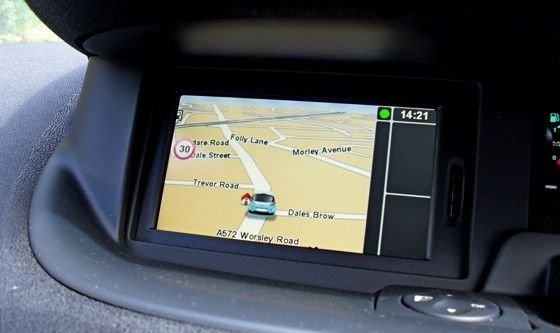 The 5in TomTom satnav screen... separate from the Bose kit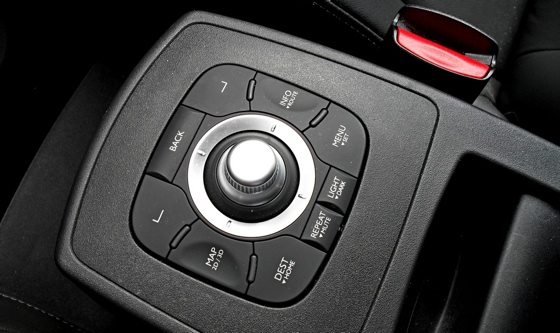 The TomTom controls sit in a standalone array on the centre console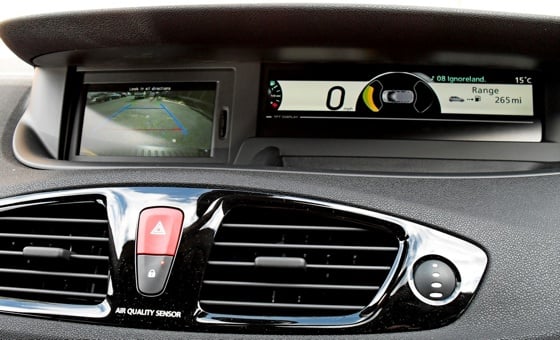 Radar to the front, camera to the rear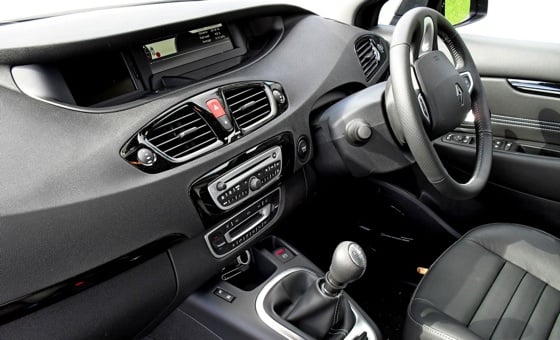 Controls scattered liberally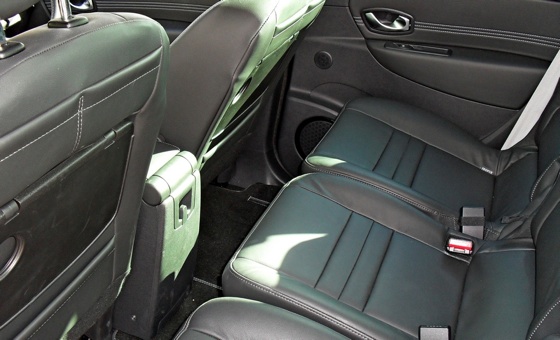 Ample room in the back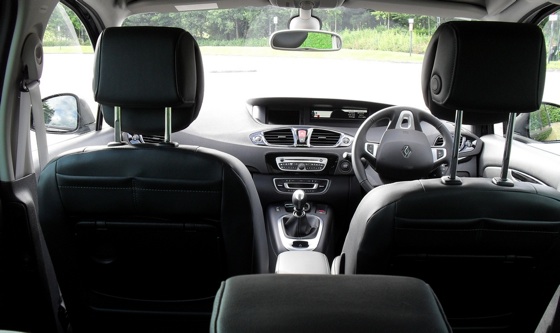 In preparation for take-off, please ensure your tray tables are securely stowed
Renault's refined diesel
Compared with the cheaper 110bhp 1.5 litre turbo-diesel, the new unit offers improved fuel consumption, up from 57.6 to 64.2mpg and reduced CO2 emissions, down from 124 to 115g/km across the combined test cycle. It's also a darned sight faster. The 0-62 dash is covered in 10.3 seconds rather then 13.4. Top speed, for those interested, is 121mph - not bad for a family bus with the drag coefficient of a garden shed.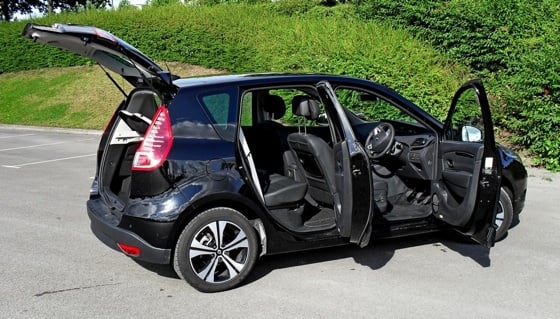 MPV-ishness not impeded by style
The new diesel is also a very refined engine even when cold, and though the start/stop system lacks anything in the way of regenerative braking to keep the battery charged under heavy use, I didn't notice the system absent itself any more often than I did in the Volkswagen Scirocco BlueMotion - reviewed here.
The combination of that slightly peaky turbo diesel, a six-speed manual box and 17in alloys gives the Scenic Bose an altogether more sporty feel than you would expect from an MPV.
I've no problem with that, the Scenic proving more fun to drive than I recall from earlier models, but I wonder if it's a set up that will find favour with the garden variety MPV buyer who is presumably more worried about projectile vomit from a travel-sick nipper in the back than turn-in grip at the front.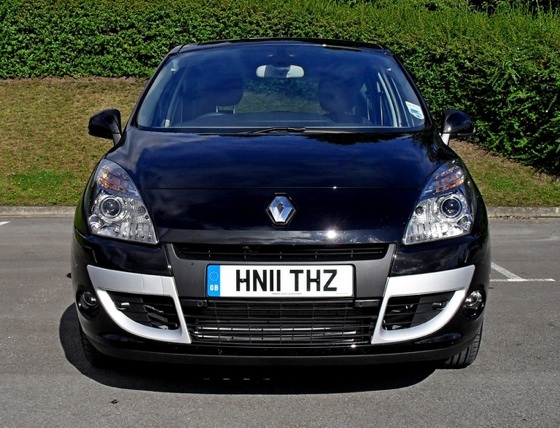 Silver grill surrounds a Renault family trait
Beyond the new diesel engine and epic stereo, everything else is par for the Scenic course - or Grand Scenic, the Bose Edition pack can be had on either. So you get comfortable seating for five, enough cubbyholes to lose a Japanese infantry division in, an enormous sun roof and possibly the most over-styled headlight surrounds in Christendom.
Verdict
If you just want to haul the kids about then the basic 1.6 litre dCi 130 turbo-diesel Scenic is the way to go. For only £1300 more than the inferior 1.5 litre dCi 110 model, it's pretty good value.
But if you like your tunes loud and your looks sharp, the Bose pack easily justifies it's £1500 premium. The sound quality is truly superb and though I'm not entirely sure that the Bose-branded badges and kick plates aren't taking things just a bit too far, it's a pretty slick looking ride for an MPV. ®
More Car Reviews

Renault Scenic
Bose Edition
VW Scirocco
BlueMotion Tech
TDI 140
Lexus
CT200h
hybrid
Volvo S60
DRIVe
Peugeot
508 Active
e-HDI