Original URL: https://www.theregister.co.uk/2011/08/30/baby_news_prompts_new_record_tweets_per_second/
Beyonce's belly: Most important thing ever, on Twitter
Bootylicious popster's baby bump busts all records
Posted in Policy, 30th August 2011 12:27 GMT
The Twitterati were in a frenzy after Beyonce's big news last night, setting a new Tweets Per Second (TPS) record.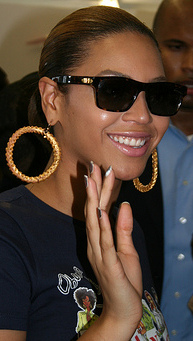 Beyonce announced her pregnancy
at the VMAs. Photo by: AlexJohnson
The announcement on the red carpet of MTV's Video Music Awards that the bootylicious R'n'B star was in the family way courtesy of husband Jay-Z led to a record "bump" of 8,868 TPS, @twitterglobalpr announced.
In a very public announcement, Beyonce told photographers at the event that she had a "surprise" for them, before pulling in her flowing orange dress to outline her baby belly. Just to be sure everyone got the message, she also opened her jacket onstage after performing Love on Top and rubbed her bump saying, "I want you to feel the love that's growing inside me."
The Twitter statistic could be taken as definitive proof of how shallow and celebrity-hungry the public at large is, as it pushed aside previous record TPSs for the Womens' World Cup in July and Japan's disastrous earthquake and tsunami in March. Or else it proves something about the milk of human kindness and how the pitter-patter of tiny feet inspires everyone to express their joy in 140 characters or less... we'll leave it to Reg readers to decide. ®