Original URL: https://www.theregister.co.uk/2011/08/25/review_cambridge_audio_sonata_np30/
Cambridge Audio Sonata NP30 hi-fi streamer
Hi-res, networked musical box
Posted in Personal Tech, 25th August 2011 12:00 GMT
Review Sound quality isn't always the first consideration in the world of digital music, where songs tend to be compressed for convenience, rather fidelity. That's where Brit hi-fi brand Cambridge Audio hopes to make its mark with the NP30 (Network Player 30), which offers better-than-CD hi-res 24-bit audio playback for music files and Internet radio over your home network.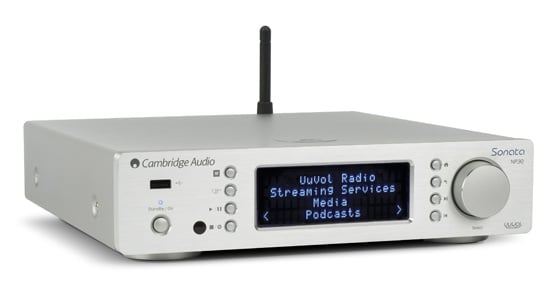 Cambridge Audio Sonata NP30
Lacking an amp and speakers, the NP30 has been designed to fit in with the company's swish-looking Sonata range – such as the AR30 amp (and CD30 and DVD30) – but it can be connected to virtually any set-up using its standard stereo analogue outputs. You can also use digital S/PDIF and optical outputs for connecting to higher quality DACs and there's a trigger connection that allows the NP30 to automatically power up when the amp it's connected to is switched on.
Unlike similar devices such as Sonos or Squeezebox, the NP30 is a native 24-bit player with a built-in 24-bit/96kHz Wolfson DAC, which puts it well above CD's 16-bit/44.1kHz resolution and firmly in the hi-fi category. While you can stream full 24-bit files using the on-board Wi-Fi, Cambridge Audio recommends using the Ethernet connection, so there's less chance of interference, though I didn't notice any when testing.
As well as getting the music off your computer, Cambridge Audio's UuVol streaming service offers over 20,000 Internet radio stations that you can sort by the usual location and genre, and search by name. Using Uuvol's web portal you can also search by bitrate and add non-UuVol stations too.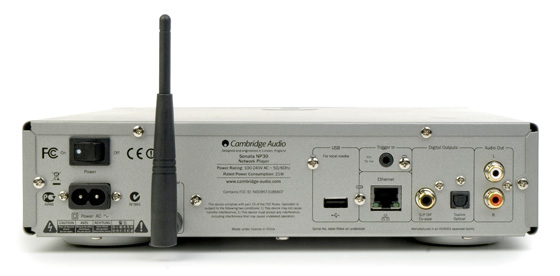 Wi-Fi on-board, but streaming using Ethernet is recommended for 24-bit audio
It also offers additional streaming services with BBC iPlayer (radio), Live365, Aupeo and MP3Tunes and you can access podcasts too, at least from the BBC and BlogTalkRadio. There's no Spotify, Napster or Last.FM yet, but CA says they're negotiating for licences now. You can also play back tracks from a storage device from its USB port.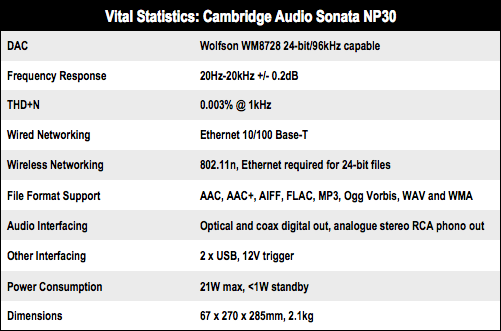 Remote options
Available in silver or black, the NP30 features a large four-line ice blue display and a chunky accompanying remote. The display is large enough to include the full alphabet, making it easy to input WEP keys and there's space enough for up to four track titles. It's nice, but a bit basic-looking – especially compared to something from Sonos.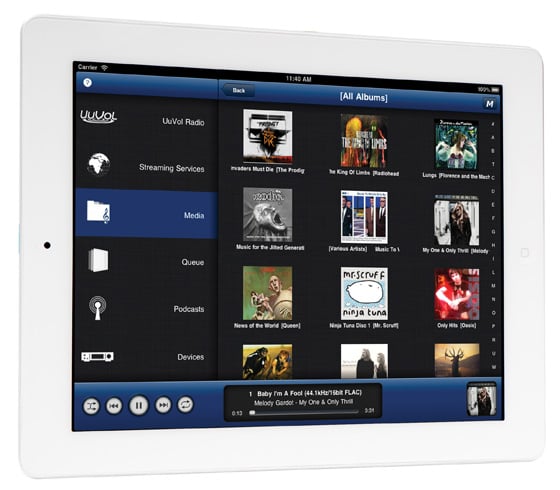 The iOS app improves accessibility but is rather unstable
Things improve if you download the accompanying UuVol iOS app, which allows you to control the NP30. This is much more attractive than the supplied remote, but it doesn't offer full control – you can browse your media and play your tunes, you can also shuffle and jump between tracks but you can't adjust volume – you'll need the supplied NP30 remote for that, which seems like a trick missed.
It will display your cover art and it can play MP3, AAC, WMA, Ogg Vorbis, WAV, FLAC and AIFF formats, but not Apple Lossless or WMA Lossless yet, though it's scheduled for a software update for the former later this year. You can also use different NP30s in different locations and they'll all keep your playlists and favourites.
It's an intuitive system in use, though it can take a while for tracks to load up once you first open the app. The controls can be a little slow too, taking about three or four seconds from pressing the stop button before the music actually cuts off. And while I couldn't fault the sound quality, using it with my usual Analogue Audio system and Quad speakers, the iPad app crashed occasionally, just often enough to make it a nuisance.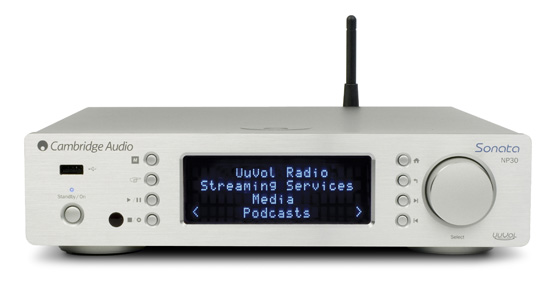 Hi-fi spec streamer in need of a high end set-up to do it justice
It's never been easier to get the sounds off your Mac, PC or Nas drive and play them where you want them. The NP30 fits in to this environment and, sonically, endeavours to raise the game. It's a good-looking machine that connects easily to your network, yet there are plenty of cheaper options that don't involve the need for expensive additions. The question is, how much of an audophile are you?
Verdict
While the Cambridge Audio Sonata NP30 has hi-fi credentials with its native 24/96 streaming rate, but you'll need a decent system to appreciate it. You'll also need an iOS device to get the most out of it too. Due in Q4 this year, is the Android alternative which should support the Ice Cream Sandwich incarnation of the Googlephone OS, by which time the bugs might be sorted as the UuVol Remote app crashed just a little bit too often for comfort. ®
More Audio Gear Reviews...

Audio Pro
WF100
Ten…
wireless speakers
Pure
Sirocco 550
Ten…
DAB kitchen radios
Marantz
Melody Media