Original URL: http://www.theregister.co.uk/2011/08/24/alertme_energy_monitoring_system_review/
AlertMe network power-meter kit: Suitable for techies?
Our man plugs in and gives it a spin
Posted in Science, 24th August 2011 10:00 GMT
Review Simply measuring and monitoring energy usage helps people conserve, and helps avoid unexpected high bills while 'leccy prices are rising as quickly as they are now. Consumption monitors save cash and the planet, which is why UK.gov is keen on getting smart meters in every home, although these are probably rather less polished than AlertMe's kit.
The AlertMe technology includes energy and security management, and is an integrated set of well-styled consumer electronics gizmos and webpages.
AlertMe can track energy use for the whole house online, and I can turn stuff on and off from my phone or laptop while I'm out to confuse would-be burglars.
I was sent for review an energy-monitoring set of:
"AlertMe Energy" (£49.99): the AlertMe Hub and Meter Clamp
"In-Home Display" (£29.99)
1 x "SmartPlug" (£25.00)
A working subscription ("Annual Energy Subs" would be £19.90)
I've previously tested two other clip-on energy meters at home, the Efergy Elite 2.0 and Npower (GEO) Smartpower, neither of which had computer or Web connectivity, and AlertMe has pros and cons compared to them as you'd expect.
Doesn't work well with wind and solar
Firstly, the big caveat for my home. If you're a rare bird like me and have solar PV or wind or other microgeneration at home, then AlertMe may not be for you, because as a standard limitation of this type of "clip-on" meter (more below), AlertMe cannot tell whether you are importing from the grid as it expects, or exporting excess energy and burnishing your green halo: all flow looks like consumption to it. Thus most of the cleverer features such as predicting cost per day or month or year, or estimating carbon footprint, etc, are pole-axed by bogus numbers! AlertMe has plans to address this shortcoming for microgenerators, and I hope to review their new tech soon.
How it works
The AlertMe measures power consumption for the whole house by means of a clip-on "clamp" meter that goes round one of the fat supply wires in your meter cupboard; no electrician is needed to install it. (The clamp is connected to a battery-powered wireless transmitter.)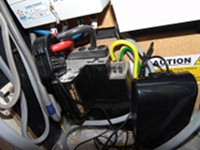 The clamp/transmitter doing mortal
battle in my meter cabinet
AlertMe like all such clamp meters measures current flow, and that allows it to estimate power consumption by, for example, assuming the standard mains voltage.
But as the (RMS) voltage can vary a bit by time of day, how close the house is to a substation, etc, etc, that can introduce noticeable error.
Also, almost anything other than a water heater or electric fire will not be quite a "resistive" load, and won't draw current in phase with the mains voltage, skewing the clamp-meter estimates quite a bit. And energy-efficient electronics can be especially-badly misjudged. For example, the ~5W that our washing machine uses while in delay mode shows up as AlertMe as 30W which might have dissuaded me from using that feature had I not already measured with a plug-in meter!
Lastly, small loads are harder to measure accurately, so again you might be misled about how worthwhile it is to turn some efficient gadgets off. The consumption shown has to be regarded as approximate.
The AlertMe Smart Plug comes to the rescue on these issues however as it can accurately measure consumption of the appliance plugged into it, and you can get a pretty graph/log of the results, and it doesn't suffer from most of the clip-on meter's problems.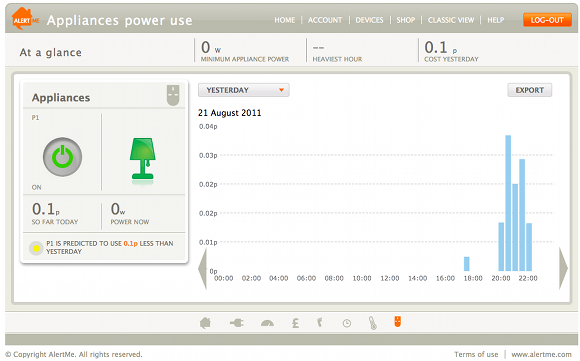 "Appliances" screen for desk light usage measured by Smart Plug "P1". Shows current usage cost of ~0.1p per day with my 7W LED anglepoise!
(The Smart Plug lives up to its name, and even lets you turn the plugged-in appliance on and off remotely, from the web or by phone text message. I've done it from a beach in deepest Devon...)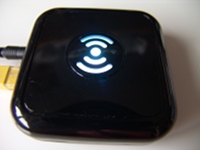 The hub: tasteful shiny Desiato black plastic...
Data from the meter clamp and the Smart Plug and any other devices you have is relayed via the supplied hub (which plugs into your ADSL or cable router) and the internet to be stored on AlertMe's servers.
From there you can login to export it to CSV files, view it as pretty graphs, estimate your carbon footprint and expected electricity bills, and compare your green halo with that of your area and the rest of the country.
Annoyances
I encountered various minor but annoying glitches with the website such as having to futz around to get the latest data shown.
When I managed to knock my hub offline (twice, due to my bad network cable, not the hub's fault) it was very very hard work getting the devices such as the meter and the smart plug seen again.
In particular there was no warning at all in the new "Smart Dashboard" mode (or by email or SMS) that my hub was disconnected, which would have saved much headscratching; the "Classic" view was more forthcoming.
This was compounded by inaccurate or apparent complete lack of instructions for resetting some devices (eg, the IHD: In-Home Display); I had to guess.
I get poorer connectivity, especially to meter clamp, than I experienced with the Efergy/Npower devices, and my house is quite small.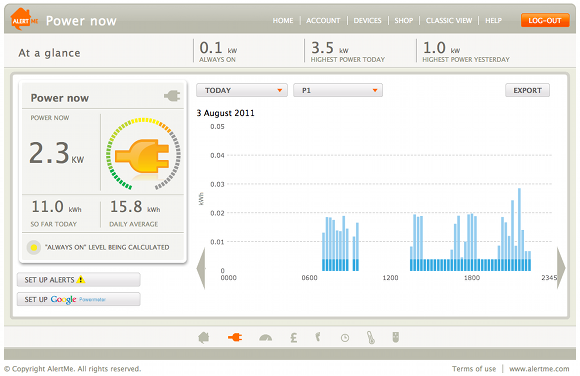 "Power Now" screen for TV/cable use measured by Smart Plug "P1". The dark blue bottom of the bars is "always on" (about 16W).
The AlertMe "Power Now" screen still invites you to "SET UP Google PowerMeter", but as PowerMeter is being shut down in mid-September and doesn't allow sign-ups, this should probably be ditched.
Alerting can be set on various parameters but the mechanism seems a little dumb:
It can be difficult to set an alert (attempts to save sometimes ignored)
The system managed to spam me nearly every minute a couple of times, though it may have been backing off a little towards the end.
The web pages show messed-up or oversimplified numbers from a techie point of view; nowhere on any of the power charts can I find out how to get plain sciencey 'Watts' on the vertical axis, the nearest being kWh (which is actually per 15 minutes, so kWh/4), else I have to go back via pence and the place-holder p/kWh number I put in! The exported numbers in CSVs are better, though not well labelled and with a glitch that eats the first line of data!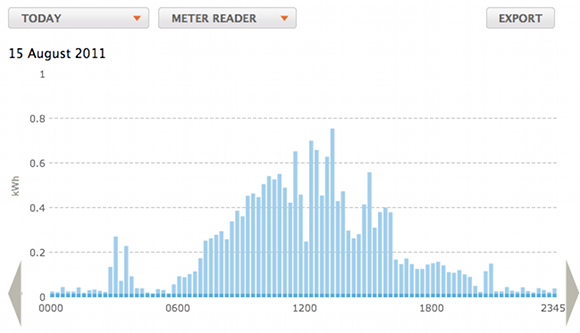 "Power Now" graph for whole house measured by clamp meter. The small lump starting at 3am is the dishwasher; the big lump from about 6am to 8pm is mainly solar PV generation; and the up-ticks visible either side of midnight are from the fridge compressor. Minimum/background house load is about 60W, ie, about 1.5 units per day.
The web's auto-logout time is too short for intermittent access to check a number here or there: maybe AlertMe should adopt a hybrid scheme such as that used by LinkedIn or the Simple Machines Forum which requires a recent login to do anything sensitive such as change settings, but lets you read stuff and flick between views indefinitely.
Good features
AlertMe's technical/customer support is fast and helpful.
A real plus for my inner geek is the automatic capture and retention of the data so that I can easily analyse and graph it. On this point AlertMe beats the other two clip-on meters hands down. Even better, AlterMe doesn't assume that I'm running a Windows machine; downloads are plain CSV files.
Data retention by the system seems to be robust. Even removing/deleting, resetting and re-adding devices does not seem to lose historical data, and the data can be exported as CSV (albeit with the first line messed up).
The portable display (IHD: In-Home Display) has a decent clear colour display, and can survive not plugged into the mains for about five hours, so enough to be portable in practice while keeping an eye on consumption around the house, turning things on and off experimentally.
It would be even better to show a graph of recent history – eg, a 30-minute histogram – to help with understanding what consumes what without having to pay sole attention to the display – for example while looking after small children or cooking.
Future and conclusion
Being able to monitor house circuits individually would be useful, but is beyond the scope of the current AlertMe technology.
Being able to cope with microgeneration properly would make this a much more useful gadget for me, and I'm hoping to test AlertMe's solution soon.
If AlertMe's improved measuring system is calibrated properly and could be interfaced to electricity retailers' systems, then it could result in much more accurate estimated bills and fewer meter-read visits, which is good all round. It would be part of smart metering in fact ...
A nice piece of kit that could grace any Reg reader's digs, but especially for the non-techies AlertMe must make the instructions better and the web interface a little less flaky, and create the option to provide email or SMS alerts if something important goes offline, such as the hub or clamp meter. ®