Original URL: https://www.theregister.co.uk/2011/08/23/review_apple_macbook_pro_17_2011/
Apple MacBook Pro 17in 2011
Flagship quad-core notebook
Posted in Personal Tech, 23rd August 2011 06:00 GMT
Review A slap across the face is what I need. It's the only language I understand. My problem is that I have played with too many Apple MacBooks over the past 18 months. They were starting to look similar, a little standard perhaps, maybe even ordinary.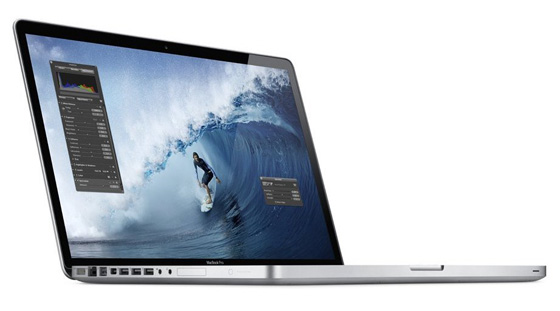 Quad core as standard: Apple's 17in MacBook Pro
So I took another peek at the colourful new HP Pavilion notebook I'd bought as my daughter's going-to-uni present. Bendy plastic case, standard WXGA screen, power supply transformer weighs a ton - now THAT'S a standard notebook.
Back in the office, I lift open the MacBook Pro 17in case and... Slap. This is no ordinary laptop. It is an exceptional one.
It's only with your face smarting that you realise what a beautiful feat of engineering the MacBook Pro is. It is encased in a single piece of seamless aluminium, so as well as not collecting dust in the cracks it doesn't have, it doesn't creak or squeak when you pick it up, open and close it, balance it on your knees and so on.
At nearly 3kg, it's hardly the lightest notebook in the world but it is perfectly weighted. Try it for yourself at a Mac dealer: just place the MacBook Pro on a desk and lift open the lid with one hand. Any other notebook will tip backwards, but the MacBook Pro stays put. Nor is there a clumsy clasp to manipulate: when you close the clamshell, it stays shut with the help of magnets.
Don't worry, I don't intend boring you by repeating my fan-boi review of the 15in edition of Apple's previous range of MacBook Pros. The razor-sharp screen quality, the safety-first magnetic mains power connector, the superb feel of the keyboard and trackpad - it's all here in the newer 17in model too.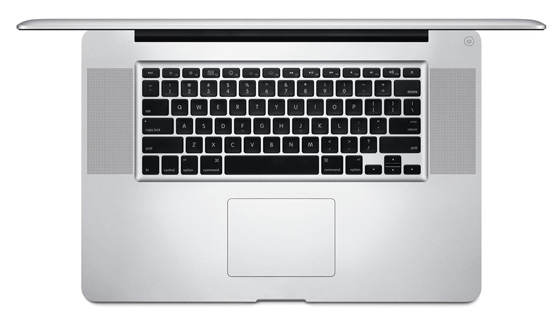 The Magic Trackpad is particularly Lion-friendly, supporting a wide range of multi-touch gestures.
But allow me to praise Apple for its power supply design, featuring a flat transformer and a full two metres of cable between the transformer and the computer, and another metre in the other direction to the mains socket. I have used too many notebooks with a heavy and hideous 'dead rat' style of transformer housebrick hanging halfway down the back of a desk, constantly tugging the plug away from the computer. By contrast, the MacBook Pro's shiny white transformer sits safely on the floor.
Windows cleaner?
Nor can I refrain from pointing out the excellent quality of the 1920 x 1200-pixel display. No space is wasted either: the bezel around the screen area measures less than a centimetre. After installing Boot Camp in order to run our benchmark tests, I was reminded how gorgeous Windows 7 can appear when running on a Mac.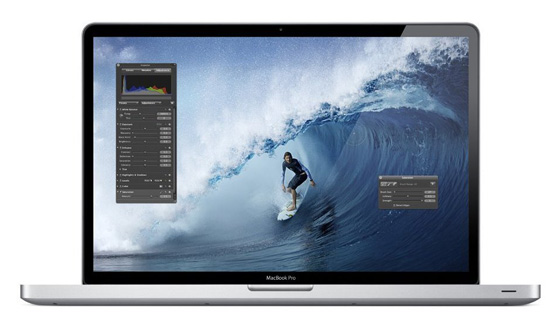 Full HD screen and then some
And I can't really talk about a MacBook Pro without mentioning its Magic Trackpad pointing device. For those of you who have never seen one of these before, it's an untypically large (103 x 73mm) multitouch trackpad with a perfectly smooth glass surface. There are no click buttons: instead, you press down on the pad to make it click, and designate areas or special touch combinations to impersonate a right-click.
You do need to exert quite a bit of pressure to make the Magic Trackpad click, so Apple's System Preferences also allow you to reconfigure it to accept a variety of light-touch gestures to act as 'soft' clicks. Since your MacBook Pro 17in is now supplied running the OS X Lion operating system, you have plenty of new gestures to play with, too.
As well as Lion, the computer comes pre-installed with the full iLife software suite, including GarageBand, iPhoto, iMovie, iDVD and iTunes. I'm not quite sure why they bother installing iTunes since on every OS X computer I have ever tested it tells you that it needs updating the very first time you run it.
With the 17in MacBook Pro you get a 2.2GHz Intel Core-i7-2720QM (quad core CPU) with 4GB of RAM and an AMD Radeon HD 6750M GPU with 1GB of GDDR5 memory in the base model. Yet despite all this, the MacBook Pro 17in suffers the usual Apple problem: there never seem to be enough connectivity ports.

The only MacBook Pro in the range that still has an ExpressCard/34 slot
Sure, you get three USB 2.0 ports (give me three, I'll ask for four) on the 17in model, but others are an odd bunch: Firewire 800, ExpressCard/34 and Thunderbolt. I have met just one person over the past year who still uses Firewire, and have yet to hear from anyone using either of the other two standards. ExpressCard/34 is pretty specialised these days – Apple phased it out on the 15in model in favour of an SD card slot – and Thunderbolt still strikes me as too clever for its own good. Yes, it doubles as a Mini DisplayPort, but let's face it, until some compatible kit starts appearing, that's all you can use it for.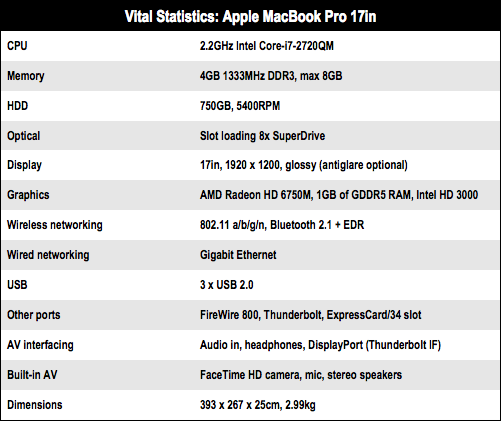 Making connections
A quick trawl through my den turned up some USB 3.0 peripherals but not a single item that required the ExpressCard/34 or Thunderbolt ports. So why does Apple not provide a USB 3.0 port? Don't tell me USB 3.0 devices are a rarity (even if users may be), you can pick up a half-terabyte USB 3.0 portable hard drive for £60 at PC World, but there's not a Thunderbolt peripheral in sight. Even the Apple store has only the Promise RAID arrays available and it's six months on since the rebranded Light Peak interface was announced. And if that wasn't bad enough, a Thunderbolt cable costs 39 quid!
Benchmark Tests
PCMark Vantage Results

Longer bars are better
Battery Life Results

Battery life in Minutes
Longer bars are better
As well as failing to support USB 3.0 – although you might get lucky finding a USB 3.0 ExpressCard/34 for the Mac – the MacBook Pro also fails to provide any VGA, DVI or even HDMI port, and lacks any camera card slot at all. An SD Card-to-USB adapter is cheap enough, but video adapters that plug into the Thunderbolt/Mini Display Port cost between £21 and £25 each.
Grumbles aside, the benchmark tests reveal the MacBook Pro 17in to be a pretty damn good notebook. Even Reg Hardware's utterly unreasonable battery life test, involving running our full-on benchmarks in a loop, saw the product last one hour 54 minutes. It doesn't sound like much but it's double the life of other notebooks I have tested in the same way.

You know how notebooks look and feel plasticky? Well this one doesn't
More realistic usage should see the MacBook Pro 17in last a good four hours between recharges; general computing (rather than entertainment) would probably allow it to run even longer. However, I was not able to enjoy battery life of Apple's claimed seven hours, or even six.
Verdict
I admit the MacBook Pro is not perfect – actually, it is bloody expensive at a mere quid short of £2,100. Add to that the cost of any of the aforementioned adapters, which might involve a new found love of the ExpressCard/34 slot, if you get really desperate. Yup, it is, quite simply, out of my price range. The Top Gear team spend less than that on second-hand Bentleys. Yet it does deliver an exceptional user experience. So ask your employer to buy you one, or get the next-best alternative: the 15in model. Either way, no-one will convince me that it's money badly spent. ®
Thanks to Square Group for the loan of the MacBook Pro.
More Apple Mac Reviews

Apple
Mac Mini
Apple
MacBook Air 13in
Apple
Mac OS X 10.7 Lion
Apple
MacBook Pro 15in
Apple
MacBook Pro 13in