Original URL: https://www.theregister.co.uk/2011/08/23/games_review_deus_ex_human_revolution/
Deus Ex: Human Revolution
Augmented realty
Posted in Personal Tech, 23rd August 2011 12:00 GMT
Review Forget the lacklustre sequel Invisible War, Deus Ex: Human Revolution is the true, worthy successor to Deus Ex, a breathtaking paragon of the genre the original helped define.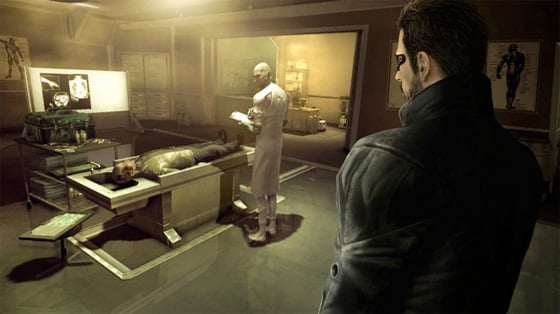 Bringing more to the table
Yes, there's little novelty in its genre conceits. Hacking and circumvention, augmentations, turrets and robots, moral choices and social interactions – they're all well-explored conventions. But this isn't about doing things differently to System Shock 2 or Bioshock, or even Deus Ex, it's simply about doing them better.
Set in 2027, a quarter of a century before the original, Human Revolution's future is as distinct as it is familiar. Its world stands at the the threshold of transhumanism, with rapidly advancing neuroprosthetics improving the lives of millions, replacing limbs and enhancing mental capabilities, social skills and even sexual gratification.
Yet it's also remarkably similar to the present day - the finely crafted neo-noir narrative resounding with contemporary parallels: the division of wealth, cosmetic surgery, ethical science, corporate greed and media manipulation.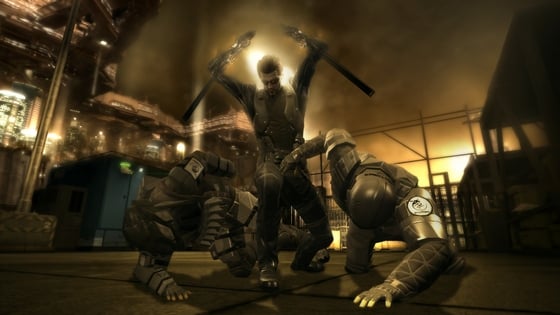 Both of you hit the floor
It's also a strikingly beautiful world. Portrayed in a distinctive black and gold cyber-renaissance palette, the game's aesthetics straddle Blade Runner's retrofitted dystopia and Mass Effect's techno-clinical milieu.
A great looking game on the consoles, it's an achingly beautiful one on PC, with improved aliasing and softer lighting and shadows, and visibly higher polygon counts, courtesy of DX11 tessellation.
You play as ex-SWAT cop Adam Jensen, head of security for America's largest biotech company Sarif Industries and right-hand-man to its enigmatic founder David Sarif. In a brief, playable prologue augmented mercenaries attack Sarif Industries, stealing valuable technology, killing its top scientists - including Adam's love interest Dr Megan Reed - and leaving Adam for dead.
Cue Steve Austin-time, as Adam is rebuilt using bleeding-edge, military-grade augmentations before setting out, six months later, to unravel the global conspiracy behind the attack.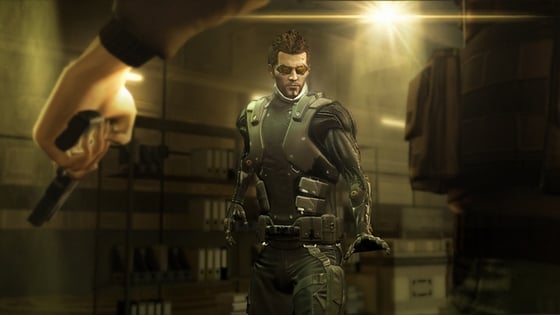 Ah, that was a gun in your pocket and you're not happy to see me
Your investigations take you across the globe, but they're restricted to a handful of locales, with the slums of Detroit and a monstrous, two-tiered megacity on China's Hengsha Island featuring most prominently. But while considerably smaller than Fallout 3's sprawling wastelands, Human Revolution cleverly maximises exploration by carving into its locations a dizzying maze of alternative routes in the form of vent shafts, backstreets, rooftops and sewers.
Throwing shots
Wherever you go, there are always options. Attempt to pass through the room filled with guards, or scale the roof to avoid them? Pay 1,000 credits to enter the nightclub or search for a back door? Circumvention is rarely a binary choice, though.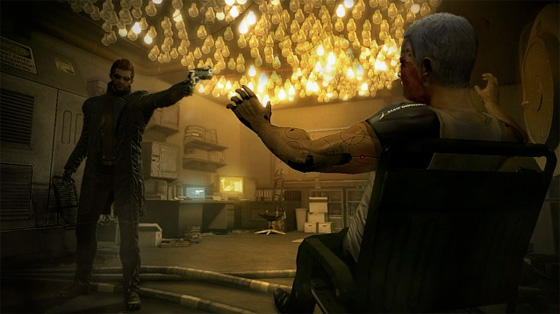 Shoot the chairman
To enter a locked room, you could crawl through a connecting vent shaft or attempt to hack the door controls in the challenging and addictive hacking mini-game. But you could also rifle through a dead guard's pockets in the hope of finding a pocket secretary device containing the door code.
Combat is equally engineered around choice, but it's one skewed firmly in favour of stealth. Despite an impressive near-future arsenal at your disposal, this is no bullet-sponge shooter. Out in the open, firefights are lethal. Stealth is not just the safer option, it also yields greater rewards. Large XP bonuses are awarded for navigating levels unnoticed, and Splinter Cell-style stealth kills earn considerably more XP than shooting, with non-lethal takedowns granting even greater spoils.
A good thing too, because, as robust as the gameplay is, shooting is notably the weaker mechanic. The intuitive cover system works impeccably when lurking in the shadows, taking guards out stealthily one at a time or circumventing defensive strongholds. Yet it's less successful during frenetic shootouts, where you find yourself occasionally sticking to the wrong cover point and facing the line of fire.
While theoretically possible to complete the game without killing anyone – except during the game's four exacting boss battles – in practice it takes a mix of stealth and gunplay to succeed. Whichever your gameplay preference, a familiar RPG levelling system provides augmentation upgrades to suit your style.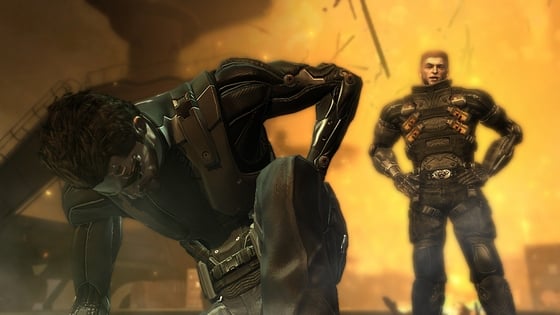 Get up and take your medicine
Praxis points are earned through amassing XP and spent on upgrading Adam's abilities. In addition to persistent modifiers, such as aim stabilisation and damage resistance, you can upgrade up to four special abilities, including smart vision to see enemies through walls and, perhaps most useful, a cloaking shield.
Rechargeable energy cells and cooldown periods cleverly limit their use, though, ensuring they don't outmuscle gameplay. And the levelling system is consistently attuned with the difficulty curve, skilfully balancing your burgeoning powers against increasingly tougher enemies and security measures to maintain the challenge throughout its 35-or-so-hours.
Less well-balanced is the pacing. For around eight-hours in its middle, two huge back-to-back missions are devoid of the otherwise enthralling narrative drive, feeling too much of a linear grind. Side-quests and trading are also relatively shallow compared with other RPGs, as are moral choices, which are limited to killing or incapacitating enemies and mercantile quid pro quo decisions to aid NPCs in trouble in return for credits and Praxis points.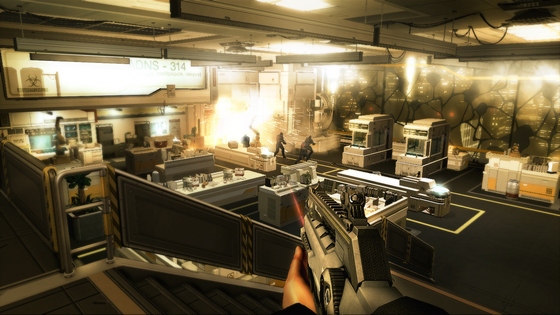 Crating havoc
But despite lacking the openness of other RPGs, thanks to the compelling central gameplay, consistent challenge and renewed narrative vigour in its spectacular dénouement, Human Revolution is never anything less than thrilling.
Verdict
A technical tour de force, Human Revolution blends stunning visuals, gameplay and narrative into a spellbinding experience. For a few, it may be too close in spirit and form to the original. But when that original is Deus Ex, one of the greatest games of all time, for most that'll be no bad thing at all. ®
More Games Reviews

From Dust
Shadows of
the Damned
Call of Juarez:
The Cartel
Air Conflicts:
Secret Wars
Captain America:
Super Soldier