Original URL: https://www.theregister.co.uk/2011/08/22/review_neato_robotics_xv_15_robot_vacuum_cleaner/
Neato Robotics XV-15 vacuum cleaner
Another sucker joins the robot wars
Posted in Personal Tech, 22nd August 2011 12:06 GMT
Review Robot vacuum cleaners are becoming increasingly popular, with a few companies joining Roomba in the market over the last couple of years. Neato is the latest to offer a product in the UK, with the XV-15 which boasts laser mapping, and a powerful vacuum – some of the other models are careful to describe themselves as cleaners rather than vacuums, but Neato's not so reticent.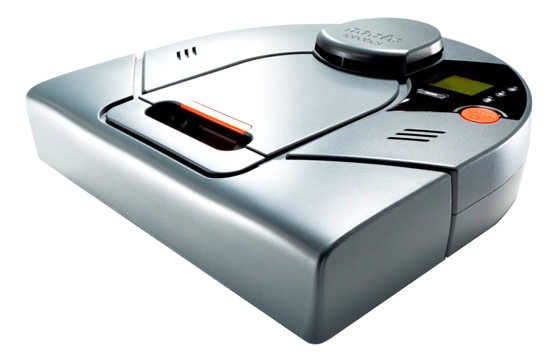 Neato Robotics XV-15 vacuum cleaner
While the other models tend to be more or less circular, the XV-15 is squared off at one end – the front – and there's a small raised section at the back, which houses the laser-based guidance system. Just to the right of that, there's a small LCD display, with four buttons next to it, and a large start button. The buttons allow you to select cleaning mode, and schedule automatic cleaning.
A notable absence is side brushes; where the Samsung Navibot has two of these beetle-like appendages to flick dust bunnies into its maw, and the Roomba has one, Neato doesn't have any. The package also lacks a remote control – arguably a bit of a gimmick – but does come with a charging base, which seems reasonably well designed, as it's not crucial for the robot to be lined up dead straight for it to work.
Unlike the other robots that I've looked at in the past, where a 'beacon' or 'lighthouse' has to be placed in a doorway to create an invisible barrier, Neato takes a different approach. The package contains a 14-foot reel of magnetic strip, which has the same sort of profile as the join between two bits of flooring; cut this into pieces, and lay it on the floor, and the XV-15 will refuse to cross the line. There's enough included to be considerably more flexible than a pair of beacons, and no need to remember to keep the batteries working in them.
In normal use, all you have to do is press the start button on the top, and the Neato will roam your home, room by room, starting at the edges and then methodically cleaning. If it runs out of power, it'll return to base and charge, as long as that's where it started. Carry it somewhere else, like upstairs, and it'll roam around, avoiding stairs, until it's either finished or the battery is flat. There's also a scheduled mode, which is easily set from the menus.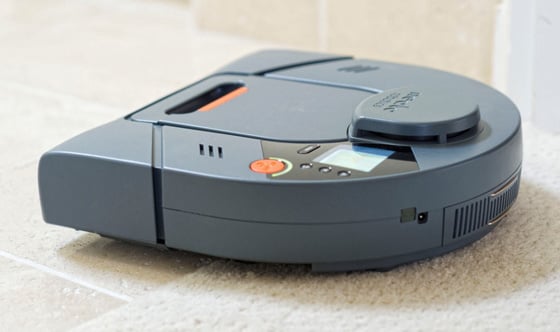 Firmware upgrades are performed using its micro USB port
As with the competition, there's a spot cleaning mode, where the robot will work over just a small area; the idea is that you pick it up, put it in more or less the right place, select Spot mode and it'll clean just that section. It seems a pretty small section, frankly, and in a few cases, it was necessary to run the Spot program more than once. Since testing, it seems that Neato have taken this on-board. Only last week a firmware upgrade appeared that extends the area to 4' x 6'. If you want larger than that, the alternative is to mark out the area with the barrier strips, and just run the main program, which is probably more hassle than most people will want.
NSFW..?
Readers of my previous robot cleaner reviews will be familiar with the before and after shots; those of a nervous disposition may care to skip to the conclusion. Needless to say, in attempting to clean parts of my flat, the Neato XV-15 was required to take on a task that probably exceeds what it would normally do.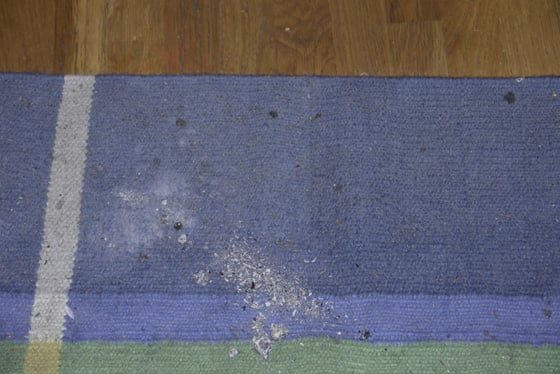 Cigar smoking can be a messy business if you're careless…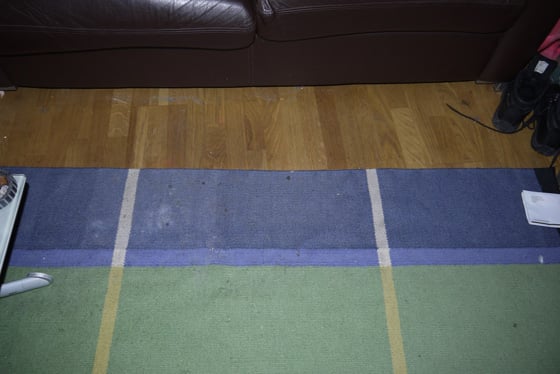 ...but the Neato managed to pick up most of the debris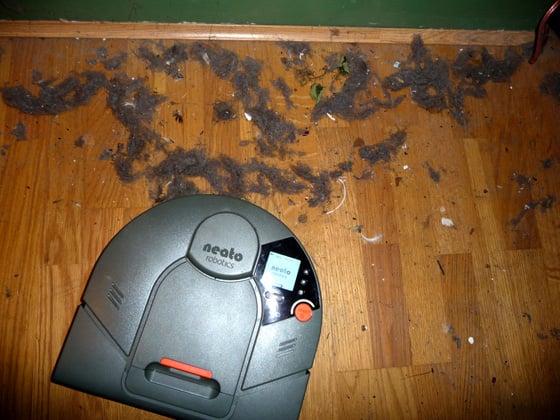 This space behind the sofa hadn't been cleaned for a very long time…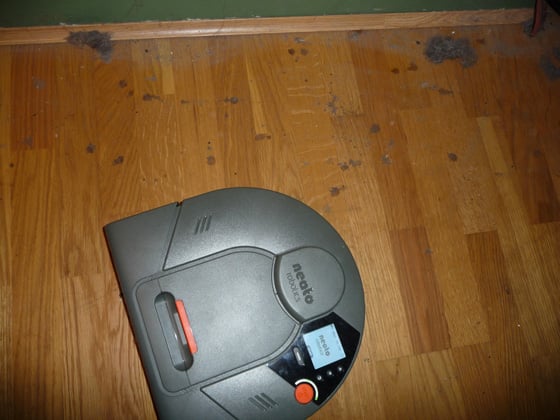 …and though it took a few attempts, the Neato managed to suck up most of the fluff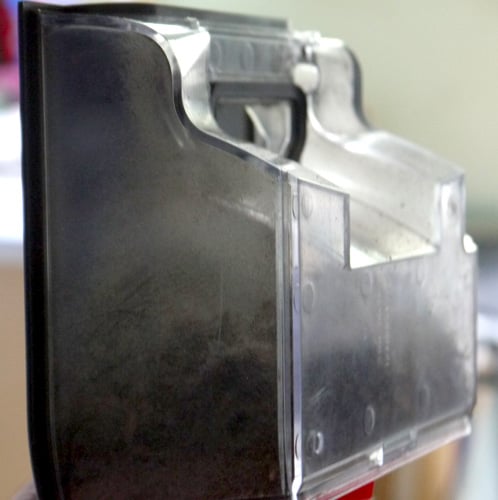 There's a reasonable size dirt bin, but the inlet is oddly designed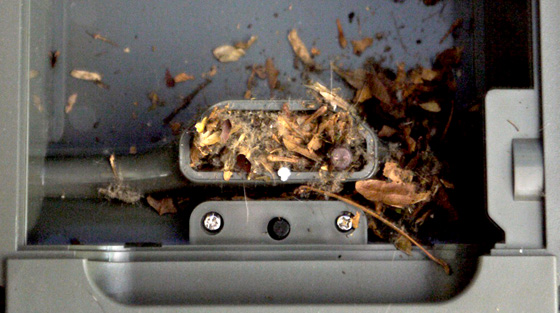 A couple of times, this pipe became so clogged, nothing more could be picked up
On the most part, it acquitted itself well, if a little noisily – it's certainly nowhere near as quiet as the competition, but that's due in large part to the powerful suction. That also caused it to struggle at times with a thin cotton rug, which it kept trying to suck up rather than roll over. But, it did manage a good job with the assorted fluff and cigar debris that was lying around, including the accumulated debris behind a sofa from various cats.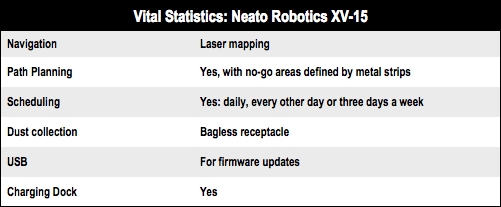 Clean sweep?
That said, there's a caveat – though there's a reasonable sized dirt bin, a couple of times the Neato stopped picking up more not because the bin was full, but because the pipe leading into it became clogged with fluff, or larger bits of debris; that probably won't be an issue for most, unless you have a lot of animal hair around. Some hair, in fact, managed to wrap itself in clumps around the brush, but then, it was a pretty tough challenge.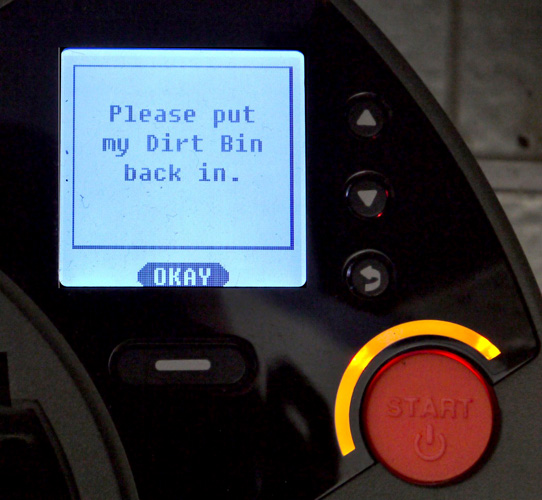 Fnarr, fnarr: the small display shows warnings and other helpful messages
Another issue was the performance in corners - with no side brushes, the Neato didn't clean right to the edge, so you'll need your usual vacuum for that.
Although it managed to navigate bedroom obstacles pretty well on the whole, there were times when it became a bit confused, beeping that its path was obstructed, when revisiting a section that it had previously cleaned, on some occasions necessitating manual intervention several times just to finish the room. My bedroom is admittedly somewhat chaotic, and perhaps the plastic storage bins confused the guidance system, but it still shouldn't have done that. Again, the new firmware notes that improvements have been made with navigation too.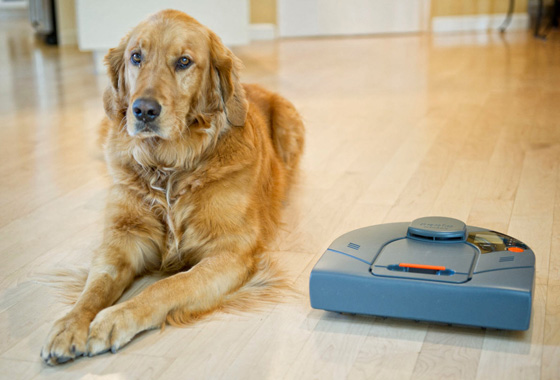 Takes care of those dogsbody duties
Verdict
Neato's XV-15 works pretty well; it has powerful suction which can help pick up fluff and other debris, and the marking of boundaries is done in a much better way than some of the competition. It's simple to use, and behaved well even with our extreme tests. But, while it avoided most obstacles fine it also demanded more attention than the competition in complicated, untidy rooms, yet it seems Neato has made tweaks to the very navigation system recently, so hopefully this is more hit than miss now. ®
More Gadget Reviews

Audio Pro
WF100
wireless streamer
Burg 5
watch phone
IRISnotes
Executive 1.0
digital pen
H2O
Shower powered radio
Videotree
VideoSpa
bathroom TV