Original URL: https://www.theregister.co.uk/2011/08/19/review_rim_blackberry_bold_9900/
RIM BlackBerry Bold 9900
The latest in riot gear
Posted in Personal Tech, 19th August 2011 06:00 GMT
Review With Android steaming ahead of Apple in terms of sales, and Windows Phone 7 soon to launch on Nokia handsets, RIM has got its work cut out to make sure BlackBerry can stay relevant and desirable in these fast-paced times.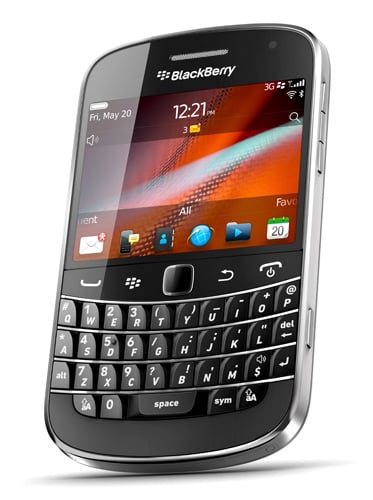 The slimmest BlackBerry yet: RIM's Bold 9900
The company has just announced three new handsets, including a couple of full-screen Torch models. But the first out of the traps is the Bold 9900, which combines a touch screen with a hard Qwerty keyboard. Does it mark a bold new step for BlackBerry? Well, not really…
The BlackBerry Bold 9900 looks very similar to Qwerty-packing BBs of old, though it's perhaps a little bigger, a little sleeker. It measures 115x66x10.5mm, weighs 130g and looks very classy with its glossy black plastic casing, tough carbon-fibre back cover and brushed aluminium trim. Beneath the screen the standard BlackBerry control buttons (call start and stop, menu and back) sit on either side of an optical trackpad and beneath those is a 35-key Qwerty keyboard.
The keys are angled so they're easily defined under the thumbs and it's easy to get up to impressive typing speeds. The numbers are arranged in keypad style rather than stretched across a single line, which also means you can get to them a little easier with one thumb. The keys are brightly backlit too, making it very easy to use in the dark.
RIM says the 9900 is its thinnest handset yet, and it looks even thinner thanks to its tapered back. Around the sides are a programmable 'convenience key' (which defaults to camera shutter button), volume buttons surrounding a mute key, plus a microUSB power/sync port and a 3.5mm headphone jack. On top is a sleep/screen lock button.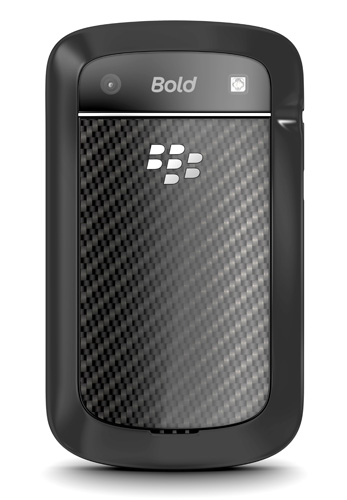 There's 5Mp snapper round the back but no front facing camera
The nicely sensitive 2.8in capacitive touch screen offers 640 x 480 pixels – a considerable leap from the Bold 9700's 480 x 360. It also feels considerably bigger than the 2.6in of its Qwerty rival, the HTC ChaCha.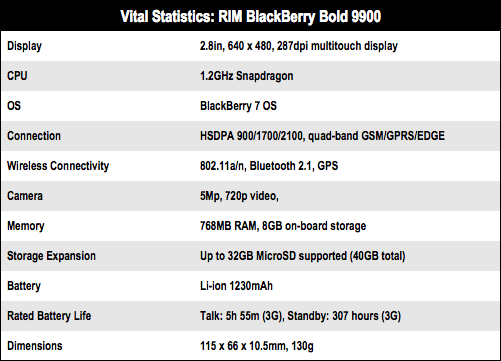 Camera work
The new BlackBerry 7 OS looks a little different to the previous version, but in truth, not much different. The menu icons are nice and colourful, but still not particularly intuitive, though you can organise them into related menus for convenience. There are none of those lovely widgets that we've got used to with Android either.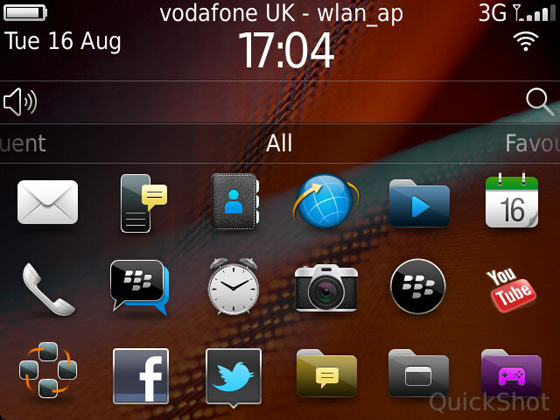 Look familiar? BlackBerry 7 OS homescreen
The new OS includes NFC (Near Field Communication), helping it to keep up with Android and offering the chance to pay for things using your handset – not that there's much you can buy in this way yet. BlackBerry Maps is also integrated into the OS, so you can set it to automatically map your position when you're using the camera, for instance.
But perhaps the most striking thing about the Bold 9900 is its speed. The single-core 1.2GHz Snapdragon processor backed by 768MB is certainly powerful enough to handle whatever you care to throw at it, and whips between apps at an alarming rate.
Sample Shots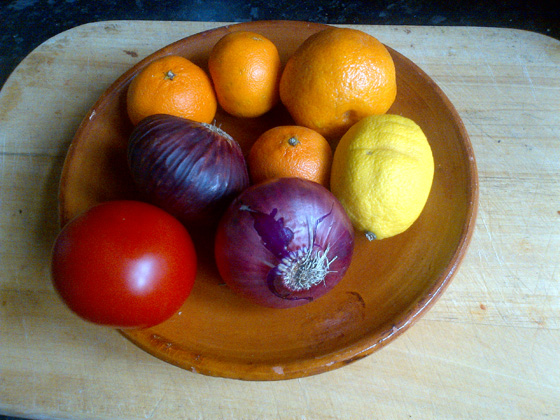 Click for a full-resolution image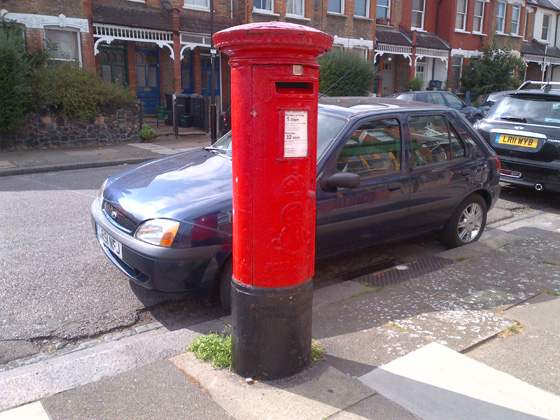 Click for a full-resolution image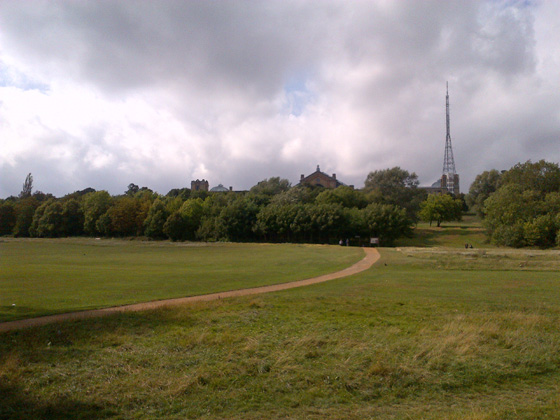 Click for a full-resolution image
The 5Mp camera includes 4x digital zoom, autofocus, image stabilisation, LED flash, geo-tagging and face detection. It starts up very quickly in about two seconds, and picture quality is generally good, with nice, sharp edges and good colour balance. The 720p HD video recording is a nice extra touch too, and delivers decent quality images. However, there's no camera on the front for video chat.
Social awareness
The browser is certainly speedy, both by 3G and broadband over Wi-Fi, throwing up pages in double quick time. But it didn't always display them as well as it might – when you pinch to zoom on a page, it won't automatically run text around the screen, so you can end up doing a lot of sideways scrolling. With no Flash support some site elements won't work, but that's not a disaster, as Apple has proved with its avowedly non-Flash iPhone.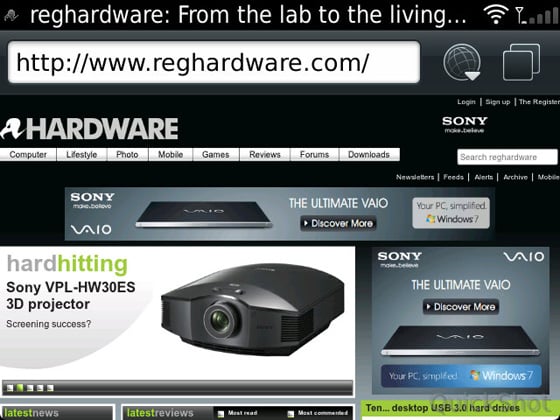 Browser
You can watch films on the dinky 2.8in screen, but sharp as it is, it's never going to look as good as a full-face display. Still, there are three options to stretch the film to fit the screen's dimensions which helps. A bit. The music player includes a rather heavy-handed 12-setting equalizer and while the supplied headphones aren't bad, they have trouble handling the lower end.
There's 8GB of storage on board to accommodate media habits and it comes with a 2GB microSD memory card which can be boosted to 32GB. The 1230mAh battery proved to be OK but not outstanding, delivering a little over a day of fairly heavy use. There didn't seem to be any problem with call quality, and voices rang out clearly from the loudspeaker.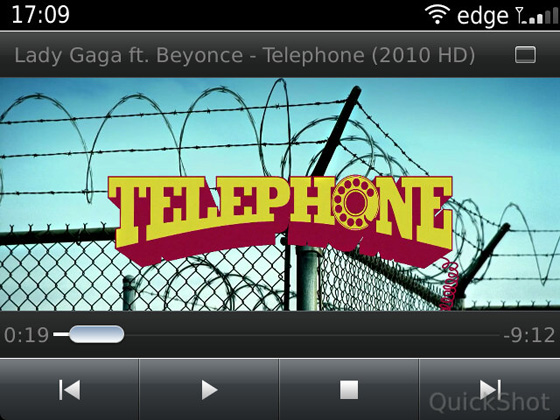 Movie viewer
Among the phone's other features, BlackBerry Messenger 6 is RIM's latest version of the instant messaging service beloved by teen rioters across the country and now offers the chance to chat while you're in some apps, including various games.
For other types of chat, the Social Feeds app pulls together your social networking updates into a single stream. Documents To Go is on board, allowing you to create and edit Word, Excel or PowerPoint documents. Pretty much everything on the Bold 9900 works well, but RIM's Achilles heel is its App World store. It's fine in principal but lags well behind the other big players in terms of the numbers and diversity of apps available.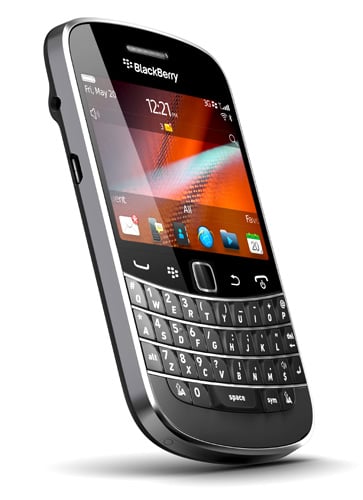 More of the same, but faster?
Verdict
The Bold 9900 is a very fast, very capable BlackBerry, but it's essentially still the same device that RIM has been selling for years, with a few improvements to keep it up to date. If you like BlackBerry handsets, you'll love it, but it's unlikely to win over many new fans. ®
More Qwerty Smartphone Reviews

HTC
ChaCha
Nokia
E6
HTC
7 Pro
Nokia
E7
HTC
Desire Z