Original URL: https://www.theregister.co.uk/2011/08/17/velobit/
Startup reveals own dominance in flash data caching
Also announces secret amount of funding raised
Posted in Storage, 17th August 2011 08:54 GMT
VeloBit is a software startup with unique caching software algorithms technology that appears to be better than that of any of its rivals.
It was introduced at the Flash Memory Summit, where VeloBit CEO and co-founder Duncan McCallum revealed his company had gained an undisclosed amount of A-round venture capital funding.
He said VeloBit caching works with any SSD or flash store in a server and increases its read I/O efficiency markedly, with an up-to-tenfold reduction in data access latency. An app requests block-level I/O and VeloBit has a block-level interface to the server's SSD and to the server's block access storage – be it direct-attached disk or a storage area network (SAN).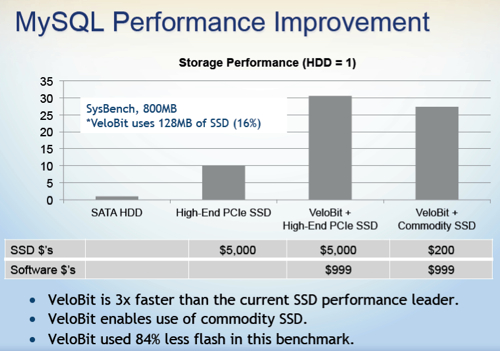 Acceleration of MySQL by VeloBit caching.
The software takes 10 minutes to install, with no pausing of the server system, and uses compression, described as "line speed delta compression", and "content locality caching" to put actively needed data into the server's solid state cache while using as little of the flash as possible. VeloBit said it has write-caching, although you can turn it off (or limit its depth) if you desire.
The company's chief technology officer is Qing Yang, who is also a co-founder. A Google search reveals a presentation given at the 20010 International Conference on Distributed Computer Systems, titled A New Buffer Cache Design Exploiting both Temporal and Content Localities (20-page PDF/528KB), written by Yang and a University of Rhode Island colleague.
The presentation states:
Content locality refers to the fact that many data blocks in disk storage share similar or even the same content.
The idea is to dynamically identify the most popular data blocks.
[There is] A new cache replacement algorithm, Least Popularly Used (LPU).
The key to LPU is knowing how to find blocks that are both accessed frequently and resemble as many other blocks as possible.
McCallum says VeloBit is faster than high-end PCIe flash on its own – meaning Fusion-io products – and provides charts showing MySQL (above) and Hadoop acceleration with VeloBit. He says a high-end PCIE flash product can cost $5,000, whereas VeloBit costs $999 and a commodity SSD $200: providing a $2,801 saving. That's 80 per cent less, with a 25 per cent Hadoop performance improvement.
The software will enter beta testing in September and there is an early access program. ®