Original URL: https://www.theregister.co.uk/2011/08/17/astute_networks/
Box o' Flashy virtual machines offered
Pump my Data
Posted in The Channel, 17th August 2011 07:00 GMT
Startup Astute Networks stores VMware virtual machines on its dedicated ViSX G3 flash SAN – leaving bulk data to be stored on standard drive arrays.
Astute claims that "virtualised storage is too slow to support SAP, Oracle, and SQL databases; virtual machine performance is inadequate to meet Microsoft Exchange and SharePoint service levels and user mailbox loads; and backing up or recovering virtualised data stores is unacceptably slow." Its ViSX G3 is its answer to these problems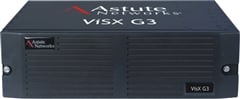 ViSX G3 2400
The ViSX G3 is a 3U box connecting to servers with iSCSI on one or 10 gig Ethernet. It comprises flash memory and an Astute network processor, and provide 80,000 IOPS for up to 64 virtual machines (VMs) which could each host a virtual desktop. These could be on one or more physical servers. The company says that VMs which require capacity-optimised data stores remain on disk-based storage.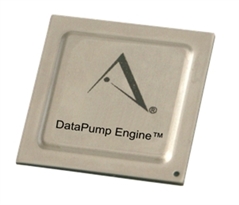 Astute says the product has a DataPump Engine which includes the networks processor, custom hardware and software. It accelerates TCP/IP, virtualises iSCSI data store traffic, and provides RAID facilities to speed performance and protect flash contents.
There are three product versions. The ViSX G3 1200 has 1.2TB of capacity, the 2400 has 2.4TB, and the 4800 has 4.8TB. Astute says they use enterprise flash, which we guess means enterprise grade 2-bit, multi-level cell flash, such as that produced by Micron.
The product contains spare flash modules, substituting them as needed for any failed modules.
The VMware-certified ViSX G3 boxes are managed, Astute says, as virtualised storage via vCenter or VMware-certified 3rd party software. Their use removes VM I/O from drive arrays, freeing up bandwidth for data access.
This is a novel approach to speeding up drive array I/O, and focusses exclusively on VMs that are I/O-bound. It is not a cache, unlike Avere and Alacritech filer accelerators, and neither is it a general, primary data, all-flash array like the Nimbus Data product. It is a highly specific, flash-based SAN for I/O-bound VMware virtual machines only.
The ViSX G3 1200 is priced at $29,000; the ViSX G3 2400 is at $59,000; and the ViSX G3 4800 costs $94,000. Options include extended warranty, expert support and on-site service, and are available now. ®