Original URL: http://www.theregister.co.uk/2011/08/16/review_acer_aspire_5755g_core_i7_laptop/
Acer Aspire 5755G 15in Core i7 laptop
Solid option?
Posted in Personal Tech, 16th August 2011 06:00 GMT
Review The Aspire 5755G is a fairly winsome system, combining sober, executive-class slate grey with a glossy black lid adding a touch of glamour. When it's closed it's a good looking slice of plastic, measuring just 35mm thick.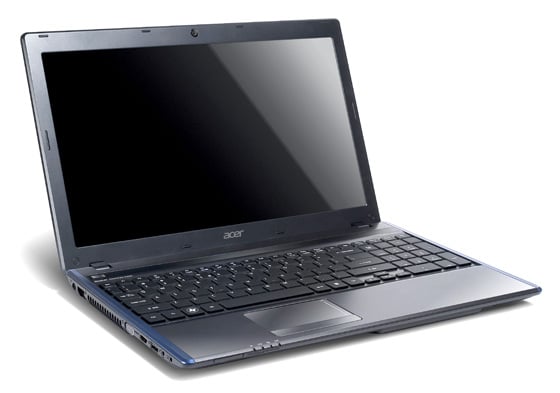 Acer's Aspire 5755G: widescreen but, alas, not quite full HD
The 16:9, 15.6in screen has a resolution of 1366 x 768, which feels a tad low in terms of pixel density - compare it to the 16:10 panel of the 15in MacBook Pro, which offers a 1440 x 900 resolution and Windows can feel a little chunky. It also means there's no support for Full HD, but that can be forgiven, as the 5755G opts for a utilitarian dual-layer DVD writer as opposed to a Blu-ray drive. Internal storage is provided by a capacious 750GB disk.
The monitor's resolution is more or less its only failing, though. Brightness falls off slightly as you move off-centre but horizontal viewing angles are broadly good. At full brightness it produces plenty of light - more than enough for you to be able to comfortably turn it down to eke out a little more battery life. As ever, the glossy screen disappoints.
The keyboard has some weird quirks. It's generally nicely laid out, solid and, as ever, the number pad on the right hand side is appreciated. However, both the left-hand shift key and Enter key have other keys abutting them - backslash on the case of the shift key and the tilde and hash key on the enter key.
The left hand shift key is a particular annoyance, particularly if you're used to striking it with your left-hand pinky finger - with another key nestled right up next to it it takes a bit of training before you learn to tap further towards the left to avoid leaving backslashes at the beginning of all your sentences.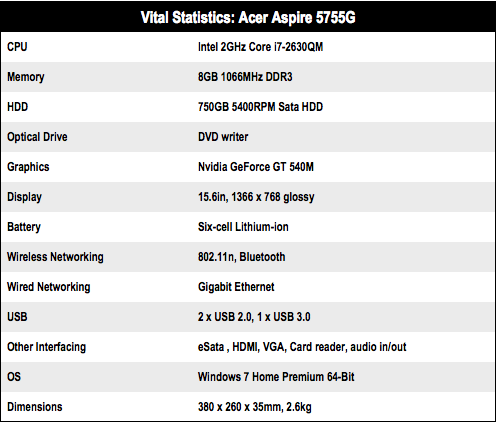 Benchmark results
Other than that the keyboard's pretty usable; the keys have fairly deep, lose travel, which can make typing a slightly loud, clicky affair, but it's clearly built on a solid base and lends itself well to flurries of fast touch-typing. The mousepad is similarly good: a vertical stripe on the right hand side provides scrolling duties (you can also scroll by swiping down or up with two fingers) and the single strip of plastic disguising the two buttons looks tidy.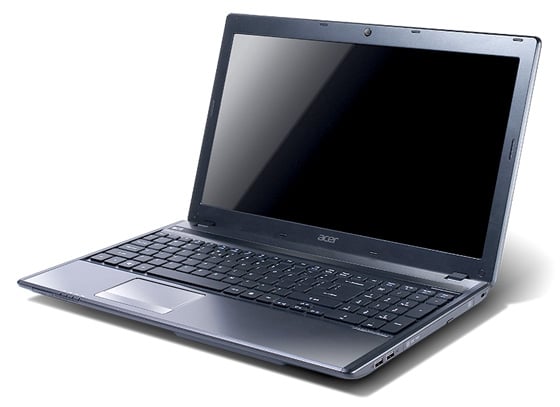 Well connected, but no Blu-ray disc play on-board
There's a good range of ports for those looking for a machine to perform day to day computing. For instance, the 5755G is the latest in a string of laptops to offer both HDMI and VGA ports, which is handy. You also get three USB ports; one on the left and two on the right. Of the two starboard ports, one is a USB 3.0 socket, while the front edge is home to an SD card slot.
Beneath the keyboard is a capable set of hardware. The Sandy Bridge processor pushing everything along is a Core i7-2630QM, which motors at 2GHz, backed up by the fullest complement of RAM you're likely to see on a consumer laptop at 8GB. The quad-core processor, plus hyperthreading, gives Windows an apparent eight cores to throw tasks at, and tripping it up is difficult, underlined by a PCMark Vantage score of 7370.
Benchmark Tests
PCMark Vantage Results

Longer bars are better
Battery Life Results

Battery life in Minutes
Longer bars are better
Graphics duties are provided by the on-processor Intel HD Graphics 3000, with extra punch available for games thanks to Nvidia's GeForce GT 540M. 3DMark Vantage returned a decent score of 3966, although framerates in the mid-teens suggest this is a laptop best saved primarily for work, with low-resolution gaming more of an afterthought.
Weighty considerations
But if one of the main benefits of the Aspire 5755G is performance, portability is the trade-off. Its weight is a manageable 2.6kg, but its battery results should give you pause for thought. The six-cell, 4400mAh battery is small, and under intensive use lasted almost exactly two hours.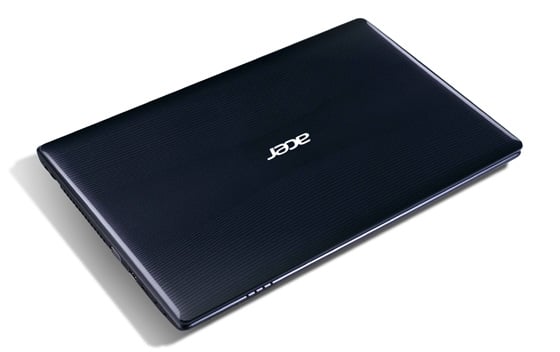 Not the lightest, but certainly among the quickest
Alongside the Reg Hardware's roundup of Core i5 machines, the Aspire 5755G battery life is roughly par for the course. Yet with real-world times likely to land halfway between two hours and an idle time result of four hours 43 minutes, those who spend a lot of time on the road will quickly wish for a more capable battery.
Verdict
At just shy of £900, the Aspire 5755G is a decent bargain, even if it can't quite compete for looks or portability with the likes of the slightly cheaper Lenovo ThinkPad Edge E420s. However, if you want a portable computer that won't baulk at demanding tasks, the Aspire 5755G offers superlative performance. A higher-resolution screen would be nice, as would be slightly more practical battery life, but for practical, everyday computing, from a machine you won't need to replace before it sees its first birthday, the 5755G is a very solid buy. ®
Thanks to SaveOnLaptops for the loan of the review sample.
More Notebooks Reviews...

HP
Envy 17 3D
Toshiba
Satellite P775
Samsung
RF711
Lenovo
Thinkpad Edge
E420s
Apple
MacBook Pro
17in