Original URL: http://www.theregister.co.uk/2011/08/15/review_apple_mac_mini_core_i5_2011/
Apple Mac Mini 2011
Style over substance?
Posted in Personal Tech, 15th August 2011 13:55 GMT
Review Last year's Mac Mini was a bit of a let-down. Sure, it got a nice redesign, with a gleaming metallic, low-profile chassis and a new HDMI port that seemed like a belated attempt to try and repurpose the Mini as a media centre system. However, the hardware inside it was actually downgraded, which meant that you were paying almost £650 for a low-spec desktop Mac that didn't even include a mouse and keyboard, let alone a monitor.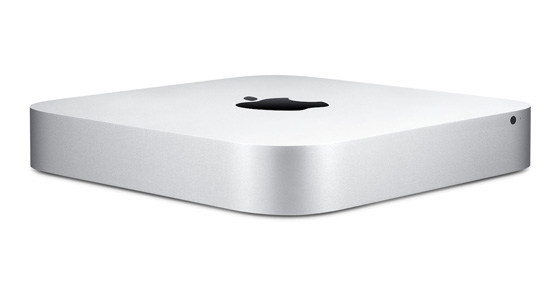 Apple's Mac Mini: the Core i5 upgrade was a long time coming
This year brings slightly better news, as the £529 base model has been reinstated and the adoption of the i5 processor brings a welcome performance boost. The basic model has a 2.3GHz Core i5 processor, 2GB RAM, 500GB hard disk and an integrated Intel HD 3000 graphics processor that shares 288MB of system memory. That doesn't leave a lot of memory for the graphically heavyweight Lion operating system, so 4GB really ought to be standard.
On test is the next model up, which does double the RAM to 4GB, as well as marginally increasing the speed to a 2.5GHz Core i5 processor. This model also gets a more powerful AMD Radeon HD6630M graphics processor that has 256MB of its own video memory. The bad news is that the price on this model has started to creep up again – £699 this time, which still seems steep given the lack of accessories – one accessory in particular, which I'll come to in a moment.
The £699 model can be further upgraded to a 2.7GHz Core i7 processor for an extra £80, and there's also the Lion Server model featuring a 2.0GHz i7, 4GB RAM and dual 500GB hard drives for £849.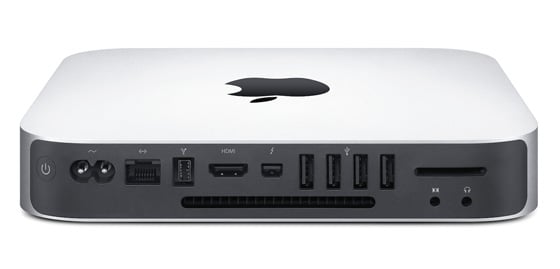 An HDMI to DVI adapter is included in the box and the DisplayPort option also works as a Thunderbolt interface
The graphics and processor performance of the £699 model do seem to justify Apple's claim that this model is twice as fast as its predecessor, although Apple's margin-padding use of a 5400RPM hard disk drags down the overall score a bit with PC Mark Vantage, as this machine was also set up with Boot Camp to run Windows 7 for the benchmarking tests.
Benchmark results
To be fair, though, the Mac Mini managed a very respectable 82fps when running Far Cry 2, which is about 90 per cent faster than last year's model (45fps). Just remember that the entry-level £529 version of the Mac Mini has the same underwhelming Intel HD 3000 graphics as the new MacBook Air, so gamers will need to cough up the extra cash for the AMD graphics in the £699 model to get these numbers.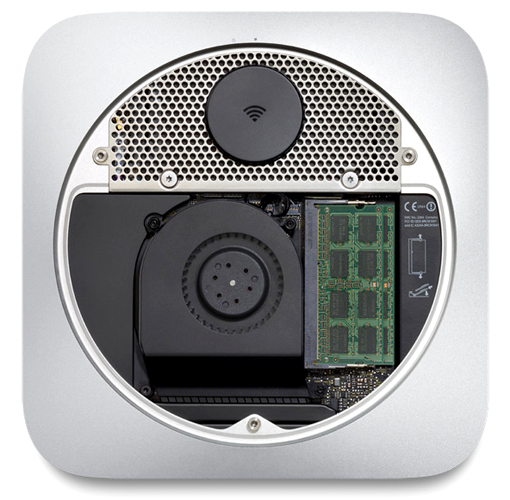 Tight fit
Mind you, Apple's removed optical drive from this year's Mac Mini, so you won't be installing many games onto it, or playing many DVDs, or ripping your music off CD – unless, of course, you fork out an extra £66 for the optional external SuperDrive. I can understand the lack of an optical drive in the ultraportable MacBook Air, but removing it from a desktop home computer that's clearly designed with entertainment in mind is rather limiting.
Benchmark Tests
PCMark Vantage Results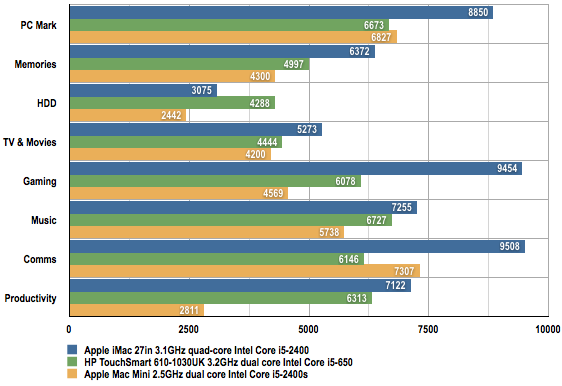 Longer bars are better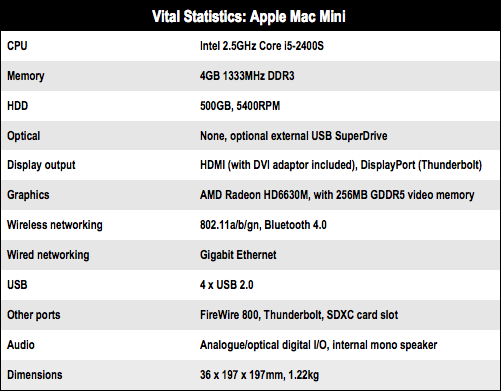 Optic nerve
Apple's view is "these days, you don't need one" and the blurb goes on to say "...removing the optical drive gave us room to do one more thing with Mac mini: lower its price." Considering the previous models housed chips that were a couple of generations old, they were just too darned expensive anyway. So I guess this is one way of maintaining the margins.

According to Apple you don't need an optical drive
Incidentally, you'll need an optical drive if you want to use Apple's own Boot Camp software to run Windows on the Mac Mini, as Boot Camp requires you to download various Windows drivers and burn them onto DVD. It's safe to say that I'm not yet convinced of the imminent obsolescence of the DVD burner.
Thankfully, this year's models do still include an HDMI interface for your TV, along with an HDMI-to-DVI adaptor in the box, so that you can hook it up to a conventional monitor. They also gain Apple's new Thunderbolt interface, although given the paucity of compatible gear out there, in the short term at least, I doubt that'll have much appeal for the home users that are the Mac Mini's primary audience
Verdict
I've always liked the compact design of the Mac Mini – which is still streets ahead of most of its PC rivals – and the much stronger performance of this year's i5 models is a welcome improvement. However, cost-cutting decisions such as the removal of the optical drive mean that the Mac Mini still seems overpriced for what is, after all, meant to be a low-cost 'affordable' Mac. That said, if an optical drive and gaming graphics performance are not your concerns, then the entry-level model looks a much better deal. ®
More Desktop PC Reviews

HP
TouchSmart 610
Sapphire
Edge HD
Dell
Inspiron
Zino HD 410
Apple
iMac 27in
Acer
Revo
RL 100