Original URL: https://www.theregister.co.uk/2011/08/15/geek_treat_of_the_week_audio_technica_ath_anc7b_headphones/
Audio Technica ANC7b noise-cancelling headphones
Journey into sound
Posted in Personal Tech, 15th August 2011 11:34 GMT
Geek Treat of the Week You don't have to be a geek to have a fondness for a gadget that just 'works'. Perhaps a mobile phone that does bugger all than manage calls but gets a signal wherever you are. How about a simple pair of headphones? From a technical standpoint, perhaps not so simple in the case of Audio Technica's ATH-ANC7b cans. However, just one switch activates the QuietPoint noise-cancelling signal processing, and the roaring silence is upon you. Yup, that's it.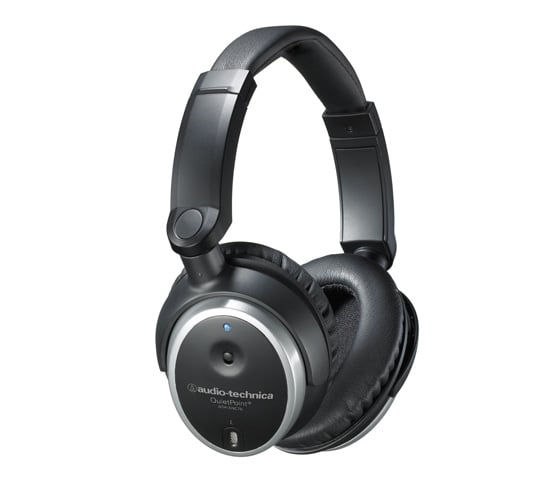 Silent partner: Audio Technica's ATH-ANC7b
Designed with the traveller in mind, a hardened zipper pouch is provided – moulded to fit the headphones snugly – plus a pocket inside for the various gold plated connectors. You get two leads of 1m and 1.6m with 3.5mm jacks at each end that plug into the side of left earpiece. Also included are a double jack airline adapter and a 1/4in stereo jack converter.
The closed cup padded earpieces are hinged to allow good isolating contact against the side of the head. The cup pressure from the covered sprung steel adjustable headband is just enough without being uncomfortable. Another joint on this arrangement enables each earpiece to twist perpendicular to the headband to fit into the case.
Not having a rechargeable battery pack is one of the major plus points of the Audio Technica ATH-ANC7b headphones. All you need is one AAA battery and you're good to go for about 40hours. I'm sure I've used them for getting on that long now and they're still going strong. Still, when the battery does die, just twist the outer case of the right cup and drop another one in – worrying about packing a charger is not an issue. Also, if they do die, you can still use them in passive mode.
A blue light above the only switch on the headphones lets you know they're on, but it's immediately apparent when you're wearing them. When active, the somewhat lacklustre and bass heavy passive mode, gives way to a well-defined soundstage with excellent stereo separation. Everything seems to know its place, with a firm bass response, punchy middle and a crisp top-end delivering top notch sound reproduction in the most challenging of environments.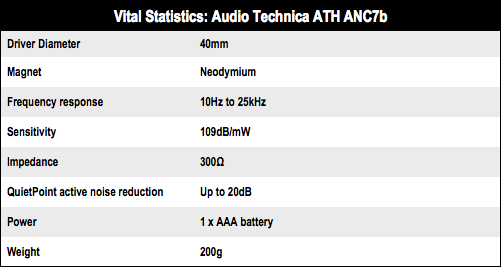 In-flight groovy
I flew to the States wearing these headphones and had them on for the best part of the 10-hour flight. Part of the reason was I fell asleep with them on. They really are incredibly comfortable and I experienced no fatigue whatsoever from wearing them – they sit just right and even though they are a bit on the bulky side, they're not particularly heavy.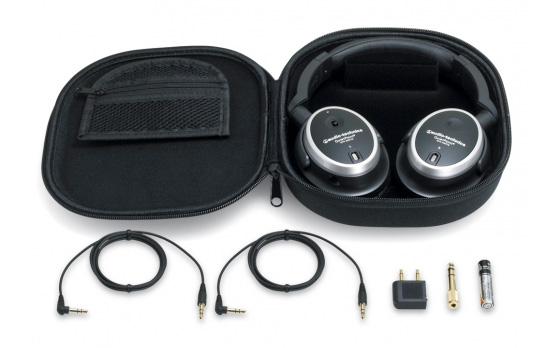 Kitted out for the long haul
The real shock comes when you take them off. Extracting yourself from this cocoon, that greatly subdues jet engine roar, really hits you when it's time to take a RunPee break from the in-flight movie. The low to low-mid frequencies are where these headphones do most of their work. If you have them on and no audio playing, the engines may be quieter, but the squawking child in the seat behind you will still cut through.
On the tube they work very well too, and walking around town with growling buses passing by producing merely a whimper, was immensely satisfying. Again, taking them off is a shock, as you notice just how noisy 21st century living is, with a constant rumble greeting your ears that the ATH-ANC7b headphones manage to tame.
Verdict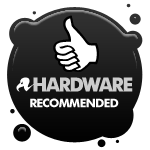 The mantra in audio circles seems to be: if it ain't broke, don't fix it – which sees certain microphones and headsets go on for decades. Indeed, Audio Technica's ATH-ANC7b headphones have been out for a while, but are an enduring product in the company's range. Robust, well kitted-out, amazingly comfortable, very effective and beautifully simple, they just work – and on a noisy journey, what more do you want? ®
Geek Treat of the Week is published every Monday. Got a gadget in mind you'd like us to consider? Please let us know
More Geek Treats

Audio Pro WF100
wireless streamer
Mackie
Onyx Blackjack
Mobee
Magic Charger
Ion Audio
iCade
Burg 5
watch phone