Original URL: https://www.theregister.co.uk/2011/08/13/review_sony_vpl_hw30es_3d_projector/
Sony VPL-HW30ES 3D projector
Screening success?
Posted in Personal Tech, 13th August 2011 07:00 GMT
Review I've actually written several introductions to this review. One opened extolling the benefits of 3D projection over 3D TVs. I thoughtfully proposed that the key problem with 3D flatscreens is that they're just too small - rather than confound and entrance you with 3D, they merely present you with a window and invite you to peer through.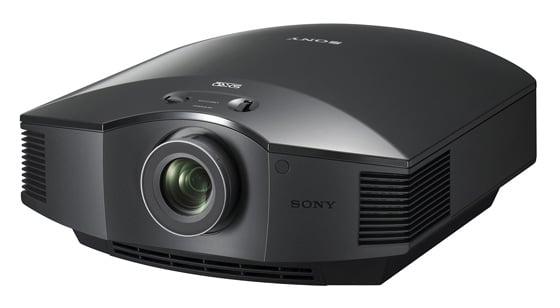 Added dimension: Sony's VPL-HW30ES
My second intro casually dismissed the 3D angle altogether, concentrating on the fact that this is Sony's best 'affordable' 2D projector to date: a cut-price descendant of the high-end VPL-VW90ES, which treats 3D as an optional extra.
But I couldn't decide which worked best. So I decided to use neither. Let's just crack on...
One key difference between this model and last year's £6K VPL-VW90ES (apart from the far more acceptable price) is its new Dynamic Lamp Control. A universal criticism of 3D is the general lack of brightness, but this delivers three times the illumination seen on the first gen VW90ES. It also helps with regular viewing too. As a result, images have real Vimto pop.
The HW30ES uses the same 240Hz SXRD (Silicon X-tal Reflective Display) panel found in the upscale VW90ES. A derivation of LCOS offering vibrant hues and excellent shadow detail, SXRD has always seemed one step ahead of the general LCD competition (although Epson has been threatening to catch-up with its long-delayed Reflective LCD technology). There's richness to its colour palette that screams Studio Ghibli.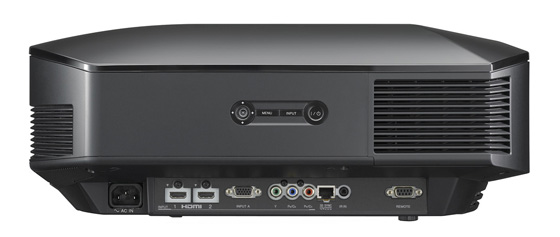 Interfacing to suit most requirements
Of course, there are cost cutting measures that separate the HW30ES from its bigger brother. Out goes the motorised lens protector and motorised zoom, as well as the 12v trigger, and in comes a standalone sync transmitter for the 3D glasses. On the earlier model, this was cleverly incorporated into the lens assembly itself.
Shuttered room
Here, 3D sync is delivered from a separate unit (the TMR-PJ1) which attaches to the projector via Ethernet cable. The system works fine, but having to drape Cat 5 across to the screen area is inelegant at best. 

Ostensibly, both the sync emitter and the 3D glasses are sold separately. However Sony says it fully expects them to be bundled with the projector for a package price of around £3,000. The HW30ES sells for around £2,800 without them.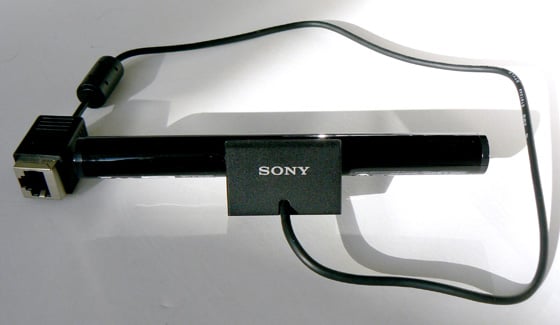 The TMR-PJ1 hooks up to the projector using Ethernet to provide 3D specs sync
Set up requires some manual twiddling. There are horizontal and vertical lens shift wheels to align the picture, plus a manual focal/zoom ring. Throw is good; you can achieve a 100in picture from a distance of approx 130in.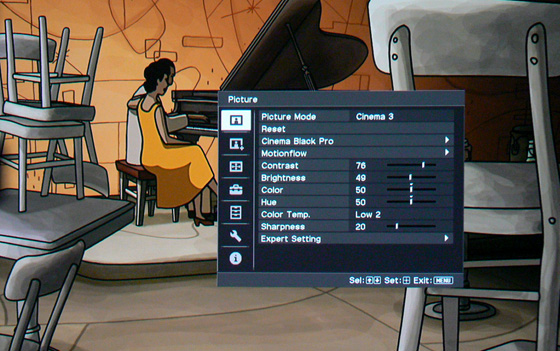 Set up menu has a number of manual tweaks
For its size the HW30ES is surprisingly quiet– provided you run the lamp on Low. This cuts fan noise down to around 22dB. The projector still throws out a fair amount of heat, so you'll need to carefully consider placement, but its operating thrum is easily disguised by a sound system running at just moderate volume.

The supplied remote control is huge, but surprisingly easy to use – and it's backlit which is a sensible bonus.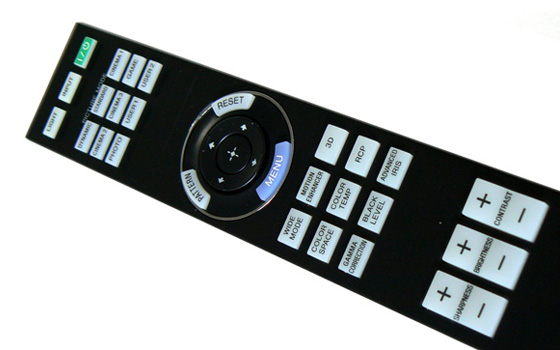 Backlit remote
The HW30ES offers Low and High Motionflow fast-framerate modes to maintain clarity in moving images. This kind of frame doubling/frame insertion technology is usually a mixed blessing, restoring detail with one hand while robbing film of its celluloid texture with another.
As a consequence, the Motionflow High setting though should be avoided for anything other than live sports. Vertical and diagonal panning may become Torvill and Dean smoothness, but it does create obvious artefacts around moving objects.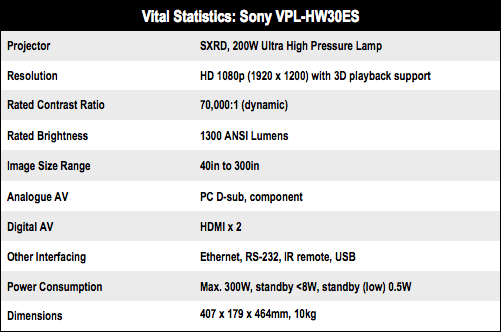 Updated specs
The projector's 3D performance is outstanding with well authored 3D Blu-rays, such as Resident Evil: Afterlife and Avatar. Crosstalk is negligible and the sense of depth quite pronounced. The latter's opening sequence, wherein Sam Worthington emerges from cryo, convincingly stretches back hundreds of metres. But on more notorious platters (for example Monsters Vs Aliens), double-imaging remains a visible bugbear.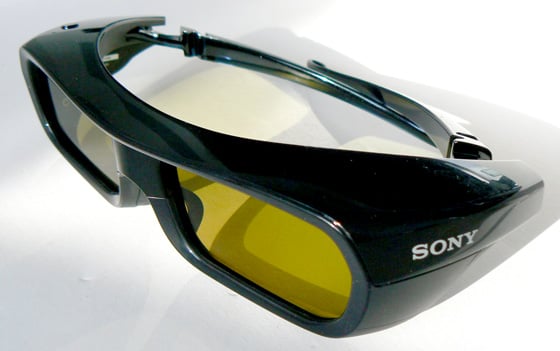 Lighter and more comfortable active shutter glasses
Sony has made improvement to its 3D projector glasses. There's no longer a need to add a filter to eye lens (one of the dafter bodges from its first gen 3D projector), and it's also shaved some 18g off their weight. This makes the new USB-rechargeable TDG-PJ1s pretty comfortable to wear. A 30 minute charge provides around 30 hours of use.
Of course, it's not just movies that look good on the HW30 – gaming is also a prime attraction. Hooked up to a PS3, the projector provided screamingly fast, sharp images. With Motionflow enhancement on High, MotorStorm 3D looks slicker than a Brylcreemed beaver. If it weren't for the price, I could see a whole lot more people gaming on projectors, as it looks wonderful.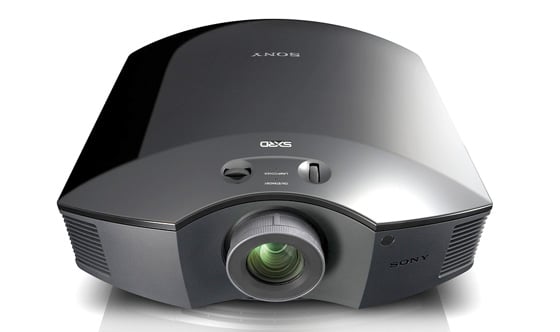 A good compromise of features while preserving quality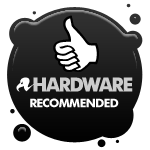 Verdict
Overall, the VPL-HW30ES is a compelling argument for bringing big-screen 3D home. It's a solid rival for JVC's similarly-priced D-ILA-powered DLA-X3, and offers both excellent 2D and startlingly bright stereo. 3D flatscreens? Who needs 'em? ®
More AV Gear Reviews

BenQ
W1200
HD projector
Videotree
VideoSpa
Bathroom TV
Panasonic
TX-P65VT30
65in plasma TV
Cambridge Audio
Azur 751BD
3D Blu-ray player
Virgin Media TV
Powered by TiVo