Original URL: https://www.theregister.co.uk/2011/08/11/stec_and_samsung_ssds/
Samsung and STEC flash their sizzling SSDs
Storage action remains flashy
Posted in The Channel, 11th August 2011 10:25 GMT
The summer weather may be crap, but Samsung and STEC are sizzling: they have both announced new solid state drives at the Flash Memory Summit.
Samsung's PM830 is a 6Gbit/s SATA interface SSD with 18GB, 256GB , and 512GB capacities. It uses toggle DDR mode and ships out sequential data reads at 500MB/sec and ships in sequential writes at 350MB/sec. The 2-bit multi-level cell NAND is made using a process geometry in the 29-20nm area, Samsung being coy about the exact number.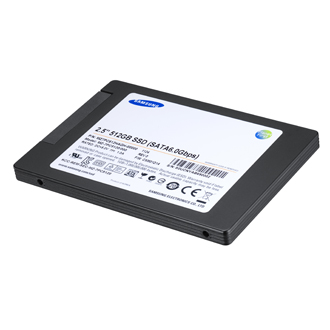 Samsung PM830 SSD
The company says the use of the 6gig interface means systems boot in 10 seconds and five DVDS could be downloaded from it in less than a minute. Samsung's Wanhoon Hong, a memory sales and marketing EVP, said: "The industry is expected to quickly embrace SATA 6Gb/s-based SSDs, which also will help increase market interest in 256GB and higher densities significantly."
The PM830 is shipping to OEMs now, for use in notebook and tablet computers, with Samsung promising us a consumer version in the future so we can retrofit it to our notebooks.
STEC's ASIC-based Zeus
STEC has refreshed its high-end ZeusIOPS line of 3.5-inch SSDs, which currently uses an FPGA-based controller, with a cheaper ASIC controller design. It supports up to 1.6TB of capacity, in excess of 120,000 random read IOPS, more than 70,000 random write IOPS and can stream sequential data at 500MB/sec. It has both Fibre Channel and a 6Gbit/s SAS interface. STEC reckons you can do 10 full writes a day to the device for five years before it starts wearing out.
Intel's coming 720 is slated to do 180,000 IOPS through its PCIe interface. Sandisk/Pliant's Lightning LS 150S has a 120,000 plus IOPS rating with a 3Gbit/s SAS interface, so STEC's greater than 120,000 IOPS number is quite impressive.
The controller supports 3X (39nm to 30nm) and 2X (29nm to 20nm) geometries, with SLC being available as well as MLC NAND.
It will come in 3.5-inch and 2.5-inch form factors with a 1.8-inch form factor suggested as a future possibility. STEC is shipping samples to OEMs for qualification.
The company announced its Kronos PCIe flash product last week and is trying to get product out of the door as fast as it reasonably can so its business rebounds from the under-achieving state it has been in.
Virtually all the product news this week has been flash-dominated, partly because its Flash Memory Summit time, and partly because that's where a lot of the storage action is. ®