Original URL: https://www.theregister.co.uk/2011/08/10/igamer_five_game_roundup/
Five... freshly picked iOS gaming apps
The latest from Apple's amusement arcade
Posted in Personal Tech, 10th August 2011 06:00 GMT
iGamer If you've survived the sink estate uprising and still have a job after Global Financial Meltdown II, you might just enjoy one of the recent crop of iOS games on your commute to work.
Cut the Rope: Experiments

Cut rope, free candy, feed Om Nom. Like all the best casual titles, Cut the Rope's simple premise and controls belied highly addictive gameplay. Not content merely serving up additional levels, Experiments introduces novelties to build upon the original's successful physics-based puzzle template.
New contraptions such as bouncing pads and rope shooters combine with the bubbles and whoopee cushions of the original to provide even more intricate puzzling. And there's a greater focus on urgency this time around, with time-limited stars and spiders featuring more prominently. Seasoned players won't take long to chomp their way through the 75-levels on offer, but there's plenty more updates promised in this sweet sequel.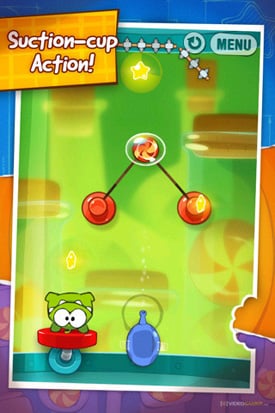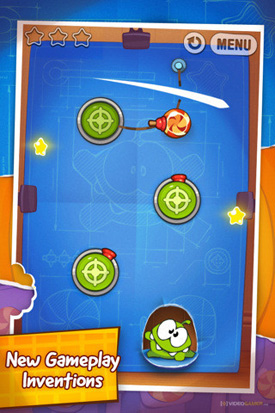 Reckless Getaway

Underneath the slick cartoon graphics and vehicular mayhem, Reckless Getaway is essentially an updated version of a Tomytronic 3D game. With acceleration taken care of automatically, you're limited to swerving your getaway car left and right as scenery and traffic hurtle towards you. The major difference, however, is that you're not trying to avoid traffic here, but attempting to cause as much carnage as possible.
In a game of risk and reward, stars are earned by ramming into cars and scenery, pulling off insane jumps and collecting coins scattered along branching, hazard-filled routes, but they're easily lost by sustaining too much damage and wrecking your own car. It makes for an unpretentious blast of fun, especially early on when learning the most profitable routes. But with little to distinguish between the game's 16-levels, gameplay soon becomes repetitive. Not so much Reckless Getaway, then, but feckless throwaway.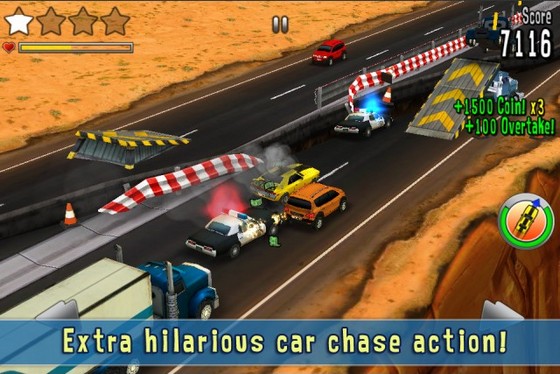 Reg Rating 60%
Price £1.99
Publisher Polarbit
More info Reckless Getaway on iTunes
Quiz Climber

Some philosophical dude once said, "Wisest is he that knows he knows nothing." After my shockingly bad performance on Quiz Climber, Chillingo's addictive, multiple-choice, general knowledge quiz game, I'm praying he's right.
Okay, so it's no great embarrassment I thought Bow Wow was a brand of dog food and not a famous rapper. And answering Gene Wilder as Star Trek's creator was a simple slip of the finger, honest. But the problem is I'd already invited my friends to compete against me through the integrated Facebook leaderboards, so my carefully crafted faux-intellect has been revealed for all to sneer at.
I suspect some of those 'friends' have been cheating, ahem, racking up high scores by buying lifelines with real cash. I'm too principled for that, you understand. So instead I've been banking lifelines earned through playing – lots and lots and lots of playing.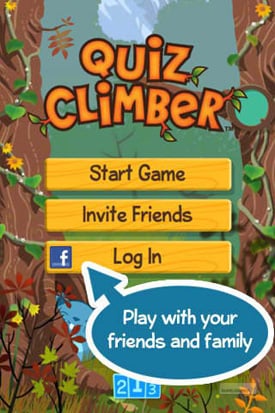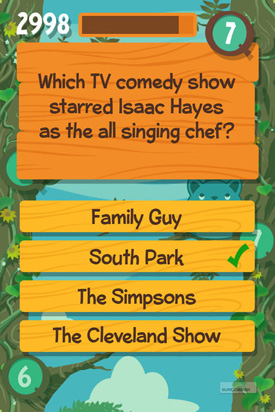 Reg Rating 75%
Price Free with ads or £1.49 ad-free
Publisher Chillingo
More info Quiz Climber on iTunes
Ninja Fishing

Seven years old, cowering in an open-faced fishing tent in heavy rain, soaked to the bone, peering through the thick smog of my dad's Golden Virginia rollies, maggots crawling in sawdust pots or leaking pus on the end of a hook. Watching interminably for a bite that never came. In many ways, Ninja Fishing is a lot like my first and only fishing trip.
Cast your line, trying for maximum depth using the tilt controls to avoid fish on the way down. Get too close and a tap of the screen converts your hook into a drill, blending fish into puffs of red mist. Reach the bottom and there's a chance to grab the treasure chest full of gold. On the way back up it's a race to hook as many fish as possible before you loft them into the air for a Fruit Ninja-style slashathon. The more fish you gut, the more gold collected. But watch out for the random sticks of dynamite that end the game early.
An RPG system upgrades weights, line length, drill oil and Katana blades, so you can fish deeper depths for more exotic beasts. But Ninja Fishing's simple hook quickly proves monotonous, as its mechanics are rinsed and repeated ad nauseum. The perfect fishing simulator, then.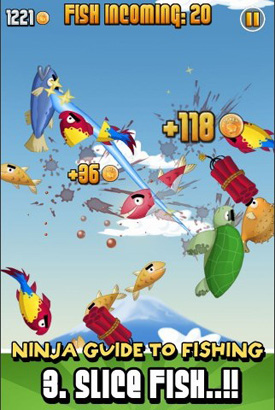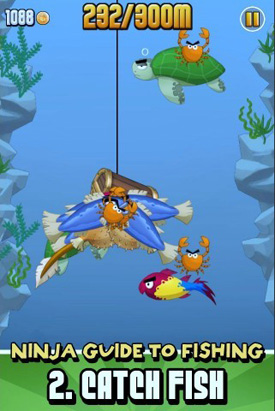 Reg Rating 50%
Price £0.69
Publisher Gamenauts
More info Ninja Fishing on iTunes
Need for Speed Shift 2: Unleashed

Like the original, Shift 2: Unleashed does a fantastic job of cramming a full console driving experience onto iOS. A greater variety of tracks, increased car count and a graphical overhaul are exactly what you'd hope for in a sequel, and Shift 2 doesn't disappoint.
Progression follows the standard Gran Turismo template of buying and tuning cars to compete in five classes, with events ranging from traditional races and drift competitions to time trials and duels.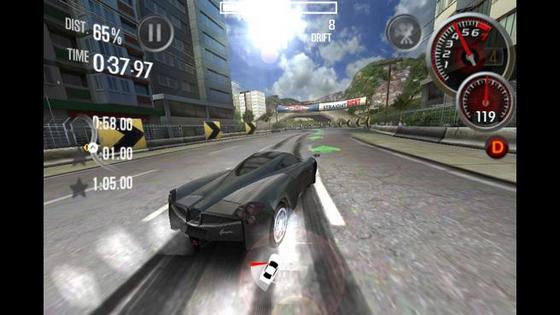 Shift's star system returns to award points for driving line and drifting, as well as overall placement, ensuring race completion is always rewarded. But rewards can feel miserly and progression all-too expensive, which forces you into repeating events over and over or, worse, inhaling a faint whiff of cynicism as you dip into your pockets to spend real-world cash to boost in-game credits.
The inclusion of EA's Origin for leaderboards and social network features also feels foisted upon you, as it further fragments the iOS's existing leaderboards. Multiplayer disappoints, too, with head-to-head races limited to local connection. It's these minor complaints that, for the moment at least, see Shift 2 stuck in the slipstream of Firemint's superior Real Racing 2. ®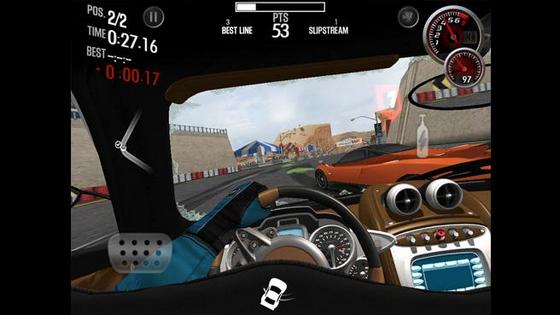 iGamer covers the best in mobile gaming, from Android to iPad, every other Wednesday. If you think there's a great game we really should cover, please let us know.