Original URL: https://www.theregister.co.uk/2011/08/08/review_hp_envy_17_3d/
HP Envy 17 3D Core i7 laptop
Tasty 3D take away
Posted in Personal Tech, 8th August 2011 12:45 GMT
Review After years of computer journalists telling me – erroneously, I hasten to add – that my next desktop PC will be a laptop, it's pleasing to see manufacturers such as HP trying to make it happen.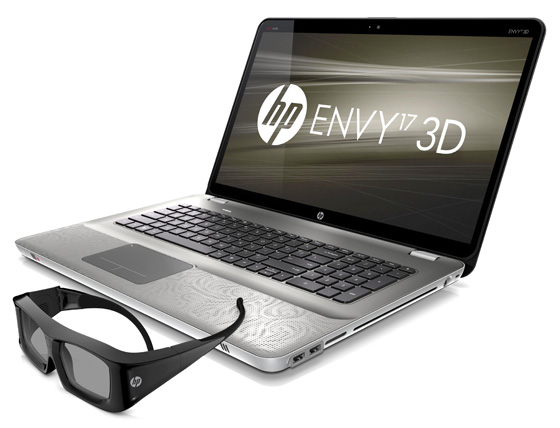 Viewing spectacle: the Envy 17 3D is a big beast but HP has managed to keep it looking clean and stylish
What do I hate about laptops? A keyboard with lots of keys missing; a pointing device less accurate than a Star Wars Stormtrooper; a crappy graphics card that struggles with its own half-arsed display let alone a second one; gaming frame-rate akin to a slideshow; less memory than the £5 USB stick in my pocket; less hard disk space than the £40 portable drive in my other pocket; and a price tag that would buy me three desktop PCs – better ones, too.
Now take the HP Envy 17 3D: it's as if the company took my list of complaints and focused on striking them off one by one – except for the last.
This is a product that feels as well-endowed as a decent desktop computer, including pretty good gaming performance and 3D entertainment to boot, while remaining portable. Sure, it's no notebook and weighs well over 3kg, but you can lug it effortlessly from room to room, whenever the fancy takes you.
The HP Envy 17 3D is built inside a metallic grey textured clamshell case that has been designed with notebook-style rounded edges and corners. You could slip it into a bag without it snagging, although it's probably too big for most laptop shoulder bags.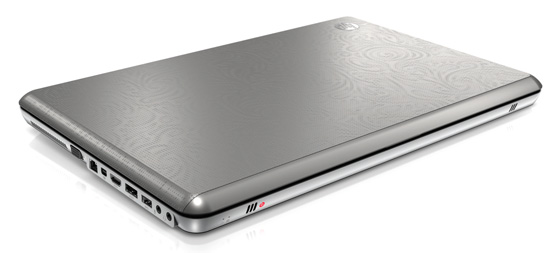 HP wants you to know that the Envy 17 is still portable, and has designed the case accordingly
Opening the case reveals a full-size keyboard with numeric keypad and a large trackpad (HP calls it a 'Clickpad') off-centre to the left in front. The keyboard action is lovely but I found the Clickpad difficult to master: my sharp taps were not always interpreted as clicks in the main area, so I had to keep looking down in order to locate the designated left-and-right click areas instead.
The 17.3in LED display is sharp and bright at a wide range of angles, its 1920x1080-pixel resolution allowing it to support full 1080p HD media. To this end, the computer is fitted with a slot-loading Blu-ray player/DVD burner combo drive.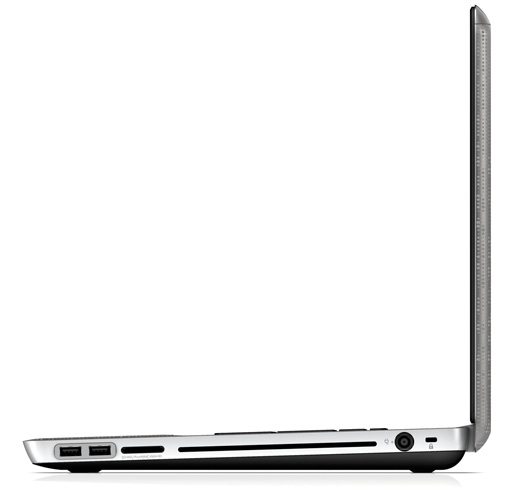 It's not really as thin as this picture makes it appear, but it's more compact than most 3D luggables
Most connectivity ports are arranged on the left-hand edge of the case, plus two USB ports on the right-hand edge along with the optical drive a 5-in-one memory card slot. There's a potentially useful combination of eSATA and USB 3.0 alongside the USB 2.0 ports, otherwise you can use all four for standard USB 2.0 devices. As well as HDMI and VGA connectors, the Envy 17 3D provides a Mini DisplayPort, although I did not get the opportunity to test whether it can be used as a Thunderbolt interface, but I'd guess not.
In use, the Envy 17 3D is a decent performer, automatically making use of Intel's Turbo Boost technology to push the four cores of the Core i7 720QM processor to a maximum of 2.8GHz. This is not something a regular user can control: the Turbo Boost triggers apparently when it feels like it. But despite some good-but-not-staggering general benchmark results, the Envy 17 3D is a strong gaming computer.
Its 3D display feature is nicely implemented, enabling itself automatically when appropriate but not stupidly splitting or blurring the screen when it isn't. HP's 3D shutter glasses also switch themselves on automatically when they detect the 3D sync signal from the computer, so there's no fiddling around playing hunt-the-microscopic-button whenever you feel the sudden impulse to sit down and play.
Benchmark Tests
PCMark Vantage Overall Results

Longer bars are better
Battery Life Results

Battery life in minutes
Longer bars are better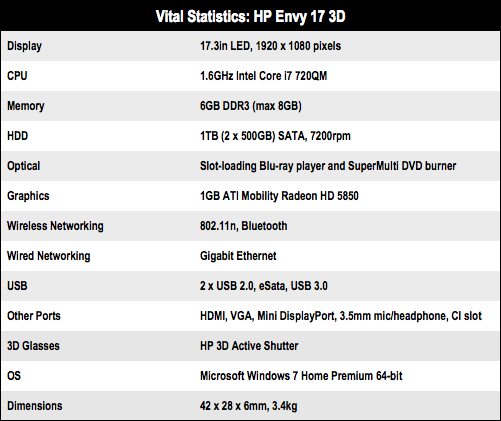 Unfortunately, although the shutter glasses are flicker-free and highly effective, and it is possible to wear a pair of ordinary glasses underneath (no flamboyant frames, though), I found them uncomfortable to wear. It's not that they're particularly heavy, just that they felt hard and unpleasant around my eyes, nose and ears. I couldn't wait to take them off. The quoted battery life for the computer is supposed to be somewhere between two to three hours, but the Register Hardware intensive battery test saw it peter out after just one hour, which isn't great.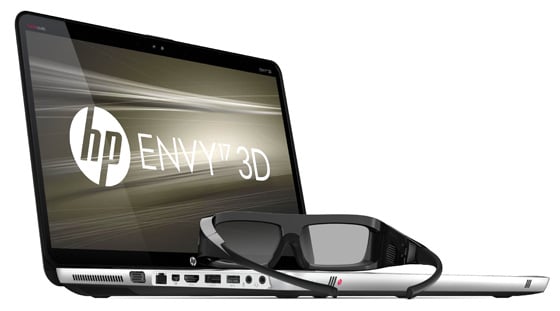 The 3D shutter glasses have no power button: they wake up when a 3D signal is detected
HP has earned itself a reputation for providing user-friendly software on its home computers, and the HP MediaSmart collection goes a long way to getting the less nerdy owner up and running quickly on the Envy 17 3D. However, I was unlucky enough to test the machine immediately after some other reviewers who had buggered up the default configuration and left it that way for me.
No matter, all I had to do to get things working again should be to run the HP Support Assistant utility… which couldn't identify what computer I was using and proceeded to give me a Pass for its Health Analysis. Brilliant: no wi-fi, half the software is missing, and it reckons my PC is in perfect health. Take my advice, buy the HP Envy 17 3D brand new and don't accept sloppy seconds from a hardware reviewer. You know what they're like.
Verdict
Let's compare the HP Envy 17 3D with the nattily named Sony Vaio VPCF21Z1E/BI, both being home-user 3D entertainment portables. Although the Sony Vaio is more powerful and has more comfortable 3D shutter glasses, HP's Envy has a nicer design – the case is certainly less of a dust trap – and arguably more practical for lugging around the house and beyond, while also being significantly cheaper to buy. As giant laptops go, the Vaio is big and scary but the HP is big and friendly. ®
More Notebooks Reviews...

Toshiba
Satellite P775
Samsung
RF711
Lenovo
Thinkpad Edge
E420s
Apple
MacBook Pro
17in
Asus
N73SV