Original URL: https://www.theregister.co.uk/2011/08/06/review_sharp_quattron_lc_40le831e/
Sharp Aquos Quattron LC-40LE831E 40in LED 3D TV
Yellow pixel net set
Posted in Personal Tech, 6th August 2011 06:00 GMT
Review I reviewed Sharp's first Quattron TV last year, and although it was rather pricey I was impressed by the image quality that it provided thanks to its innovative addition of a fourth yellow pixel to the standard mix of red, green and blue.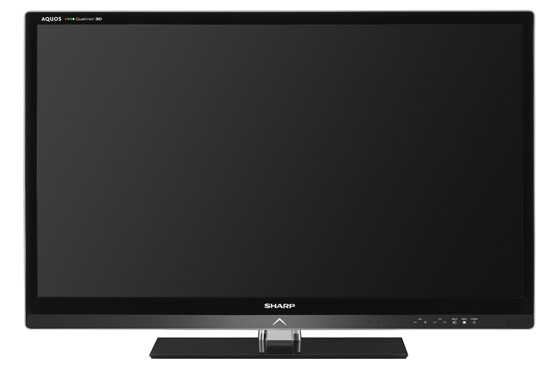 Jaundiced view? Sharp's Quattron LC-40LE831E screen features yellow pixels
But while Sharp was doing its own thing with yellow pixels, the rest of the industry was focusing on 3D and Internet connectivity, leaving Sharp looking a little bit behind the curve in those areas.
Sharp did launch a 60in set with 3D capabilities last year, but at over £3000 that was hardly going to fly off the shelves at John Lewis. So this new second-generation Quattron is really an attempt to catch up and bring together all the latest features whilst also offering more modest screen sizes and pricing.
I tested the 40in LE831E model, which you can buy direct from Sharp for £1099, although you can save a good £200 on that price if you shop around online. That puts it in line with similar 3D-capable sets such as the Samsung UE40D6530. There's also a 46in model that Sharp lists at £1349, with similar savings available online.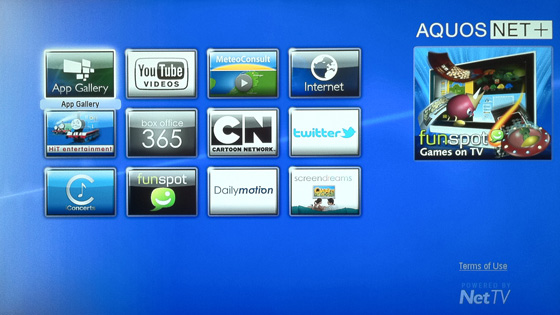 On-line services don't include the BBC iPlayer
This year's model looks very similar to its predecessor, with a slimline backlit LED panel that measures just 34mm thick. Tucked around the back of the unit you'll find four HDMI interfaces, along with SCART, composite and component video, analogue and digital audio, three USB ports, CI slot, and a Freeview HD tuner.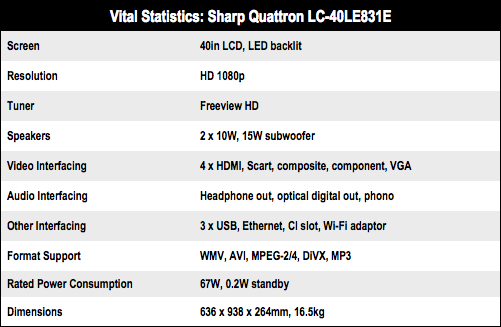 Delayed gratification
The 40LE381E also has an Ethernet port, but at least Sharp is decent enough to include a USB adaptor for wireless connectivity. Alas, what's given with one hand, is taken with the other – you have to pay £69 extra for the 3D glasses, as these aren't included as standard.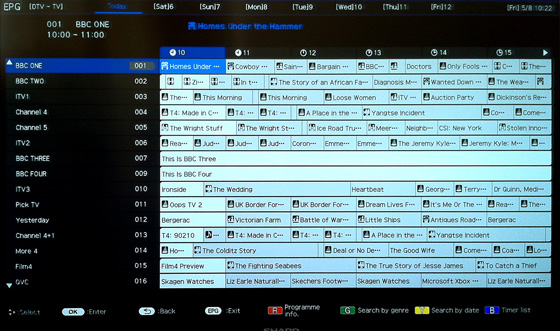 The EPG is bit lacklustre...
The 40LE831E isn't the cheapest 40in HD TV currently available by any means, but that extra yellow pixel does produce very attractive results with HD content, producing very rich and vibrant colours. The default settings seemed to produce slightly pale skin tones initially, but there are a number of preset viewing modes as well as manual controls for adjusting the colour settings, and I had no trouble locating a preset that I liked better.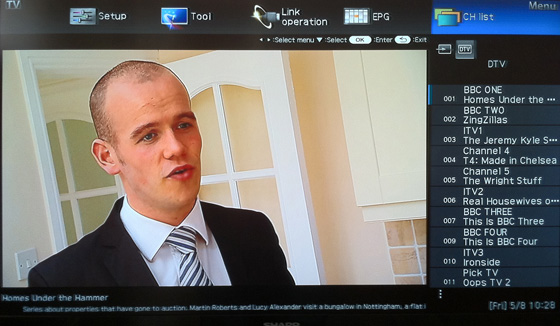 ...although the menus are tidily organised
However, the appearance of SD channels from our Freeview HD box was merely average, with a touch of fuzziness around the edges of objects that could have used a little sharpening. If you're mostly still watching SD channels on Freeview then there are cheaper alternatives available that will do just as good a job with SD content.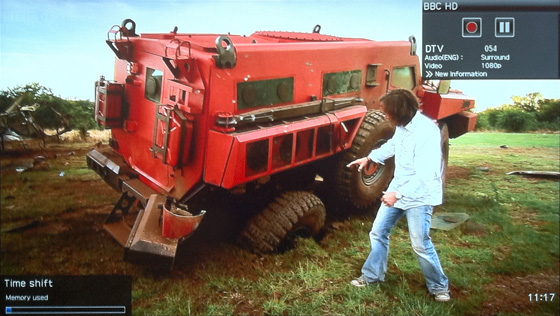 USB Timeshift in action
Sharp has brought in the handy 'USB Timeshift' option that it introduced in some of its Aquos models last year, which allows you to use a USB memory stick as a memory buffer so that you can timeshift the live TV broadcast (although you can't record onto a memory stick).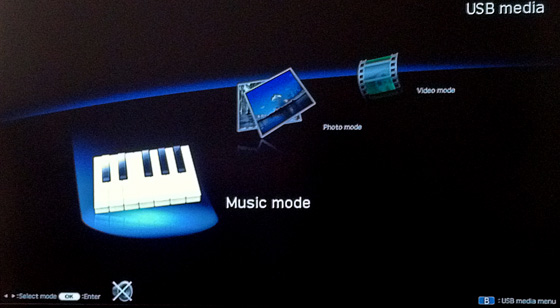 Media player content sources
The 40LE831E also works quite well as a media player. It supports DLNA/UPnP networking, and has a clean, efficient interface for playing music, photos or videos stored on a memory stick. There is one annoying limitation here, though. The 40LE831E played all the video files I tested on it, including MP4, DiVX and MKV, but it completely ignored my AAC music from iTunes as it only supports MP3 audio.
Internet service provider?
Playing some MP3 files did produce a fairly good sound – with more volume than last year's model. However, the built-in 15W sub-woofer doesn't seem to make a big impact on the sound, and higher frequencies tend to dominate as you crank up the volume.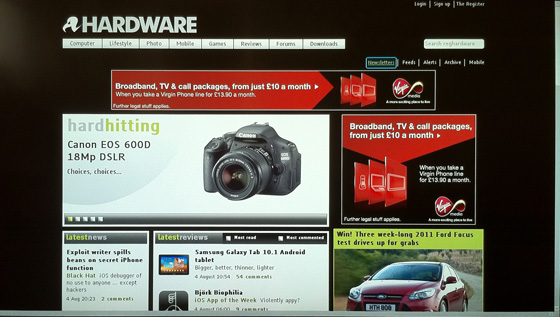 Web browsing
I was also a little disappointed by the set's on-line features. I liked having the wireless adaptor for connecting to my home network, but Sharp only offers a fairly routine selection of on-line services such as YouTube, Daily Motion and Twitter.
There's no BBC iPlayer, and although the 40LE831E does include a full web browser I wasn't able to access the iPlayer through the main BBC web site. Oddly, the manual refers to a 'video store' for film rentals, but that doesn't seem to be available here in the UK.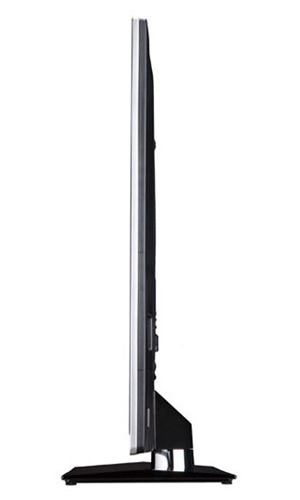 Web TV offerings leave room for improvement, but the picture is a peach
One criticism I had of the original Quattron was of its power consumption, which peaked as high as 120W at times. Sharp now boasts a much lower power consumption of 67W – although I found that it occasionally fluctuated up into the mid-70s. Its Standby mode didn't even register on my ammeter, so there's clearly been quite an improvement in energy efficiency.
Verdict
If you're concerned about Internet connectivity, then rivals such as Samsung offer a more comprehensive range of on-line services. However, I remain a fan of the rich, vivid images produced by Sharp's four-colour Quattron technology and reckon that it's still well worth considering as long as you've got a Sky HD box or Blu-ray player that can feed it a nourishing diet of high-quality HD content. ®
More TV Reviews

Sony
Bravia
KDL-40CX523
Panasonic
TX-P65VT30
Samsung
UE40D6530
LED 3D TV
LG
42 LW650T
Ten…
40-42in
net connected HD TVs