Original URL: https://www.theregister.co.uk/2011/08/04/uk_music_business_annual_economic_survey/
Music biz now runs on Viagra®, not cocaine
Wrinklie revenue shame
Posted in Policy, 4th August 2011 11:29 GMT
The UK music business shrank almost 5 per cent last year, with lower concert revenues as fewer major acts played stadiums. So reckons the annual economic survey conducted by the Performing Right Society (PRS), which pegs the UK music industry's income at £3.75bn this year.
The headline fall masks some very healthy figures, though. B2B licensing of music grew, as did British music exports. In fact, British earnings from music are growing three times faster than the USA.
Record companies, which have traditionally been wholesalers of plastic discs to large retail chains, are now seeing much more of their action from business from other sources: a third of their income is from sources other than physical wholesale.
The figures are drawn from dozens of sources, and look like this.
Retail music was down almost 8 per cent to £1.2bn. Live music revenue fell around 7 per cent to £1.48bn. The PRS netted £425m and the music royalties body PPL collected £79m (gross). B2B revenue and publisher direct revenue, excluding the PRS, was £218m and £242m. Sponsorship brought in £94m – thanks to an increase in digital – and advertising support fell a little.
The fall in live music doesn't mean the boom is over, cautioned PRS chief economist Will Page. He noted a rise in revenue from both festivals, and mid-size venues of around 1,000 to 2,000, but a 70 per cent fall in stadium revenues.
"Demand is a function of supply," said Page. If fewer big acts play the stadiums and arenas, it blows a chunk in the overall figures. He noted that 500,000 people turned up to see the X-Factor performers live on tour last year – a terrifying thought; while Take That took the year off.
Page recommends that the UK music business focus on more efficient metadata to reduce costs, and gets even better at extracting money from the use of UK music abroad. China, India and Brazil are huge economies growing very fast – with a billion-and-a-half new members of the middle class. But together, they bring in as much in royalties for British artists as Spain does. And Spain brings in bugger-all.
There's one grey note. Have a look at this chart, from the USA not the UK admittedly, showing who trousers the benefits of the boom in live music at concerts and festivals: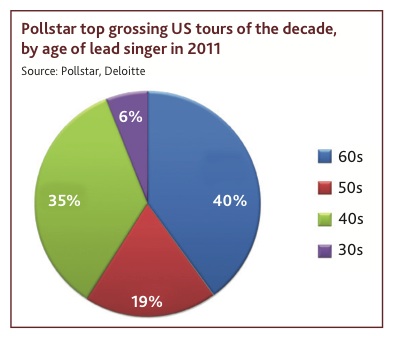 Now that is utterly tragic.
Hang your heads in shame. You can download the report here (1.1MB PDF). ®