Original URL: https://www.theregister.co.uk/2011/08/04/review_samsung_galaxy_tab_10_1_android_tablet/
Samsung Galaxy Tab 10.1
Bigger, better, thinner, lighter
Posted in Personal Tech, 4th August 2011 10:54 GMT
Review 10.1? The impression I get with the naming of this much-anticipated grown-up version of last year's Galaxy Tab is that it has psychological hangups about (ahem) 'size'. I imagine it loitering down the pub, boasting of its prowess: "It's not just TEN inches, Al, it's TEN-point-ONE!" It wants to be the Spinal Tap of Android Tablets, with Nigel Tufnel asserting that other 10in tablets only go up to, well, 10.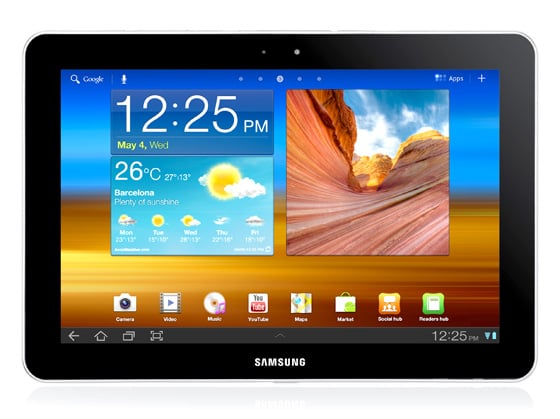 Classier and less gadgety: all that extra screen space makes a big difference
You can't blame Samsung for showing off its nice new screen size, though. The original 7in Galaxy Tab was an interesting experiment in product design but it suffered from those mid-size blues: too big to be a phone, too small to be a netbook, and sporting an underpowered operating system in Android 2.2.
This time round, Samsung has come up with a far better product in so many ways. The new 10.1in Galaxy Tab is faster, more stable, more capable, more versatile and actually thinner than the 7in pioneer. It's also running Android 3.1.
As in "Not THREE, Al, but THREE-point-ONE!" Since that extra tenth of an inch in the product name seems to matter so much, I'll start with the screen.
First up, the Galaxy Tab 10.1's screen is the same size as those found on a raft of other 10in tablets, including the Asus Eee Pad Transformer, Acer Iconia Tab A500 and Motorola Xoom. In each case, the pixel resolution is the same too, at 1280 x 800.
Do remember, though, that the Android 3.x (Honeycomb) operating system reserves 48 of those pixels along its bottom edge, in portrait and landscape orientations, for on-screen menu buttons. Practically all your apps are restricted to a on-screen area of 1232 x 800 or 1280 x 752 pixels. In landscape mode, that gives it less vertical resolution than Apple's current iPads, which offer full-screen 1024 x 768 at either orientation.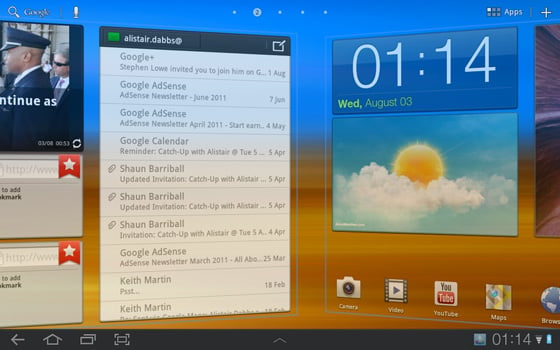 Android 3.1 gives you nicely sized widgets as you sweep across its multi-screen spaces
Owners of the 7in Galaxy Tab who were disappointed with its dark, grainy display quality will be much happier with the gleaming equivalent on the 10.1. That said, the product's auto-adjustment feature constantly interferes with the brightness to the point of being distracting, so I switched that option off.
Touchy feely
On that note, another default feature that I disabled within a minute of switching the unit on was the 'Haptic feedback'. This is the teensy little vibration that meets every touch on the software keypad and certain other interface actions. God I hate that. It's like having your ears flicked endlessly by someone sitting behind you during morning assembly. However, rather than having to stand up, turn around and punch the fucker in the face, you can much more conveniently make the Galaxy Tab stop annoying you by unticking a system setting.
Another item on my To Disable list was the excrutiating and frankly childish 'swish' sound produced by turning a virtual page in the ebook player. But I digress: back to the hardware.

Definitely the thinnest Android tablet we've tested to date, at 8.6mm
The Galaxy Tab 10.1 is the lightest (565g) and thinnest (8.6mm) 10in tablet Reg Hardware has tested to date. It's what I've heard referred to as a 'one-hander' in that you can hold up the tablet in only one hand for more than a minute without getting cramp. This is not a problem I have ever suffered from personally speaking (it's the karate training) but I believe this could be a serious selling point for potential tablet buyers.
Also, Samsung's build quality looks good. The tablet feels strong and solid, despite its light weight: certainly stiffer than the plasticky, slightly bendy feel of certain competitive tablets. That said, the Galaxy Tab 10.1 is about half a centimetre taller and wider than the Motorola Xoom, a tablet that's as solid as a cast iron manhole cover.
The common assumption is that the bulk of the weight of a tablet, as with a mobile phone, is determined by the battery. Yet the Galaxy Tab 10.1's battery life is as good as that of its competitors: I estimate that it runs for around 7 to 11 hours of mixed app and media use between full recharges.
Perhaps the answer lies in the Galaxy Tab 10.1's lack of external hardware. There is a single connector which, via a supplied adapter cable, leads to a USB 2.0 plug for recharging the battery and, one assumes, connecting to other USB devices. I say "assumes" because my direct attempts to connect to a Mac and a Windows PC using this USB adapter cable achieved no success whatsoever. Later, I found that I needed to download special Samsung drivers to my computers to enable a USB connection with the tablet.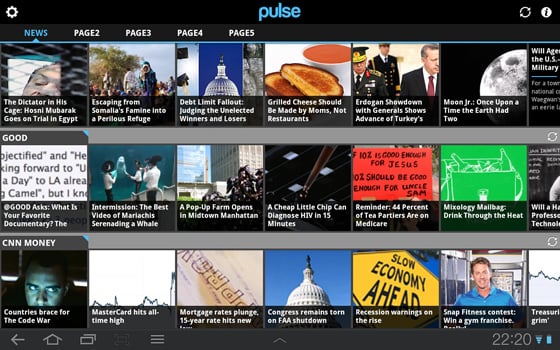 Samsung bundles the Pulse app which makes sure you know what's going on – in America. Bandit Keith would love it
Otherwise, all connectivity is channelled wirelessly through WiFi and Bluetooth on the product as reviewed. There is no mini-USB port, no mini-VGA, no HDMI and, incidentally, no SD card socket. As with Apple's iPads, the Galaxy Tab 10.1 is not designed to support user-upgradable/removable storage. Bear this is mind when choosing which model to buy; I reviewed the entry-level 16GB model. Like Apple, Samsung off-loads its additional connectivity with a range of accessories. USB storage and devices can be accommodated with the EPL-1PL0BEG adapter, likewise, HDMI needs the EPL-3PHPBEG interface cable. And if you want a keyboard you can splash out for the ECR-K14AWEG option too.
Reading matters
A couple of items Samsung remembered to include were the front and rear-facing cameras, capable of still image and video capture. The camera on the rear is accompanied by an LED flash. Also, the tablet is fitted with stereo speakers, a built-in mic and of course a stereo mini-jack for your earphones.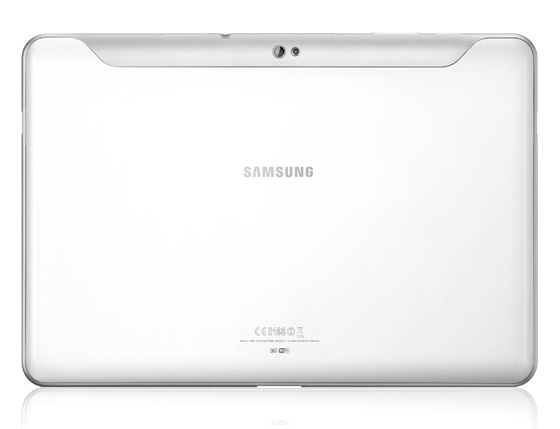 The main camera supports 3Mp capture with auto-focus and LED flash
Owners of the 7in Galaxy Tab complained that they kept pressing the buttons accidentally because of their side location and light touch. The 10.1 version only has two: a power button and an audio volume button, and they are both stiffer and snappier in action, better to resist those accidental presses.
Samsung has done a nice job of customising Android 3.x with a decent collection of apps and extras. The inclusion of Word/Excel/PowerPoint-compatible Polaris Office is valuable, for example, as is the set of pop-up utilities that can be invoked at any screen, even within another app.
Even Samsung's no-frills ebook reader has been improved, and I was impressed that once I had added the Gutenberg Project and Stanza as sample ebook stores, all I had to do was tap on an ePub download link once. The process of downloading, installing and opening the book in the app was then completely automatic and apparently seamless.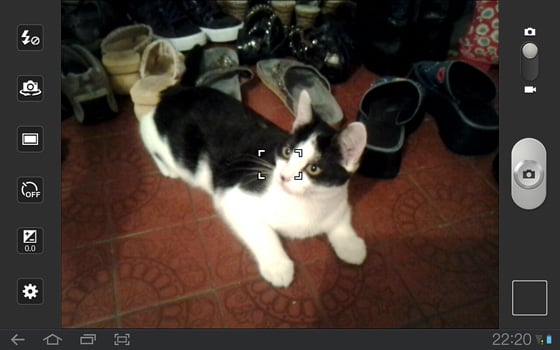 It may be unfair to test the camera on a lively kitten, but I found it hard to focus on anything except in bright daylight.
Video playback is good too, although I don't follow Samsung's assertion that the Galaxy Tab 10.1 supports 'full HD 1080p'. As I understand it, 'full HD 1080p' designates a resolution of 1920 x 1080 pixels at 30 progressive fps. Quite how this would be achieved on a 1280 x 800-pixel screen is a mystery to me. Given the HDMI adapter accessory option, Samsung's take is presumably all related to delivering a video output at this resolution to an external screen.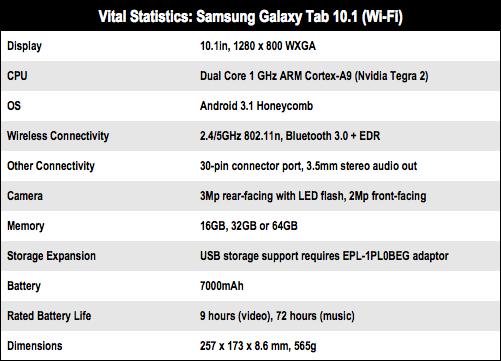 Manual dexterity
Disappointingly, there was no video editing software installed on my test unit, although the electronic user manual suggests it should be on there – and acutally finding the electronic user manual was a challenge in itself.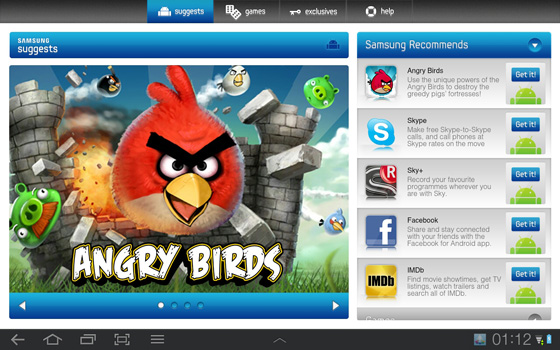 Let's see what Samsung's Hub app suggests we should be doing. Oh...
Out of the box, the tablet comes with possibly the worst 'getting started' booklet I have ever read. As an example, the section headed 'Send and receive an email message' reads: 'You can send and receive email messages, and view or manage messages you have sent or received.' And that's all you get: there are no actual instructions on how to use the Galaxy Tab 10.1 to send or receive email.
The booklet does, however, waste seven pages on daft safety warnings, including my favourite: 'Do not bite or suck on the device or the battery.' The last 13 pages at the back of the booklet are blank.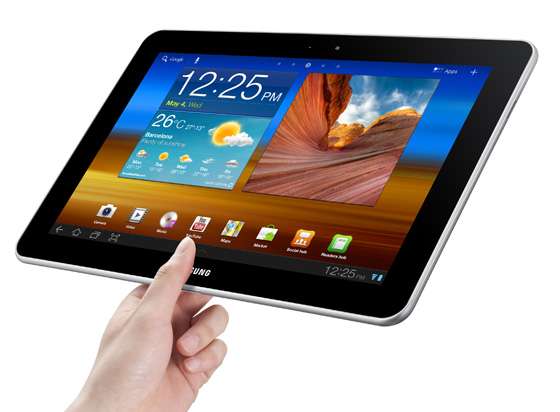 This is a tablet you can hold in one hand without getting cramp in 30 seconds.
The front page suggests I can read the full user guide by going to www.samsung.com. I did that and all I saw was a lot of information about washing machines and TV sets. Even the day before its official on-sale date (when this review was written), the product was unknown on Samsung's UK website. I eventually found a link to the Galaxy Tab 10.1 user manual tucked away on a US support page, but it took some hunting.
Verdict
The Galaxy Tab 10.1 is an attractive purchase: it's well-built, slim and light, has a valuable collection of quality apps, and sports a comparatively low price. It even fares well in performance benchmark tests against its competitors. However, some of these competitors offer better value by building memory card slots and comms ports into tablets costing roughly the same price. Here, Samsung takes yet another leaf out of Apple's book, as all those niceties will cost you extra. ®
More Tablet Reviews

Dell
Streak 7
HP
TouchPad
Lenovo
Thinkpad X220T
RIM
BlackBerry
PlayBook
Apple
iPad 2